For home fans flocking to Silverstone for this weekend's British Grand Prix, the obvious draw is five-time world champion Lewis Hamilton's attempt to win a record sixth race at the circuit.
But this year there is another reason for domestic excitement, with the resurgence of McLaren and in particular 19-year-old Briton Lando Norris.
Norris, who came through the same McLaren junior driver programme that nurtured a youthful Hamilton, has excelled so far during his debut season. He has finished inside the points in four of the nine races, coming a personal-best sixth on two occasions, including last time out in Austria.
Read more: The numbers that show Hamilton is approaching Schumacher-levels of dominance
At the start of the race at the Red Bull Ring he manoeuvred his way into third place and became embroiled in a battle with compatriot Hamilton, who he eventually ceded to due to the superiority of his Mercedes.
In the end Norris would finish just one place behind Hamilton, and after coming ninth in the previous race at Paul Ricard, France, the young Bristolian has hit form at just the right time for his first home F1 grand prix.
Early season success
It is not just Norris who has put in promising performances, though, with his team-mate Carlos Sainz Jr showing that McLaren as a whole have a made a leap forward this season.
The team were aiming to be the fourth best on the grid, anticipating that the top three teams – Mercedes, Ferrari and Red Bull – would maintain their superiority this season.
After nine races and heading into the British Grand Prix they sit fourth in the constructors' championship with 52 points, 20 ahead of fifth place and comfortably winning the midfield battle that chief executive Zak Brown told City A.M. at the start of the campaign that they expected to be involved in.
He also promised improvements, saying this year it was "a much better race car" than the one that finished sixth in the constructors' standings last year. So far they have delivered; they are already just 10 points off last year's total.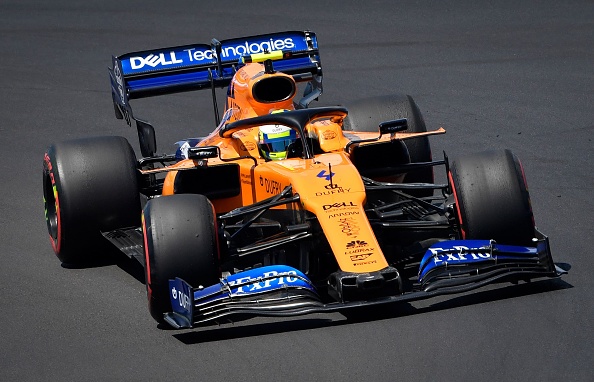 Of course the long-term targets are greater, but it is an encouraging sign so early in a rebuild of the team that has seen personnel change on and off the track.
In Norris they have selected a driver who can grow and learn within McLaren's new set-up, and is a "future world champion", Brown says.
It affords the teenager the opportunity to make mistakes while the team is still developing toward a title-challenging car – not that he has made many.
Sainz, 24, who has four years experience in F1 with Renault and Toro Rosso, is currently seventh, one place above Norris on 30 points, and on course for a career-high finish in the driver's championship.
The performances from both drivers this season have rebuffed any criticism of the team's driver shake-up following the departures of Fernando Alonso and Stoffel Vandoorne.
He too has finished sixth twice, seventh once and eighth twice, including last month in Austria when he cut through the field from 19th place.
'The future of the team'
A superb drive from the Spaniard was ultimately overshadowed by a masterclass upfront from Max Verstappen, but McLaren seem to have stumbled upon a young and talented duo who could be at the front of the grid for years to come.
Both were confirmed on Tuesday as retaining their seats for the 2020 season at least.
"I'm very happy with both drivers and they will be the future of this team," said new team principal Andreas Seidl after the Austrian Grand Prix, before also praising Norris's start to F1.
"The most important thing is raw speed, that is the base for every successful driver. He has shown from the first race onwards that he had this speed.
"I'm impressed also how he interacts with me, the team, the engineers, and how he's handling all the business of being a Formula One driver."
This weekend Norris will have to handle an even higher-level of scrutiny than usual in front of a home crowd at Silverstone, which it was confirmed on Wednesday will continue hosting the British Grand Prix in a five-year deal.
Read more: Stoffel Vandoorne interview: Former McLaren drivers opens up on F1 nightmare
But while the spotlight will be more firmly fixed on Norris than Sainz, the pair have become accustomed to sharing the load at McLaren, such is the friendly relationship between the two that appears unparalleled throughout the paddock.
They work collaboratively to improve the car and are yet to have any disagreements, although that may change if and when they are competing for race victories.
That is unlikely to be of concern this weekend, but McLaren will be hoping to claim a third successive double points finish, such is the high standards that Sainz and Norris have set for themselves.