LaLiga attempts to keep sponsors onside amid Vinicius racism controversy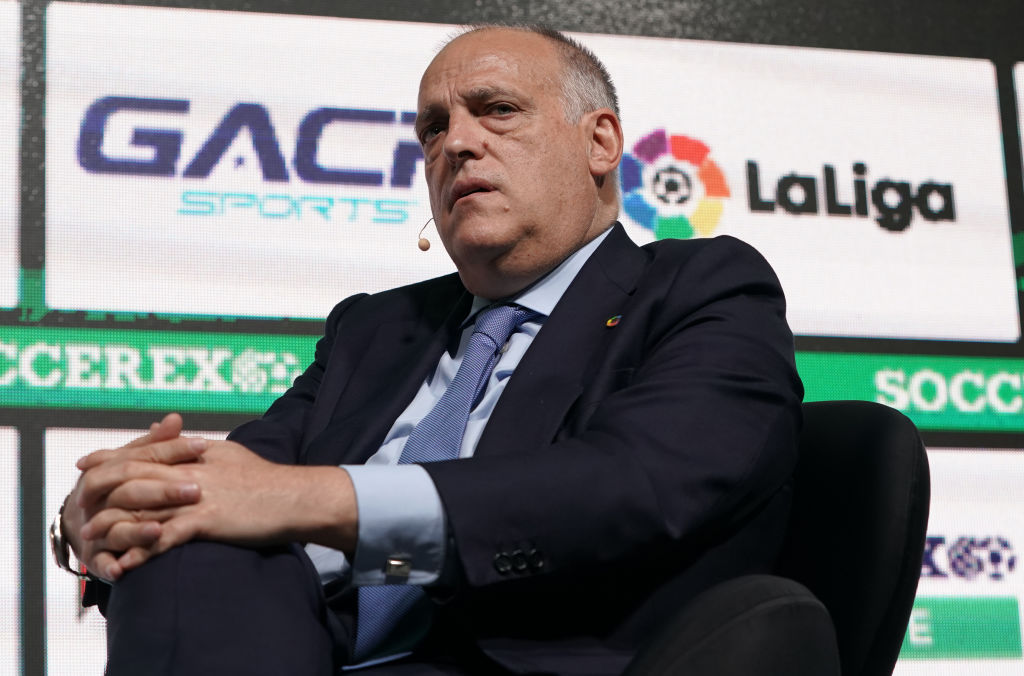 Under-fire LaLiga president Javier Tebas has approached sponsors in a bid to prevent them fleeing amid the Vinicius racism crisis engulfing Spanish football.
Tebas has been criticised for his handling of racism in the stands and the Real Madrid star's claim that LaLiga "belongs to racists" after repeated episodes of discrimination.
LaLiga's main sponsor is Santander bank while its commercial partners include Puma, EA Sports, Microsoft and San Miguel.
"We contacted them, as we have in the past when we had reputational problems with Spanish football," Tebas said.
"Many years ago with the arrest of the president of the Spanish federation there was a problem which was delicate.
"Of course this problem is a lot worse, but we have got in touch with all of our sponsors and we explained to them exactly what we're doing in our fight against racism."
Tebas conceded he would be "crazy not to be concerned" about the image of Spanish football in light of a tumultuous week for the game in the country.
"Of course I'm concerned and we will work to try and find a solution to turn this image around because Spanish football is not racist.
"La Liga has worked and will continue to work against this this behaviour of xenophobic and racist comments in stadiums and of course I'm concerned.
"Life sometimes deals you a difficult hand. Somebody might have a traffic accident and have an injury or you might lose a family member or a loved one.
"You've just got to get up and continue fighting. This too is something unexpected and difficult that we're having to face up to but we can't just cry in the corner."
Tebas said LaLiga would ask Spain's parliament to modify laws on racism and xenophobia, having become frustrated at the failure of courts to convict alleged offenders in the stands.
He also reiterated that his organisation wanted powers to impose sporting sanctions such as points deductions, which currently lie with the Spanish football federation, and backed Vinicius to walk off the pitch if abused again.
"Of course I encourage him to leave the pitch if he feels bad and he feels that people are against him," Tebas added.
"He and the whole team could abandon the pitch but that is a decision of the referee. He has to see what should be done at the particular time and I would encourage him to leave the pitch."
Tebas, an outspoken critic of the state-backed spending of Manchester City and Paris Saint-Germain, praised Vinicius as a player and urged him to stay in LaLiga.
He also apologised for hitting back at Vinicius on Twitter in the aftermath of the Brazilian's public complaints following a heated match at Valencia on Sunday.
"I certainly didn't have any intention of criticising him. It's simply that we are doing a lot of things and my frustration came out," he said.
"I understand that Vinicius feels frustrated. I do feel for him because he doesn't understand anything about remits we may have. It's normal that he can't understand that necessarily and I too feel totally frustrated because we don't have those competencies.
"It was probably a mistake because I was so very much involved and affected by what I read."