Infinite Athlete: The inside story of Chelsea's sponsor and their links with Todd Boehly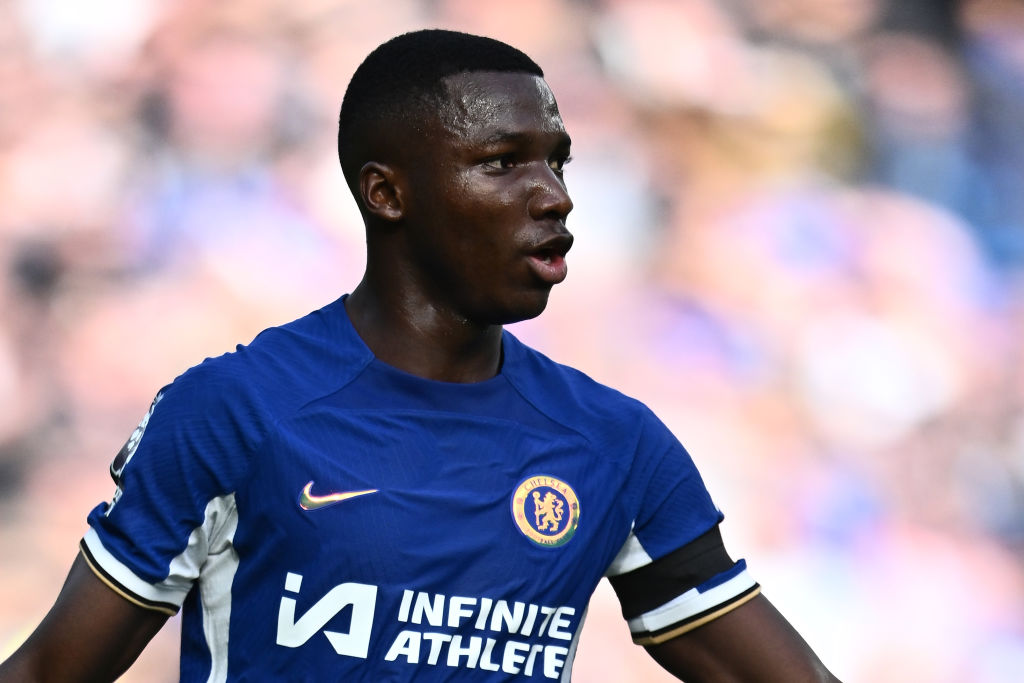 Infinite Athlete co-founder and CEO Charlie Ebersol on what the company actually does, why it decided to sponsor Chelsea and his faith in 'mentor' Todd Boehly to bring success back to Stamford Bridge.
When you have survived a plane crash and dated Hollywood A-listers, the harsh glare of the spotlight and some sceptical media coverage must feel like water off a duck's back.
That is certainly the impression on meeting Charlie Ebersol, co-founder of Infinite Athlete, the US company which appeared out of nowhere to solve Chelsea's sponsorship headache.
To recap, Chelsea had to start the new season without a front-of-shirt sponsor after Three walked and prospective deals with Paramount Plus and Stake.com ran aground.
Infinite Athlete rode to the rescue with a proposal worth around £40m a year, but the move raised eyebrows – not least at Premier League headquarters – because the sports tech company had only just been founded and Ebersol is close to Chelsea's owners.
Late last month the league finally endorsed the deal. Ebersol, a former beau of Britney Spears, says the wait created a swell of interest in Infinite Athlete, which now has a seal of approval.
"I can tell you for sure that a majority of the British population now knows that Infinite Athlete exists, so we're working our way through the checklist of success," he tells City A.M.
"The last seven weeks of consideration by the Premier League, I was grateful for it because it represented brand protection, but I was also grateful for it because it drove people mad trying to figure out who is this company? How can they afford front-of-shirt? I mean, our site traffic has been… not terrible."
The Premier League was satisfied with Infinite Athlete's answers: yes, it was a new brand but formed by consolidating existing companies that it already owned, already had clients in the NFL and, no, Chelsea's owners were not using it as a backchannel to fill a £40m hole left by Three.
That's not to say Ebersol doesn't count them as business partners and friends, however. He calls Todd Boehly, Behdad Eghbali and Jose Feliciano mentors, and they are among the many minority investors in some of his companies, including Infinite Athlete.
Tempus Ex Machina, one of the companies absorbed into Infinite Athlete, became a lower-level Chelsea partner in April, which in the summer led Ebersol to chance his arm with a half-joking remark about taking the front-of-shirt sponsorship.
"When I floated the idea to Todd, Behdad and Jose, it was one of those where you're kind of joking about something to see if the other person is willing to be serious about it or not. And to their credit they engaged," he says.
"They knew what we were looking at because they'd been advising me not as the owners of Chelsea but as, in some cases, mentors and advisors of mine among the constellation of businesspeople that I go to to be like, 'Am I crazy? Is this a good idea?'."
What is Infinite Athlete and what does it do?
Getting on Chelsea's shirt was the easy bit, however. Ebersol admits Infinite Athlete's biggest challenge is getting people to understand what the company actually does.
In a nutshell, the company has created software which synchronises data – on player tracking or fan sentiment, for instance – captured by otherwise disconnected platforms, allowing leagues, teams and developers to glean new insights and develop new products.
"We see ourselves as the operating system for sports," he says. "The comparison I use is, in the 90s remember the Intel Inside ads? Nobody bought an Intel laptop but everybody bought an Intel-powered laptop. That's what Infinite Athlete is."
Ebersol, 40, who followed his dad into TV production before entering the sports business, says the success of Apple, Microsoft, Amazon and Google explodes the myth that content is king, at least so far as revenue is concerned.
"They are not content companies. They are the platforms on which the content is provided. We do that but for all data and video. So if you want to build the next great video game, insights app, or fantasy platform, we create the environment," he says.
"Every other industry solved this problem. Google created Google Maps not so that you could find the local restaurant but because Travis Kalanick, who is trying to invent Uber, can pay Google for access to that map.
"They've done $1 trillion in revenue licensing access to Google Maps. So it's a tried and true business model. It just had never come to sports before."
Infinite Athlete's ambitions are grand, and Ebersol, citing talks with other Premier League teams about using the company's products, believes it is on the up.
He is bullish, too, about Chelsea's prospects, despite a difficult start to the second season under Boehly and partners, who he thinks have been wrongly portrayed as first-timers at the casino.
"I have found it to be an interesting caricature of someone I know to be very professional, very strategic and thoughtful," Ebersol says.
"He builds championship-winning teams and he usually does it from positions of weakness. Todd is one of the most cerebral people I know. Behdad and Jose, these are young guys that build very successful businesses."
He adds: "I've bet a pretty significant amount of money on it, so I'm fairly confident that they're headed in the right direction."