Head to the glittering lights of Glasgow for culture and cuisine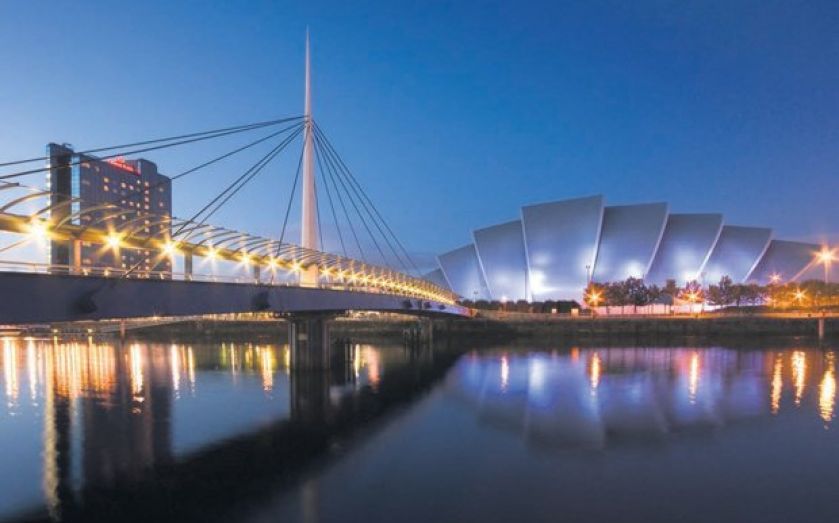 Helen Ochyra gets acquainted with the food, and cattle, of the city set to host the Commonwealth Games in 2014
IF YOU had asked me last month which UK city has the best shopping district (apart from London), I'd have gone for Brighton, with its bohemian boutiques, or Newcastle for its vast Metro Centre. I'd have been wrong, because it's Glasgow.
Ever since Glasgow took the title European City of Culture (now European Capital of Culture) in 1990, the once down-at-heel city has been buzzing with creative energy.
Strolling around Ingram Street and through the Merchant City, you're surrounded by famous names. Armani, Ralph Lauren, Replay and Liam Gallagher's Pretty Green are all here, housed in the elegant blonde sandstone buildings that nod to the city's successful industrial past. "Style Mile", runs from Ingram Street through Royal Exchange Square to Buchanan Street. This area was once home to tobacco lords and cotton kings; today it is the haunt of Glasgow's new wave of creatives – designers, artists and musicians.
Join them for lunch at Gandolfi Fish on Albion Street, which serves a menu specialising in Scottish seafood, including oysters, langoustines and scallops, all washed down with plenty of sauvignon blanc.
The city will host next year's Commonwealth Games and the hotel scene is preparing for an influx of well-heeled visitors. Boutique hotel chain Citizen M opened in the city centre in 2010, followed by Hotel Indigo in 2011, housed in the city's first power station, with the work of local artists splashed all over its walls. Both are well-equipped for the modern traveller.
But a better place to explore after dark is Glasgow's West End. This is the city's bohemian district, home to the University of Glasgow and the bustling Byres Road, lined with sandstone tenement buildings now housing independent shops and restaurants. I ate at the Ubiquitous Chip, among the city's best-known restaurants and the one most widely-credited with making Scottish cuisine a fine-dining experience.
"The Chip", as it is affectionately referred to, opened in 1971 and has managed to maintain its popularity, largely by letting the produce do the talking. Scotland, after all, is home to some of the world's best salmon, scallops and beef, and it is hard to go wrong with that sort of larder at your disposal.
The courtyard dining room is hung with leafy plants which makes for a unique atmosphere that's half tropical island, half Mediterranean piazza.
When the sun comes up again, head out to Bellahouston Park and House for an Art Lover. Charles Rennie Mackintosh, the Glasgow-born designer, architect and artist, designed this large, white, Art Nouveau building in 1901 and, although it was never completed in his lifetime (it was finished in 1996), it is a good place to get an overview of his style.
Mackintosh was influenced by the city's industrial revolution, as well as the restraint and simplicity of Japanese design, and House for an Art Lover reflects this mix with its strong, clear lines and abstract details. The double-height entrance hall makes an immediate impact and there are examples of his trademark high-backed chairs in the dining room and oval room. There is a lot of white, which helps the details stand out – a stained glass lampshade here, an intricately leaded window there.
Despite its industrial past, Glasgow is a surprisingly green city and there are some 90 parks and gardens within the city boundaries. The largest of these is Pollok Country Park, which I was drawn to because it promises a horse and cart ride to see Highland cattle.
My trusty steeds Baron and Duke were waiting at the park's main entrance. Both are champion Clydesdales and they are magnificent. Baron is 18.1 hands and one of his shoes is larger than my head.
The ride took me along Pollok Avenue, past small pockets of woodland and open fields on both sides. This 360-acre park was donated to the city in 1966 by Anne Maxwell MacDonald. It had been in her family for some 800 years but today it is publicly owned, meaning even the cattle belong to the council.
The cattle here number around 100 and each one has its own (Gaelic) name. Bred in the Scottish Highlands these animals were bred to be hardy, and I wouldn't mess with those curved horns
Back in the city later on I went foraging in the Botanical Gardens. I spent the afternoon with Chris Charalambous, head chef of Cail Bruich restaurant. In Scotland there is a right to roam and any found food is fair game, as long as it's for your own consumption. Charalambous knew exactly where to look for the ingredients we needed for dinner and within seconds of leaving the restaurant he was picking wild garlic and offering it to me. At first I was sceptical of eating something we found on the ground but the strong garlicky smell convinced me; it was fresh, and pungent. Charalambous has been using foraged food in his restaurant for the past three years, making soups, salad, pesto and sushi – even a tea made from pine needles.
At Cail Bruich, Charalambous makes wild herb toasts are served with smoked mackerel mayo alongside wild herb sushi with scurvy grass and soy sauce. Dornich lamb comes with foraged hogweed.
The evening was as Scottish as it gets; far more so than the shortbread and tartan stereotype we're fed back in England. If you're planning a visit for the Commonwealth Games, make sure you stay on for an extra few days; you might be surprised.
Need to know
EasyJet flies to Glasgow from London Luton. Flight prices start from £32.49 per person (one-way, including taxes, based on two people on the same booking). Visit easyJet.com to book.
For further information on booking your trip to Glasgow visit seeglasgow.com