Grim data supports UK recession fears
Fears a UK recession is inevitable rose yesterday after official data indicated British industrial output had fallen at its sharpest pace in two and a half years in May, while manufacturing output fell by 0.5 per cent compared to April.

Data from the Office for National Statistics indicated that UK industrial production fell 0.8 per cent in May, much weaker than forecasts for a 0.1 per cent fall. Output is now 1.6 per cent lower on the year, the biggest drop since December 2005. Much of the drop came from a two per cent fall in electricity, gas and water output. Meanwhile, manufacturing production dropped by 0.5 per cent in May, way below expectations for an unchanged reading.
The figures offer further evidence that the UK economy is starting to slow significantly and suggest that the industrial sector, which makes up around a fifth of overall GDP, will have weighed on growth in the second quarter.
With official data echoing other evidence, the first estimate of second quarter GDP on July 20 is likely to show slower growth again. This would follow a deceleration to 0.3 percent quarter-on-quarter growth in the first quarter. Two successive quarters of economic contraction are regarded as a recession.
"I have forecast second quarter growth of 0.2 per cent, but then expect GDP to remain stagnant in the third and fourth quarters," said Howard Archer, economist at research house Global Insight.
The weak data also hit sterling as investors scaled back their bets that rising inflation would force the Bank of England to raise interest rates this year despite slower growth." The lower pound should mean that the manufacturing sector is the UK's shining light, but with output no higher than eight months ago, it seems that the global and domestic slowdowns are having more of an impact," said Paul Dales, economist at research house Capital Economics.
But, with inflation at its strongest since the Bank of England won the power to set interest rates in 1997, no change in interest rates is expected when the MP meets this Thursday.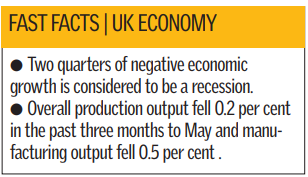 Analyst Views: Is the UK heading for a recession?
Paul Dales (Capital Economics): We continue to think that overall GDP growth will slow to just 0.5 per cent next year with a better than evens chance of an outright recession. All parts of the economy appear to be heading down at the same time, bringing the UK economy even closer to recession. The industrial sector is likely to continue to add to, rather than offset, the weakness in other areas of the economy.
Howard Archer (Global Insight): We are not in recession yet, but the economy is essentially stagnant. The downturn appears to be deepening appreciably. Manufacturers will continue to struggle markedly over the coming months in the face of slowing domestic demand, weakening activity in key export markets, elevated energy and commodity prices, and tight credit conditions. The risk of recession is real.
Michael Hume (Lehman Brothers): These figures support our view that the economy is now slowing sharply and is likely headed for a period of outright contraction. Once the MPC decides that a recession is more likely than not, we expect it to cut rates. For the moment we think that that will happen only by November, but the chances of an earlier rate cut are not far below 50 per cent.