Focus on Wapping: First-time home buyers are taking advantage of City connections and 'sensible' prices
Located on the north bank of the Thames just to the east of Tower Bridge, Wapping is one of the few remaining postcodes where you can snap up a flat within walking distance of the City without a completely eye-watering price tag.
Formerly the domain of dock workers, large swathes of the area have been regenerated since the 1980s – although it has avoided the hipster influx seen in nearby Whitechapel and Spitalfields and is considered something of a hidden gem by agents.
Buyers are beginning to cotton on, though. "The location right between the City and Canary Wharf, and the fantastic transport links offered by the Overground have helped fuel Wapping's popularity, but its realistic, sensible pricing has been most important," says James Hyman, head of residential at Cluttons.
Like much of London right now, Wapping is a buyer's market. Hyman says there has been a "flurry" of sales because prices are coming down and purchasers smell a bargain. "Many sellers are now prepared to price their properties sensibly, 15-20 per cent off the highs of early 2015, and are thus getting offers and selling in a reasonable timeframe," he says.
The average house price in the E1W, E1W2 and EW13 postcodes that make up Wapping is £636,236, according to Knight Frank. The head of its Wapping office, Lee O'Neil, says the range of properties on offer is diverse, from "converted warehouses that face the river Thames and Georgian townhouses, to a number of modern visually striking buildings."
Aside from those whose jobs are nearby, buyers in this part of town can often be looking for lifestyle reasons, so general market uncertainty may mean that they are deciding to put their decisions on hold

Frances Clacy, Savills
While a four-bed family home will set you back between £1.2m and £3m, you can pick up a one-bed flat for a punchy £400,000, and O'Neil says that "activity is strong" in the sub-£700,000 market. Combined with Wapping's city connections this makes it a haven for first-time buyers. Frances Clacy, research analyst at Savills, adds that around 20 per cent of buyers that come through Savills' doors in the area are under 30.
At the prime end of the market, the most significant new development in the area is St George's 1,800-home London Dock complex. It is being built on the the site of News International's former 'Fortress Wapping' headquarters where print workers sacked by Rupert Murdoch for refusing to move there from Fleet Street protested for weeks in the 1980s. Apartments in the Cashmere Wharf and Merino Wharf buildings are currently available, starting at £1.28m.
Prices in Wapping's prime postcodes fell by 5.8 per cent in the year to the end of June, compared to 1.8 per cent in the capital's prime postcodes as a whole, according to Savills.
This might seem strange considering that the area has seen some significant improvements, including the imminent arrival of Crossrail at nearby Whitechapel. Jason Taylor, director at Dexters in Wapping says there are also "new and trendy restaurants" such as the Italian Il Bordello and seafood eatery Smiths.
Clacy says the price reduction might have happened because those looking for a riverside second home are waiting to see which way the dial turns on Brexit. "Aside from those whose jobs are nearby, buyers in this part of town can often be looking for lifestyle reasons, so general market uncertainty may mean that they are deciding to put their decisions on hold," she says. These kind of homes, she adds, command a premium of about 16 per cent on the local market when they do sell.
Prime property aside, there are certainly enough savvy first-timers in this sensibly-priced enclave to keep things ticking over.
Currently on the market in Wapping
Wapping High Street, £650,000
This two-bed riverfront apartment in central Wapping has a private balcony, allocated parking and use of a day porter. Call Waterview Wapping on 020 7650 5359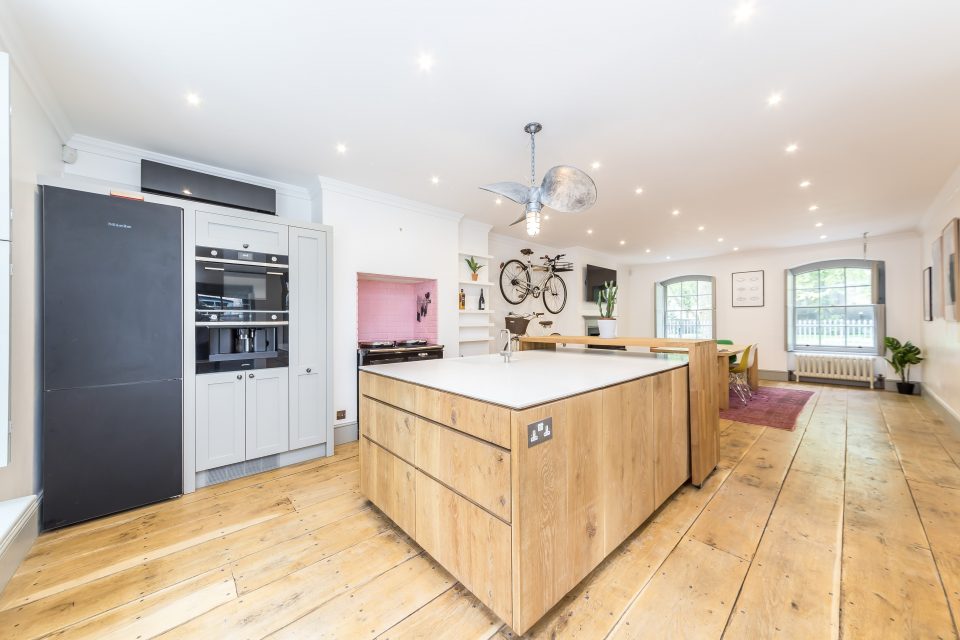 Scandrett Street, £3m
A two-bed Georgian house in the heart of Wapping with four floors, a roof terrace and plenty of entertaining space. Call Dexters on 020 7650 5350
Bridewell Place, £500,000
This one-bed, 616 sq ft apartment sits on the first floor of a picturesque development with cobbled pathways and communal grounds. Call Knight Frank on 020 7480 4483
Area highlights
If you like the idea of sitting by the river and watching the world go by, the marinas at St Katherine Docks and Hermitage Community Moorings are good places to do it. Wapping is home to London's oldest Thameside pub, the Prospect of Whitby, while converted warehouse The Dickens Inn also has plenty of historical charm, complete with wooden beams and creaking floorboards. It also has its own pizzeria on the first floor. Italian food afficionados are more than catered for in Wapping, with local favourite Il Bordello often seeing queues out the door and gourmet food market and deli Gastronomica serving up tasty treats using ingredients from the owners' stall at Borough Market. Follow it up with a drink at Skylight Bar, Tobacco Dock's rooftop playground which offers ice skating and fondue in the winter but switches to croquet and cocktails when the weather perks up. To jog it all off, head to one of the area's green spaces such as Wapping Woods or Wapping Rose Garden.
Area guide
House prices (source: Zoopla)
Detached: £813, 453
Semi: £660,403
Terraced: £757,759
Flats: £552,681
Transport (source: TfL)
Time to Canary Wharf: 8 mins
Time to Liverpool Street: 13 mins
Nearest tube: Wapping Overground
Best roads (source: Zoopla)
Most expensive: Wilkes Street, £2.6m
Highest turnover: Piazza Walk, 86.6 per cent
Asking rent
£2,823 pcm for a two-bed flat