FA Cup 2018 third round prize money: How much is winning it worth compared to the Champions League and Premier League?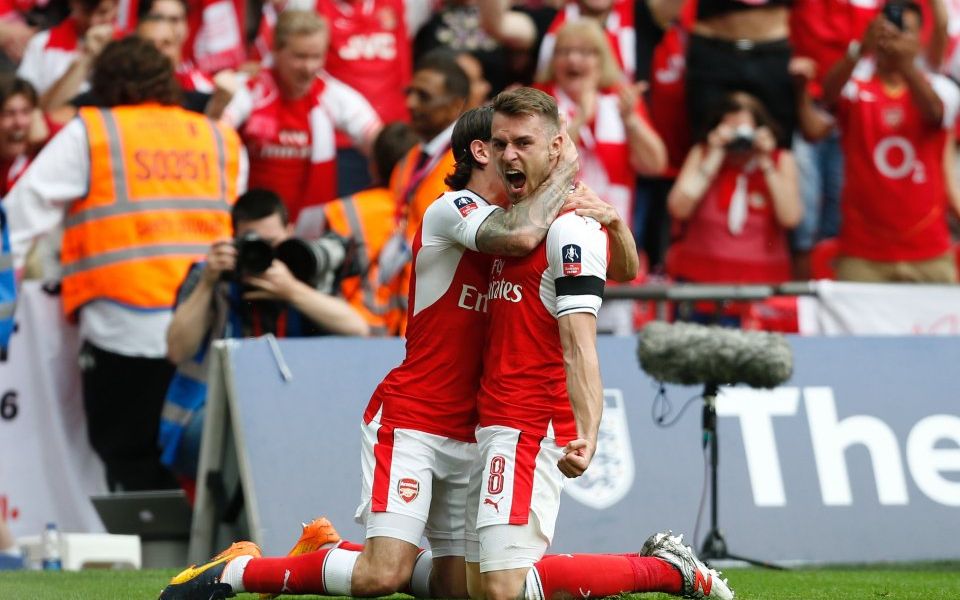 In winning last season's FA Cup, Arsenal basked in the glory that only comes with winning silverware, their players popped champagne, fans savoured stopping London rivals Chelsea from winning a double and manager Arsene Wenger made history as the competition's most successful manager.
And yet for all that, in monetary terms the triumph was worth just £4.3m to Arsenal. To put that into context, an average Premier League game last season was worth £3.7m to the Gunners.
In an Arsenal accounting department counting the cost of the club's failure to qualify for the Champions League, celebrations may not have been so joyous.
Yet if financial imperatives persuade Premier League managers to rest their stars in the early stages of the FA Cup, the money on offer to teams in the competition can be a significant boost for clubs at the opposite end of football's food chain.
How much do FA Cup winners receive?
A team that enters in the third round and keeps winning until they're trotting up to the Royal Box to collect the trophy on May 19 will make £3.4m — the same as last season — with victory in the final worth more than half the total sum at £1.8m.
Read more: Here's how much every Premier League club earned in prize money last season
Runners-up take home £900,000 while defeated semi-finalists receive £450,000 for their efforts. Winning a third round tie is worth just £67,500, less than the reported average weekly salary for a Manchester United or Manchester City player.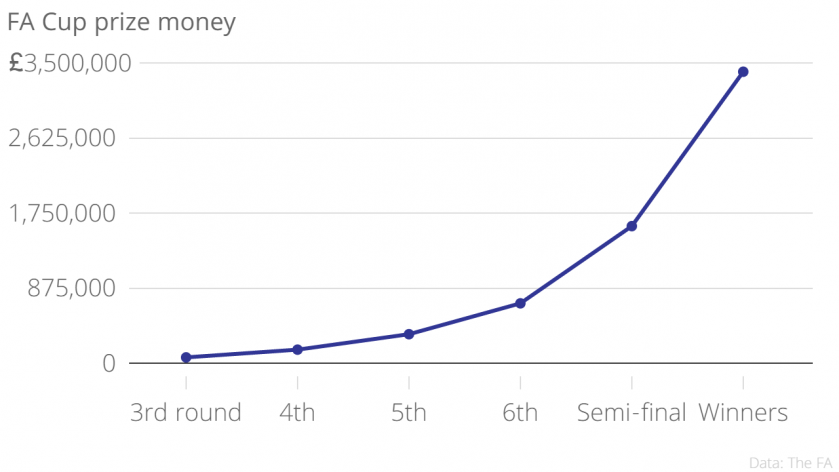 So how did Arsenal receive £4.3m? TV Money
Any time a club competes in a televised tie, whether home or away, the FA pays them a live broadcast fee of £144,000. Replays are worth £72,000 per club.
Arsenal were on TV six times last season, including the final, earning them £864,000 in broadcast fees.
Gate receipts distribution
Gate receipts are equally split between the two clubs involved in a tie, meaning an FA Cup tie in a Premier League giant's own backyard remains a significant earner for a club lower down the league ladder with turnover in the low millions.
Read more: Wimbledon on a high as opportunity knocks for FA Cup giant-killing at Wembley
Somewhat perversely, it can actually be in a club's long-term interests to play for a draw when pitted against a Premier League giant at home.
How does the FA Cup compare to other competitions?
If Chelsea needed a source of solace for losing in last year's FA Cup final, the vast disparity between the £38.8m prize money they earned for winning the Premier League and the £3.4m in merit-based payments Arsenal received for the cup will have provided some comfort.
Read more: Champions League's biggest earners bag another record prize
And with TV money added, Chelsea's total take from their league campaign was a record £150.8m.
Even Manchester United's Europa League triumph was significantly more lucrative. Jose Mourinho's men earned their club £13m in prize money alone for winning Uefa's secondary competition. Champions League winners Real Madrid, meanwhile, pocketed around £49m.
Future increases
The world's oldest cup competition may be able to gain some financial ground on rival tournaments next season after the FA negotiated a lucrative £820m international TV rights deal with Pitch International and IMG.