Cracking down on law and order to win the next election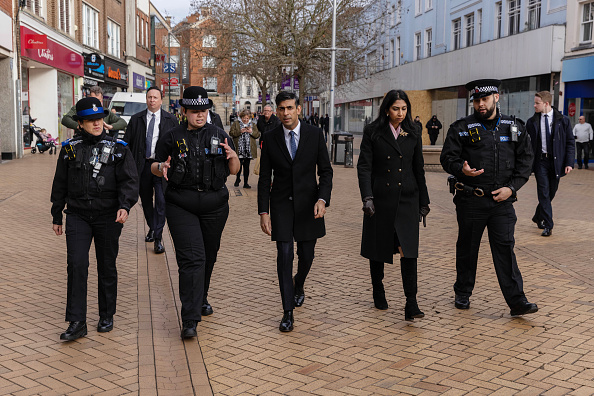 In February last year, Will Tanner, then the director of think tank Onward, wrote that the next election would be won – or lost – on crime prevention.
Now Tanner is deputy chief of staff to the Prime Minister and Sunak just announced plans to stop the yobs, by cracking down on anti-social behaviour.
Yesterday, Sunak said people had a "basic right" to feel safe in their community.
Both parties have pivoted into election mode, and both are going helter-skelter for tackling crime.
Under Sunak's plans, people will be able to have "immediate justice", with people accused of some crimes, such as graffiti, able to fess up and help repair the damage.
Nitrous oxide, the laughing gas found in the silver canisters littering Britain's streets, will also be outlawed, because the war on drugs has such a good record of stopping drug usage. 
It comes only days after Labour leader Keir Starmer outlined his own plans for crime prevention.
Since the time Tanner was writing, Labour has been ahead in the polls on tackling crime. In the space of just over a year, it has narrowed from a 9 point lead to a 6 point lead, according to Redfield & Wilton Strategies. The last time Labour was leading on crime, Tony Blair was about to ascend to power.
It is easy to read too much into current polling. This time last year, Boris Johnson and Rishi Sunak were both about to be fined for breaking rules during lockdown, and the Conservative party was beset with scandals. None of this was conducive to faith in the party to restore law and order in the UK, especially if it couldn't do so within its own ranks. 
Sunak, in contrast, has proved himself over the last few weeks an expert in competent, quiet management. If the 16 pilots planned for his anti anti-social behaviour drive prove fruitful, it would be a windfall promise for the next election.
The scandals within the Metropolitan Police have done little to instil confidence in crime prevention. Although it is a London force, the idea of "Scotland Yard" is able to cut through across the UK.
Sunak, in response, has promised 20,000 new police officers, but without any further plans for rigorous recruitment.
As Rosie Beacon, an erstwhile columnist at City A.M. and policy wonk at the Tony Blair Institute has noted: "Targets like this can just incentivise police forces to rush through recruitment to get more 'bobbies on the beat'."
Importantly, it's not 20,000 extra police officers. Policing minister Chris Philp admitted on BBC Breakfast this morning that the peak of police numbers was in 2010, with 145,000 cops on the streets.
Under the government plans, that number would be restored, with an extra 4,000 to spare, to 149,000.
Labour may be in the lead right now, but the Conservatives have a strong history on trust on crime. It is theirs to lose.