Co-op overhaul gives hedge funds control of smaller bank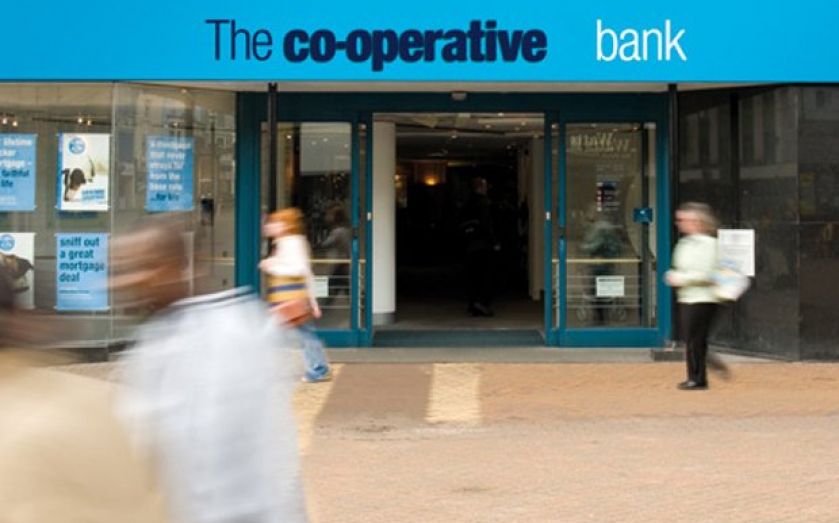 CO-OPERATIVE bank bosses yesterday said they had faith that the US hedge funds that now own much of its stock will not destroy the firm's ethical principles, as they unveiled drastic plans to shrink the lender.
The bank, which has been scrambling to fill a £1.5bn black hole, unveiled a radical restructure yesterday to close 50 branches, turn 70 per cent of the company over to other investors, and plough £462m into the business to keep hold of the remaining 30 per cent.
Boss Euan Sutherland said that the 12 hedge funds who now own a 35 per cent stake in the firm, six of which were revealed yesterday (see right), were investing in the bank because they believed in the value of its ethical model and would continue to uphold its traditions.
"They buy into it because it's valuable. Hedge funds are very economically rational people. They invest in areas where they see value," he said.
The bank has baked ethical principles into the articles of association for the company, putting a brake on any moves by the hedge funds to ditch the Co-op's ethical stance. However, Sutherland revealed yesterday the bank's turnaround would not be complete for another "four to five years", piling on pressure to make the bank profitable. He also admitted the original proposal to save the bank from bankruptcy that was floated in June – ploughing in £1bn to take a 70 per cent – would have been worse than the current outcome.
"I knew at some time we would come back to the plan. As we've gone through this process we genuinely have got to a better place." he said.
The bank also confirmed yesterday plans to spent £500m updating its IT infrastructure – more than the £462m of capital it is ploughing in to become the bank's top shareholder.
Sutherland said the bank was playing catch-up on IT.
FROM LA TO NY: THE SIX HEDGE FUND OWNERS
1 AURELIUS CAPITAL
Founded by in New York by former restructuring lawyer Mark Brodsky in 2005 and said to be named after the Roman emperor Marcus Aurelius. The firm has used litigation to increase the value of investments. It previously bought Anglo Irish Bank debt.
2 BEACH POINT CAPITAL
Based in the coastal town of Santa Monica, South California, it was founded by two junk bond experts, Carl Goldsmith and Scott Klein, previously senior execs at investment firm Post Advisory Group. It is also noted for being an active equity investor.
3 CANYON CAPITAL ADVISORS
Headquartered in Los Angeles, Canyon is one of the oldest owners, having been established in 1990 by Josh Friedman and Mitchell Julis. Both cut their teeth at the home of junk bonds, Drexel Burnham Lambert, in the 1980s.
4 CASPIAN CAPITAL
The Wall Street distressed debt investors was carved out from its parent Mariner Investment Group two years having been set up in-house by Mark Weissman in 2007. Former Goldman Sachs proprietary traders Adam Cohen and David Corleto also help manage the money.
5 MONARCH ALTERNATIVE CAPITAL
Founded by former Lazard debt investor Michael Weinstock, Monarch has been dabbling in distressed securities in Europe to substantial gains. It also made gains by holding distressed debt in Hostess Brands, which used to make US snack Twinkies.
6 SILVER POINT CAPITAL
Also a big owner of Hostess Brands debt alongside Monarch, Silver Point is based in Connecticut and was founded 11 years ago by Goldman Sachs alumni Edward Mule and Robert O'Shea.