I was surprised to see the news that Craig Overton was coming into England's side for the fourth Ashes Test against Australia at Old Trafford tomorrow.
Chris Woakes is not injured, so the fact Overton, who joined the squad as a replacement for Jimmy Anderson, has moved ahead of both Woakes and Sam Curran raised an eyebrow.
If England had been playing the Test at Trent Bridge then Woakes would have been retained. When it's expected to swing he's a good operator, as we saw against Ireland at Lord's earlier this summer, but he did look a bit off colour at Headingley last week, with Joe Root only bowling him for 22 overs across both innings. 
Read more: Surrey chief executive Richard Gould on why he's sceptical of The Hundred
I feel a bit sorry for Curran, who has been in the squad looking like the next in line only to miss out again. But there is reasoning behind Overton's promotion. 
Horses for courses
England will have assessed the pitch in Manchester and picked a bowler to suit the conditions. I've bowled a fair bit at Old Trafford and it tends to have a harder, greener surface which provides decent carry and suits taller bowlers.
Overton is 6ft 5in and tends to get his wickets through bounce and seam movement rather than swing. He's not quick, but offers a different trajectory to what England currently have.
Curran may be a better all-round cricketer, but at the moment I think Overton is a better bowler.
The Somerset man also has previous Ashes experience, which I think is important in his selection. Overton played in the 2017-18 series in Australia, and although England lost 4-0, he showed promise with both bat and ball before suffering a broken rib.
His statistics may state he's taken seven wickets at an average of 42.28 in three Tests so far, but he shouldn't be judged on that. In reality he came in under difficult circumstances and showed plenty of ability as well as fight.
I played against him towards the end of my career and he has a win-at-all-costs mentality, which means he's the kind of guy you want to be able to call upon as a captain.
Reshuffle for Roy
With Jason Roy having struggled as an opener England had two options for this Test: drop him and bring in a new player like Dom Sibley, or move him down the batting order.
Not many players come into an Ashes series on debut and score a century, like Jonathan Trott did in 2009, so I think England swapping Roy with Joe Denly at No4 is worth a shot.
Roy is experienced against the white ball at international level yet has looked all at sea opening this series. He should be better suited down the order – we just have to hope he isn't forced to the crease too early.
Denly showed promise in the third Test with an important second-innings 50 and has a bit of experience opening in first-class cricket but I fear that, like Roy, he's too naturally aggressive – he won't want to leave many balls.
I don't think the reshuffle will prove to be the answer in the long term, but it's still a move that needed to happen.
Smith returns
Australia have Steve Smith back after he missed the third Test with concussion and that is obviously a huge boost for the visitors, who will be determined to put Ben Stokes's heroics behind them.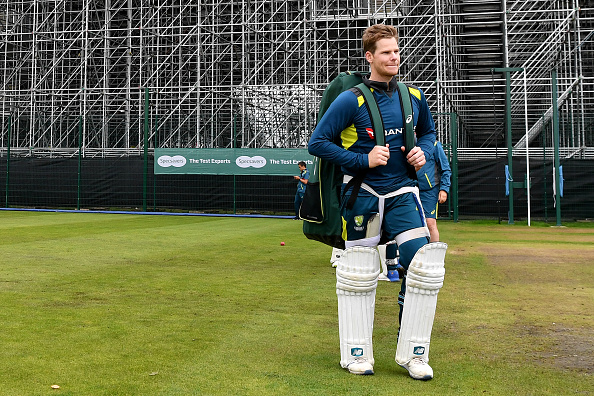 However, as I wrote last week, I still make Australia slight favourites. They bowled England out for 67, despite the hosts having the better of the batting conditions at Headingley, and overall they've played the better cricket.
If Old Trafford does provide pace and bounce that will suit Australia just fine as their batsmen are used to it and their bowlers can exploit it.
England now have Jofra Archer in the ranks, but they can't afford to rely on him and Stokes. Big players must step up if they are going to keep the momentum and win this Test.
Main image credit: Getty Images