Champions League: Liverpool exit with £8m prize money but miss out on a potential £18m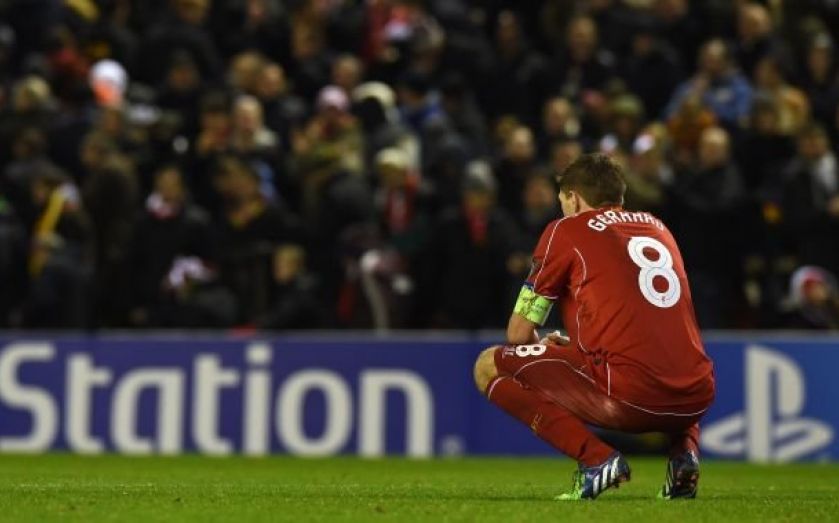 When Liverpool qualified for the Champions League last May, the club could look forward to competing against some of Europe's biggest clubs as well as a big healthy boost to its bank account.
The Reds have enjoyed both since returning to Europe's elite competition, yet after tonight's 1-1 home draw with FC Basel, they may reflect on a missed opportunity on both fronts.
Liverpool exit the competition with a total €10.6m (£8.4m) in prize money, but miss out on a potential €23.3m (£18.4m) available to the teams still in the competition.
In contrast, Arsenal have earned €13.1m while Chelsea have picked up €12.6m with a group stage game still to play. Manchester City have earned the same amount as Liverpool, but have a chance to add to their pot when they travel to Roma tomorrow night.
And unlike the five-time European champions, all three English clubs could still add significantly to their total in the knockout stages of the competition.
By failing to find a winning goal tonight, Liverpool missed out on a guaranteed €3.5m from the last 16 stage. Clubs are also awarded €3.9m for reaching the quarter-finals, €4.9m for the semi-finals, €6.5m for the final and a further €4.5 for winning "ol' big ears" outright.
With Liverpool struggling in the Premier League this season, winning the Europa League (which they now enter by default due to finishing third in their group) could be their best bet of returning to the lucrative competition next season.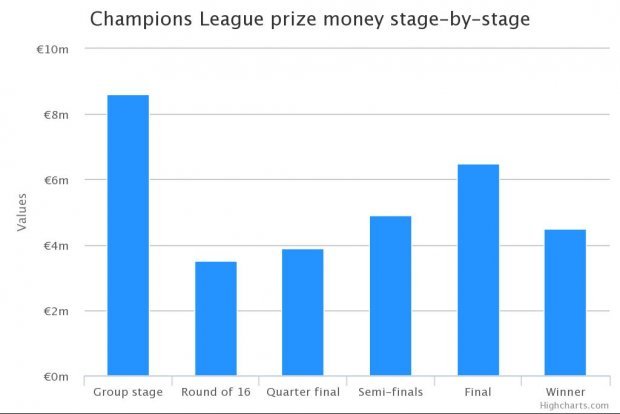 Of course, Liverpool's Champions League campaign will be worth more their coffers than just the £8.4m picked up in prize money. The reds also earn their share of the UK's TV market pool allocation.
Uefa distributes broadcasting money to clubs based on where they finished in the preceding domestic season. As Brendan Rodgers' side finished runners-up in last year's Premier League, Liverpool are entitled to 30 per cent of the market pool, the size of which will be determined by how well the remaining UK clubs perform in the rest of the competition.
Last season the 2012/13 Premier League runners-up Manchester City earned €18.3m from their share of the €71.7m pool.
Extra fixtures in the Champions League is also likely to have brought increased
matchday
and commercial revenues
with it, although the exact value has not been made public.
Liverpool could still rescue €7m from winning the Europa League, yet for all of those in Anfield's boardroom as well as the stands – that will be little consolation right now.