Canary Wharf homes are now a reality – get them while they're hot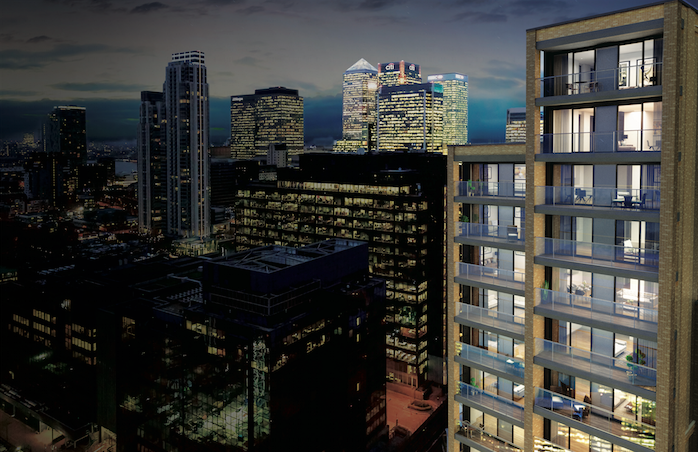 When the first homes went on sale at 10 Park Place on the Canary Wharf estate, there were buyers queuing a day early for them. When developer Galliard launched Maine Tower nearby, around £140m of property sold out within four hours, the equivalent of £580,000 worth of sales every minute.
Now, it's Telford Homes' turn to get a piece of the action. The developer held an exclusive sales event at the Four Seasons Hotel, Canary Wharf, last week to shift the first batch of new homes in the Liberty Building and it succeeded in selling out of one bedroom flats in its first weekend.
Now there are just two and three bedroom apartments left to buy in the imposing 26-storey tower – with the first finished in spring 2019 – and a duplex penthouse stretching across the two top floors of the building.
With the working population of Canary Wharf set to reach 200,000 by 2025, house price growth is expected to grow by 37 per cent by 2019 and Telford is putting rental yields for the development between 4.8 per cent and 5.2 per cent.
Located just outside the private estate in Limeharbour, it's a five minute walk from South Dock and 10 minutes from the Thames at a time when proximity to the water means higher sales. According to a report published last week by Savills, buyers can expect to pay a 13.5 per cent premium on waterfront homes. Crucially, while almost all waterfront homes in central London are commanding over £1,000psqft, only third of the ones in east London reach as high as that, making them far more affordable.
"UK buyers are increasingly attracted to new developments, which now make up 58 per cent of the prime waterfront market, compared to 25 per cent in 2012/13," says Sophie Chick, associate director at Savills research.
• Call Telford Homes on 020 3538 4859