Can The Maldives cure me? I went to find out
"The first dedicated wellness retreat in the Maldives," they said. "Nonsense," I said. Every Maldivian island and their dog has "well-something" splashed across their website. Once you're done petting dolphins, what else is there to do but be tended to by therapists promising repair, realignment, reconnection, restoration and revitalisation? "I'm not having it," I thought. "But I'd better just go and check."
Aeroplane, seaplane, golf buggy and I'm in most folk's interpretation of paradise. Serene sweeps of sand, softer than sieved flour, whiter than a baby's conscience. A thousand hues of pellucid blue. Kaleidoscope corals, sheltering a ballet of fish more effulgent than Jon Snow's ties. A dewy, verdant heart.
The island of Bodufushi in Raa Atoll in the Maldives is part of a slowly disappearing love letter from nature. One that speaks of reparative quietude and the giddiness of leaving behind the quotidian grind. Hidden among the island's floriferous flora are man's best attempts at following suit: a series of luxey temples to health that offer guests "weightlessness", body and mind.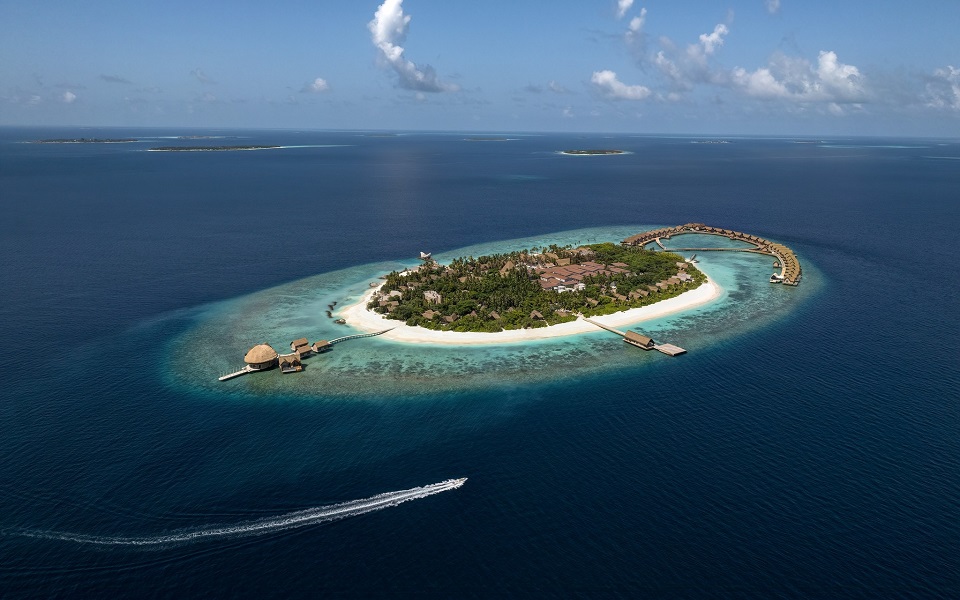 The Joali Being property has 68 villas, four restaurants and a whopping 39-room spa, Areka, built according to "biophilic" principles that prioritise a connection with Maldivian nature. Palm-leaf carpets and miles of whitewood rattan help to set the concept and a pastel palette of teal and blush pink lends a salubrious air. Castaway meets sci-fi health cathedral. Epic stuff.
Immediately before my arrival, I'd spent 24 hours at Joali's other, older, Maldivian island, in one of its delightfully opulent (and vast) beach villas. The style is members-club dark. Expensive-looking wood and swathes of Norwegian green marble dominate. But old-world luxury and its gout-giving treats were at odds with my present mission; so it was just the one bottle of blanc de blancs before heading to healthville.
I felt like a new man. I felt like a new woman. I actually dribbled. A perfect pearl of saliva fell out of my mouth
A week previous, I was asked to complete a notably thorough questionnaire. My rather troubling answers – about 94 per cent of my diet is bread – kicked off a chain reaction on the island. This, combined with a 'nutrition consultation assessment' when I arrived, conducted using Star Trek-esque diagnostics gear, would inform everything hence: food, treatments, activities.
I found some of the long-view advice a little basic: "Cut down on red meat". Though it was interesting to learn that I should eschew garlic: "But I'm half French!" And oats. I'm allowed eggs of any kind, though, and there was nothing in there about excessive bread consumption. Praise be.
With the help of Professor Gerry Bodeker of Oxford University, Joali Being's wellness concept is built on four pillars: mind, skin, microbiome and energy. With my mental health red-lining somewhere near "WTAF", the obvious leaning was to 'mind'. (For more unsolicited opinions on how travel affects mental wellbeing, check out my Instagram.) 'Microbiome' (read, tummy) was to be its support act, by dint of their secret connection. Which brings me onto Joali Being's food offering. Four restaurants – all found under the same large wave-like roof – have menus that are organised to make sticking to your pillars a cinch.
One might imagine, as I did, that the food would be joylessly wholesome. Lentils for days. Mercifully, Joali Being's erudite exec chef Kuntal Kumar has developed menus that marry a background in ayurveda with his own 'Earth-to-Table' initiative, which promises traceability and (some) locally grown ingredients. Let's not kid ourselves that posh nosh on an island in the Indian Ocean is sustainable, but it was of a calibre I'd expect at restaurants with stars. The artful salmon and tuna mosaic (mind and microbiome); a delicate dover sole consommé (skin and microbiome); bijou wagyu beef with truffle jus (energy and skin): all nth-degree elegant and, by Jove, good for you!
A nice Spanish man held me in his arms and swished my foetal frame through a warm water pool like a Disney prince
At a light-touch cookery class on day two, Kumar spoke eloquently on the divinity of food and its power to heal: "Overall wellbeing is 85% food, 15% lifestyle and 1% God," he said. I agreed, 101%. So did my gut. Chaperoning me on this virtuous journey was Vladimir, my Jadugar (read, butler). He knew where I should be, at what time and always took me there. Like a diligent soccer mum, he reminded me of what not to forget – and then drove back to get said items once they'd been forgotten. He even agreed to a private sunrise photography session. The 'Gram needs feeding, too, amirite?
On the walk back to my private-pooled water villa – "No no Vlad, you go ahead darling, I'll be fine" – I came across the resort's sound path tour. What at first reminded me of a primary school garden actually had me in thrall for the best part of an hour. Lovely soothing noises from gongs and tubular bells that require zero talent. My kind of musical instruments.
We should probably talk about the treatments. I had so many. The Four Pillar Signature massage, though: best I've ever had. No, honestly, I mean it. Yes, I know I always say 'this is the one'. But I'm for real. It was magical. I felt like a new man. I felt like a new woman. I actually dribbled. A perfect pearl of saliva fell out of my mouth. His hallowed hands carried me somewhere. In my mind, Rachmaninoff's Piano Concerto No. 2 played as I sashayed naked through a jungle, with monkeys, to a better place. With every knead, the stress of being a luxury lifestyle reporter exited via my skin, like passata through muslin cloth.
By the half-way point, I was convinced he was making me a better person. As if his petrissage was so profound that even deep moral corruption could be knuckled away. I looked down at the flower in the bowl and it began spinning – a buddhist man dala coming in and out of focus. Enlightenment, so close. Then there was the Turkish hammam. And the sound therapy session, where I lay on a beautiful wooden table that hummed a benevolent tune every time the strings underneath me were plucked.
It goes on… I felt the healing freeze of the Maldives' first and only cryotherapy chamber and followed it up with a 'private movement session' at the gym's hi-tech D-wall (scored 8 out of 100 for balance). Between several other memorable massages, there was watsu (water; shiatsu), a weightless water-based therapy in which a nice Spanish man held me in his arms and swished my foetal frame through a warm water pool like a Disney prince. The lights in its domed roof twinkled like the stars in my eyes. I loved it. Almost as much as playing football with the staff on the island's five-a-side pitch.
For the first time in a long time I felt comfortable travelling without my partner. As we all know, a solo trip to the Maldives is typically the preserve of those who'd been jilted but refuse to let a good honeymoon go to waste. Joali Being appears to have created a concept attuned to the needs of solo travellers bent on repair.
"The first dedicated wellness retreat in the Maldives," they said. Yes, yes – you've made your point.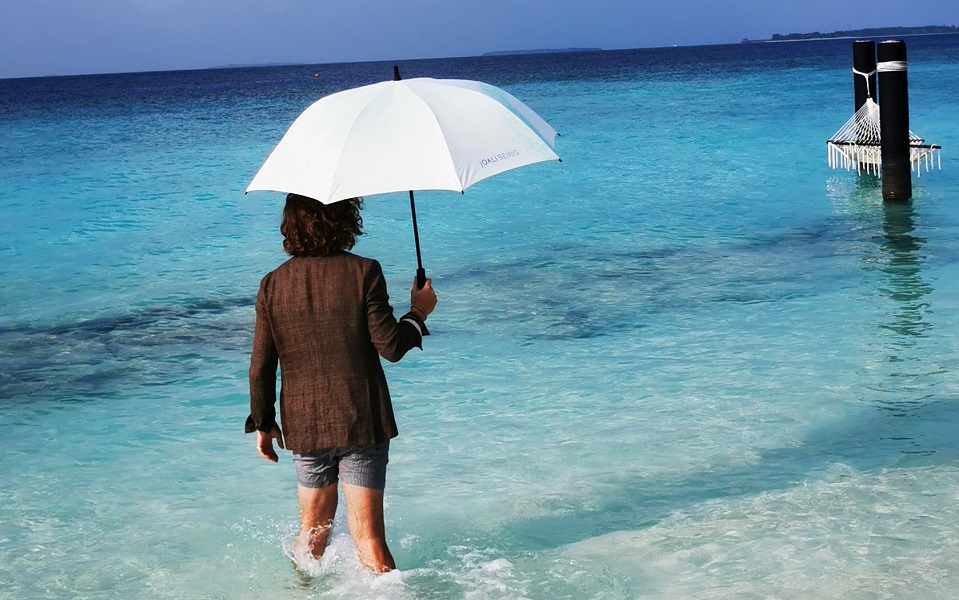 Visit The Maldives yourself
Villas from £2,810 per night based on two persons sharing B&B in high season from December – April. Prices start from £1,764 in low season running from May – November. Immersion Programmes start from $1,400 based on a five-night Discovery Programme. Joalibeing.com
Read more travel stories on City A.M. Life&Style