Bugatti sold to Rimac in 'perfect match' deal
Rimac will become the majority owner of famed luxury car brand Bugatti in a new joint venture with Porsche, bringing to an end 23 years of direct Volkswagen Group ownership.
Porsche AG will acquire 45 percent of the new company, to be called Bugatti Rimac LLC. A newly formed Rimac Group parent company will hold the other 55 percent. Rimac's charismatic founder Mate Rimac will become CEO.
Mr Rimac holds 37 percent of Rimac Group. Porsche already owns 24 percent, Hyundai Motor Group owns 12 percent, and other investors hold the remainder.
Rimac's EV and battery tech development, production and supply division will be split into a third company, Rimac Technology.
This independent company, sitting alongside Bugatti Rimac LLC, will be 100 percent owned by Rimac Group.
Bugatti's future secured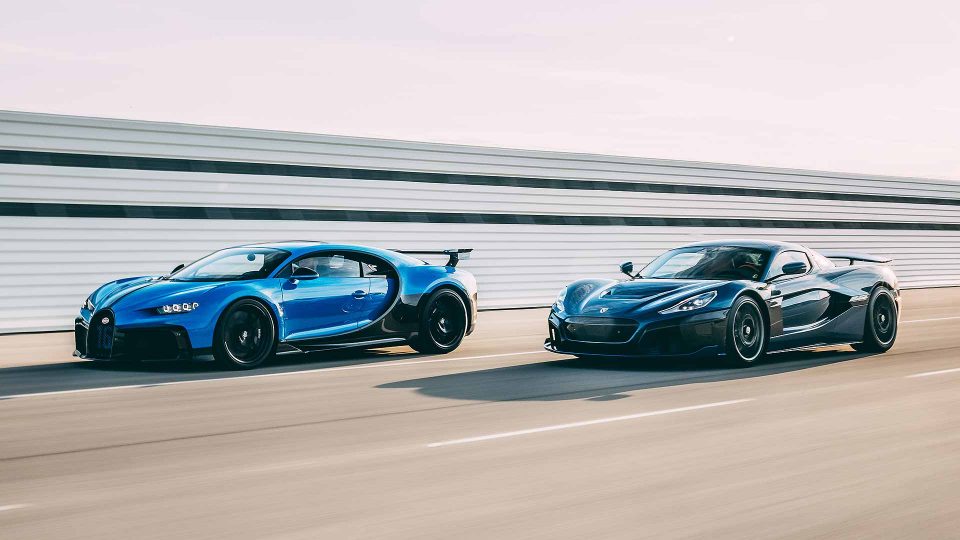 Bugatti will remain a standalone brand, keeping its development and production base in Molsheim, France, plus its own distribution channels and dealers.
It will operate independently to Rimac Automobili, which is based in Zagreb, Croatia.
The Bugatti Rimac company has been created to pool R&D resources and expertise to create the new Bugattis and Rimacs of the future.
Bugatti Rimac will, in time, share a global HQ, however – based at the €200m Rimac Campus due to open in 2023. As many as 2,500 people will ultimately work there.
'Completely new level'
"This is a truly exciting moment in the short, yet rapidly expanding history of Rimac Automobili," said Mate Rimac.
"We have gone through so much in such a short space of time, but this new venture takes things to a completely new level.
"Rimac and Bugatti are a perfect match… as a young, agile and fast-paced automotive and technology company, we have established ourselves as an industry pioneer in electric technologies.
"Bugatti, with over a century of experience in engineering excellence, also possesses one of the most exceptional heritage of any car company in history."
Porsche AG chairman Oliver Blume added: "We are combining Bugatti's strong expertise in the hypercar business with Rimac's tremendous innovative strength in the highly promising field of electromobility.
"Bugatti is contributing a tradition-rich brand, iconic products, a loyal customer base and a global dealer network to the joint venture. In addition to technology, Rimac is contributing new development and organisational approaches."
Volkswagen Group took over the Bugatti brand in 1998, launching iconic cars such as the Bugatti Veyron and Chiron.
However, the global giant is now concentrating on electrifying its core VW, Audi, Seat and Skoda models.
Earlier this year, Volkswagen Group received a €7.5bn bid from a consortium to buy the Lamborghini brand. It rejected the offer.
Richard Aucock writes for Motoring Research