LIVE: Blaze in Elephant & Castle under control, roads in area reopened
Station commander James Ryan just told City A.M. the huge fire at Elephant & Castle train station is under control, nearly four hours after it started. Dozens of police and ambulance crews were still on the scene at 7.15pm this evening.
The cause of the fire is unknown and is being investigated, he added. The police have reopened roads in the area.
"Just before 1.45pm this afternoon we received the first of 44 calls to a fire in a railway arch underneath Elephant and Castle Railway station," he said.
"There was a significant fire in a car garage in the railway arches, which also involved several cars outside the railway arches and a telephone box," Ryan added.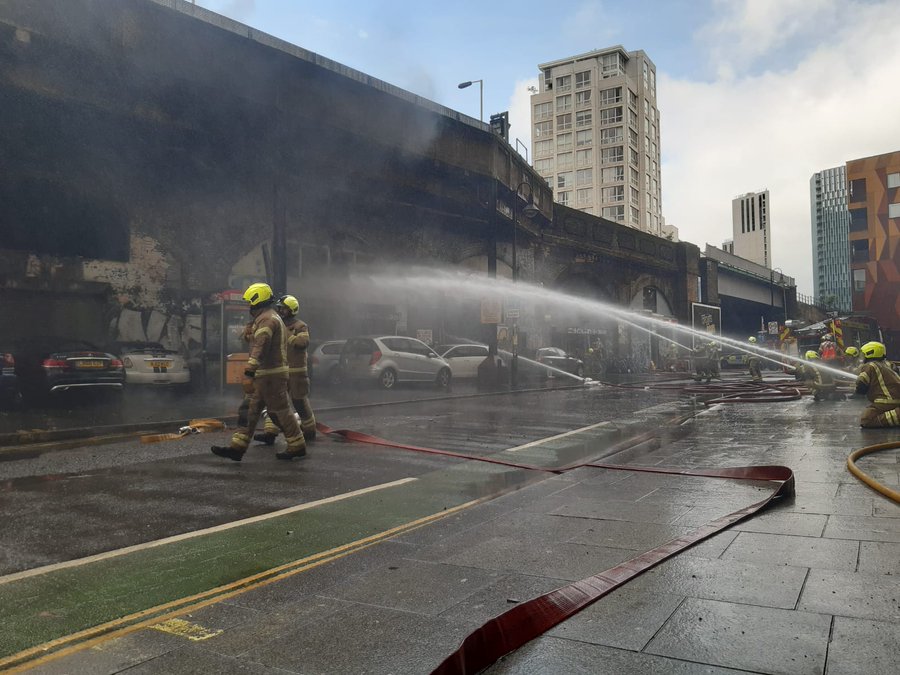 "The smoke that was created by that fire also affected the main overground station of Elephant and Castle, which was subsequently closed as a precaution," Ryan explained.
One man was treated by ambulance crews while around 100 firefighters are still battling the blaze.
The cordon which is in place is more than 100 metres wide and the northern line at Elephant and Castle was not running but the Bakerloo line is, British Transport police officers told City A.M.
Police at the scene said the smoke came from the train station rather than the tube station.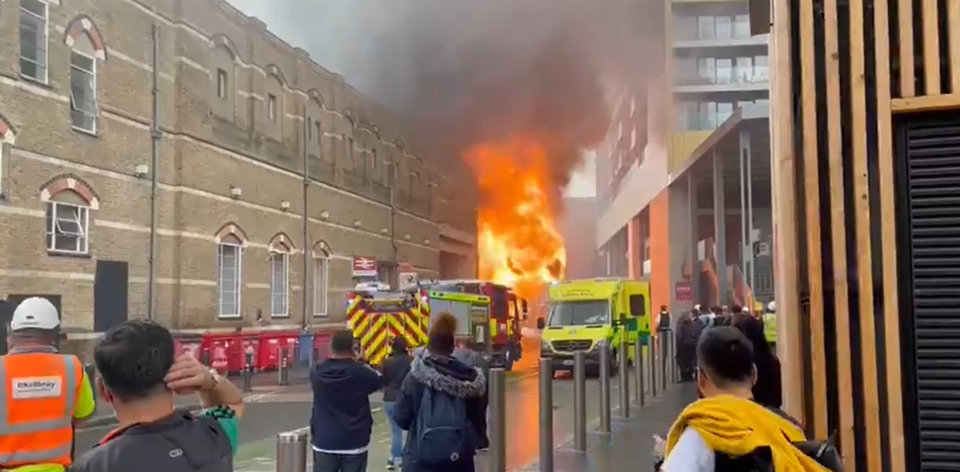 The Mayor of London, Sadiq Khan, said this afternoon that two people, one police officer and one member of the public, are being treated for smoke inhalation. "I wish them and others affected a speedy recovery."
Station Commander James Ryan warned Londoners to stay away from the area and a number of local residents have been evacuated.
"Officers and the London Ambulance Service are supporting London Fire Brigade at the scene. The station has been evacuated and residential evacuations are taking now place," according to a statement.
Major explosion
Earlier today, eyewitnesses recorded and reported "an explosion", while one video (above) shows a fireball erupting into the sky as people flee the scene.
Officers have taped off Walworth Road, leading up to the station's entrance on Elephant Road.
The Northern Line is not stopping at Elephant and Castle tube station as a result of a fire that has broken out nearby, Transport For London (TFL) has said.
A TFL spokesman said the fire occurred close to the station on Monday afternoon, and that the entrance to the Northern Line cannot be accessed.
Smoke can be seen for miles
"Smoke still pouring out, the area under the station is called Little Columbia and there are numerous small Colombian shops and eateries which are now covered in thick black smoke," one Twitter user wrote.
Sara Scarpa, 25, lives in nearby apartment building Hurlock Heights and said smoke and the noise of the explosion had reached her window.
"We opened the window for a sec as you could hear people shouting, and we smelt something very very strong," she said.
"The smoke (was) dying down a little… we heard an explosion and now it started again."
Emergency services out in force
A spokesman for London Fire Brigade reportedly said they received a report of a fire in a garage near Elephant and Castle station at 1.43pm this afternoon.
11 fire engines and around 100 firefighters are currently battling the fire.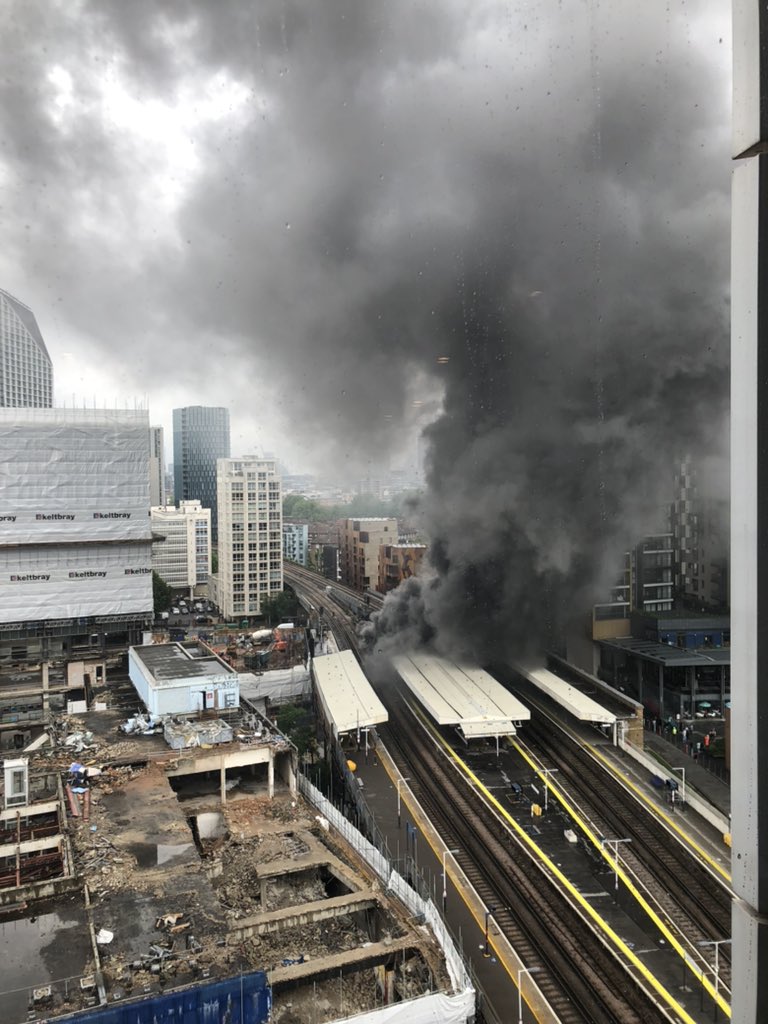 Martin Bobrowski, a builder who is working opposite the station, said he heard ambulances and police driving nearby before seeing smoke coming from the station at about 2pm.
"I heard the police come and I thought there was an accident nearby, but then they started blocking the road off. I then came outside for a cigarette and saw all the black smoke," he said.
"I was really surprised to see it and a bit scared. They haven't told us anything. The smell was awful. It smelt like a burning electrical cable smell."
"Individual reports black smoke followed by explosion and 'large fireball' at Elephant and Castle train station in London," a Twitter user posted.
There are significant road closures in place and the public are advised to avoid the area.
Officers have taped off Walworth Road, leading up to the station's entrance on Elephant Road.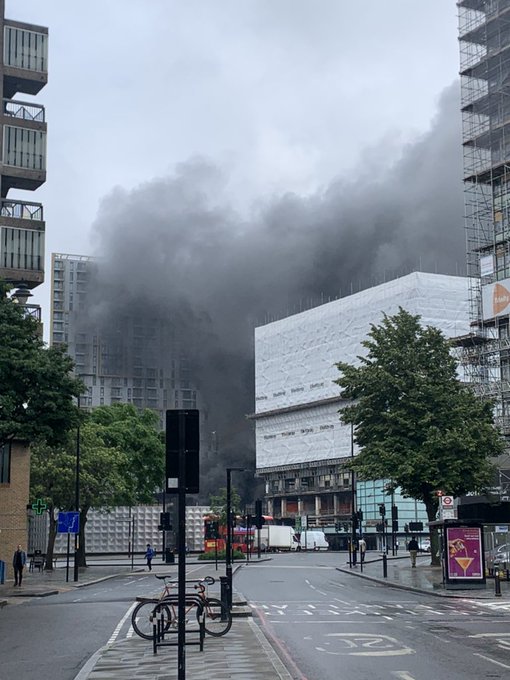 Abdullah Safi, 21, who works at Chatkhara restaurant, was on his way to the Sainsbury's nearby to the station when he saw the flames.
"I saw so much smoke. The fire was burning so high, about 50ft, so I started recording on my phone. Suddenly there was a big explosion, so I ran away. I ran back to my restaurant. I wasn't hurt or anything. I've never felt so much heat and so much smoke at once."
"I've never seen something that big – I was scared. And it exploded twice."
One resident at the Strata building said she saw dozens of people gathering outside and went to investigate the scene.
"I don't really know what's going on, we've been told by the police the building has been evacuated about 10 minutes ago," she said.
"It's a bit scary, it's not really clear what's happening."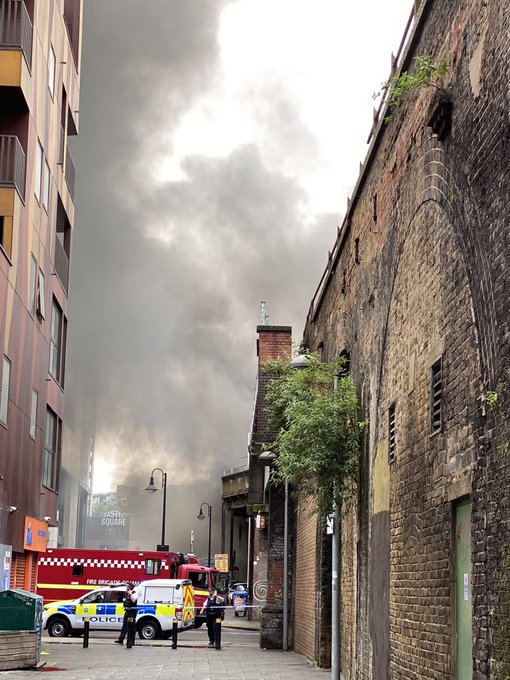 Transport Secretary Grant Shapps urged the public to avoid the Elephant and Castle area "until further update".
He said he was aware of the fire at the station and his team was working closely with Transport for London and Network Rail.
"Thank you to all the emergency services currently in attendance," he added.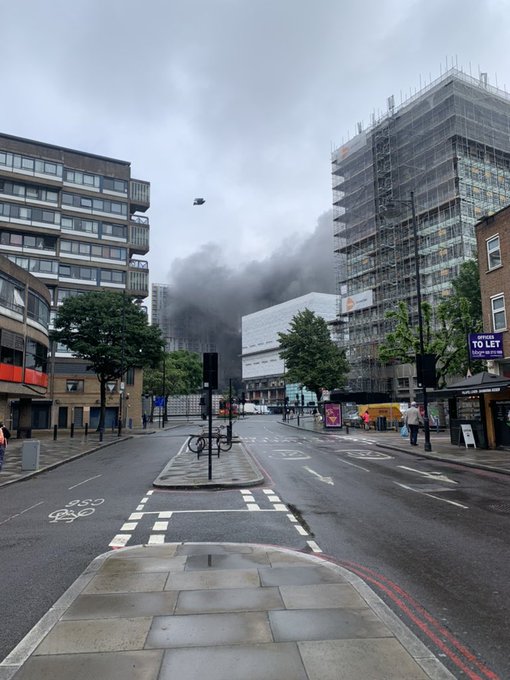 A restaurant worker close to Elephant and Castle station said she was evacuated after the fire broke out.
Alex Leckie, 30, assistant manager at Tupi, said: "The entire building was evacuated, we began to smell smoke and the store owner went to check, we saw smoke billowing out and what I'm told is the mechanics were on fire, the smoke pillar started enveloping the apartment blocks as well and we kept hearing intermittent bangs."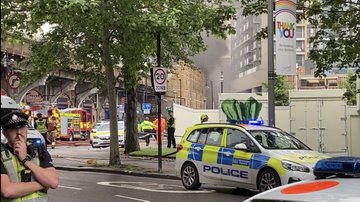 "The police have indicated it could be some time (until they are allowed back inside). They have repeatedly pushed the crowds back even from the Castle Square Park and cordoned off the roads, there is a very, very heavy presence," Tupi said.
"At this point emergency crews have everyone well clear of the area," Tupi said.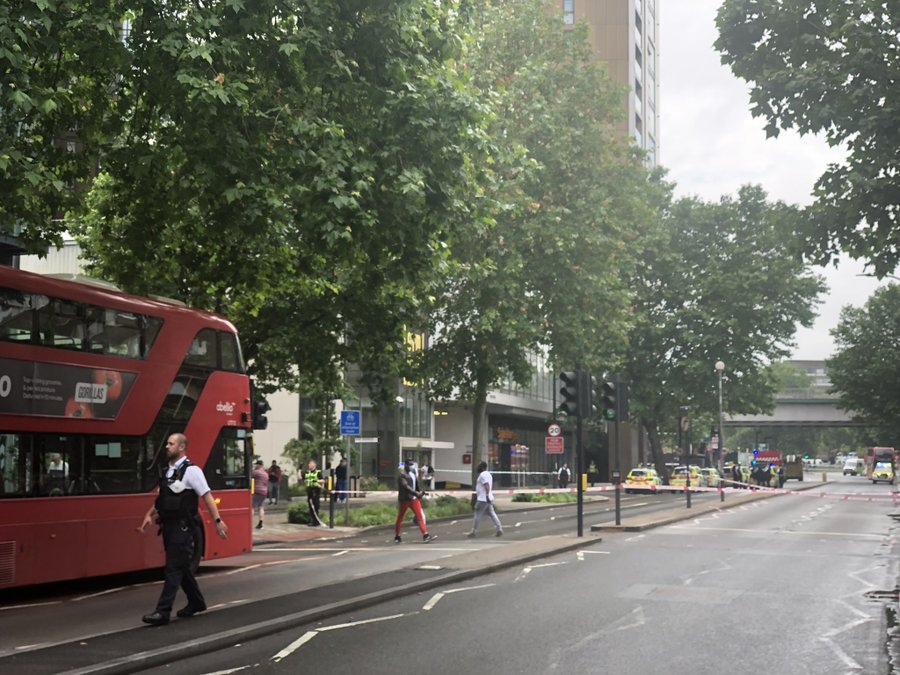 Thameslink
Thameslink said all lines through Elephant and Castle are currently blocked due to the fire.
Services between St Albans and Sutton and London Blackfriars and Sevenoaks are affected.
Thameslink said in a tweet: "You will have to use an alternative route to complete your journey and you should allow plenty of extra time to complete your journey."
"To help keep you on the move, you can use your ticket on: London buses between London Blackfriars, Denmark Hill and Loughborough Junction, London Underground and Southeastern trains between London Victoria, Peckham Rye, Nunhead and London Bridge to Sevenoaks."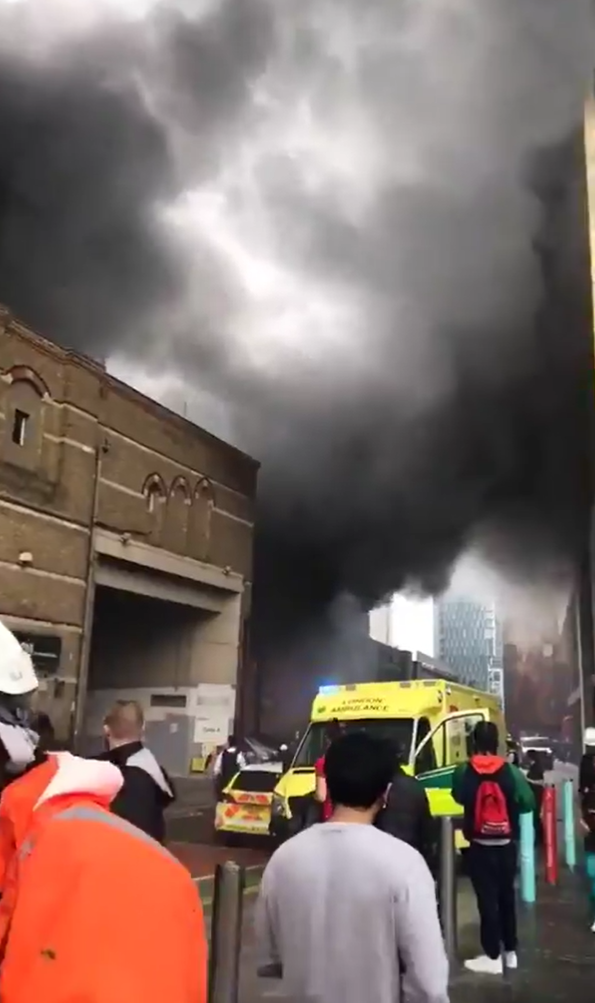 One worker at the Strata, who was guarding the door at the block of flats, was seen telling residents: "You're allowed back in, stay away from the windows, if you're going in, stay in.
"They're (the police) trying to stop people from going in and out, in and out, they need to control the number of people in the building. You need to be prepared to stay in for a while."
James Ryan, station commander, said the flames at the scene were "significant".
"Going to 15 pump fires isn't uncommon for us but this was a high-profile incident in the fact that it was in a very visible location and the size of the flames coming out and the smoke were quite significant. It did attract more attention than the other fires we go to," Ryan said.
People are being asked to avoid the area over the next two hours and residents should keep their windows and doors closed for the time being until the fire is fully extinguished, he added.