Black Friday 2014: From Uranium ore to free guns – five of the weirdest US Black Friday deals
The US takes its Christmas shopping seriously. Black Friday, the day US shoppers traditionally pull themselves out of their Thanksgiving-induced food comas and hit the high street, was worth $12.3bn (£7.8bn) last year.
And while some of the discounts retailers make to entice shoppers are pretty extreme (Walmart, for instance, is selling iPads for $199, while Target is selling the latest GoPro camera at $50 off), some sales are just plain bonkers. Here are some of the weirdest.
1. Uranium Ore, Amazon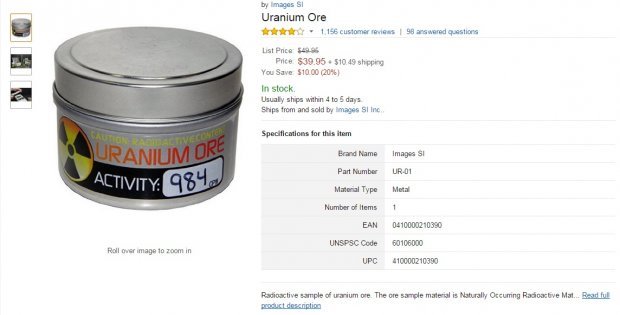 Would-be supervillains, listen up: for one day only, you can get a pot of naturally occurring Uranium ore for the bargain price of $39.95 – that's a 20 per cent discount. Although, as one reviewer points out, it won't last long. "I purchased this product 4.47 billion years ago and when I opened it today, it was half empty".
2. Free guns, Cabela's
Cabela's is a Nebraska-based outdoor equipment retailer that's kind of like Blacks is in the UK – only with guns. Among the Black Friday "Doorbuster" deals are 50 per cent off a cammo armchair (useful when you don't want to be seen, but also want to relax in maximum comfort), $70 off a pair of binoculars – and for those who arrive early, the chance of winning a $529.99 stalker rifled. Although aspiring winners should "get in line early to win".
3. Bitcoin-only deals
Alright, so it might have been used more as a get rich quick scheme than as a real currency, but as its value becomes more stable, consumers are starting to use it to actually pay for stuff. Which is why this year is being billed as "Bitcoin Black Friday – the most popular day in the history of Bitcoin commerce". This year, retailers like discounter Overstock.com and travel site Expedia are accepting Bitcoins – but some will offer special disconts to those paying in Bitcoins. Who are those retailers? BitcoinBlackFriday, the company behind the campaign, won't give anything away until tomorrow – but last year's deals included money off honey products and 40 per cent off t-shirts.
4. Two-in-one stand-up paddleboard and kayak, Walmart
We've all been there: you want to hit the waves, but can't decide whether to take your stand-up paddleboard or your kayak. That's where this baby comes in: featuring durable five-inch thick Coast Liner, which provides maximum performance and stability for stand-up paddleboard fanatics of up to 265 lbs (that's 18 and a half stone in real money), the TIOSUPAK quickly deflates and stores inside the travel bag so you can take it everywhere. And all for the bargain price of $449 – $150.96 off its usual price.