Ben Spencer's late call-up for World Cup final raises the stakes after Eddie Jones' gamble
Eddie Jones admitted it was a "gamble" back in August and, on the eve of his biggest match as England head coach, the stakes have duly increased.
Jones raised some eyebrows when he named only two scrum-halves in his 31-man squad for the Rugby World Cup and, with Saturday's final against South Africa on the horizon, a hamstring injury to Willi Heinz has left him scrambling for cover.
Heinz has been firmly second choice No9 to Ben Youngs and he may have been a late bolter for Jones's squad, but his misfortune is undeniably a blow for England.
Read more: Why England shouldn't fear South Africa's one-dimensional style
The Gloucester back has been used as a substitute in each of England's games in the tournament and has emerged as a vocal, well-liked presence in the dressing room.
His replacement, Ben Spencer, only arrived in Japan on Monday after being hooked last minute from Saracens' Premiership match against Leicester on Sunday. 
Spencer, who leapfrogged Danny Care and Dan Robson in the pecking order, has won just three caps so far and hasn't played for England since March but looks set to earn his fourth from the bench on the biggest stage imaginable.
'Great opportunity'
It's a daunting prospect for him and hardly ideal for England. Not that you would know it from Jones, who was understandably keen to frame the call-up in a positive fashion.
"It is just a great opportunity ahead of him," he said. "He has just got to learn a little bit more in the early part of the week and get himself physically and mentally ready."
Had Spencer been out in Japan with the squad for the last six weeks some of that preparation would have been done already. Instead he will have to get up to speed rapidly to perform the role of "finisher", which his coach has so frequently talked up.
The fact Heinz is remaining in the camp to mentor Spencer is helpful, but it's hard not to look back on Jones's original decision and wonder what might have been.
The Australian opted against the conventional wisdom of picking three scrum-halves because he reasoned they get injured less frequently and fly-half George Ford was capable of standing in if needed.
"It is one of those balance of the squad things," he said upon announcing his party in August. "The physical demands of the game for the outside backs now are enormous because of the kick-chase and the kick-sprint. We didn't feel we could go one short in that area and we have taken a gamble."
It's not the first time Jones has made this call either, with Japan going to the 2015 World Cup under his leadership equipped with just two No9s.
Donald's example
In typical Jones fashion, he has tried to take the pressure off Spencer by referencing a successful late World Cup call-up.
Stephen Donald was famously out fishing when he was summoned by New Zealand to play in the 2011 tournament.
The fourth-choice fly-half hadn't kicked a ball for five weeks and wasn't in the best of shapes, but ended up pulling on an ill-fitting jersey and coming off the bench after an injury to Aaron Cruden to slot over the decisive penalty in the All Blacks' 8-7 win over France in the final.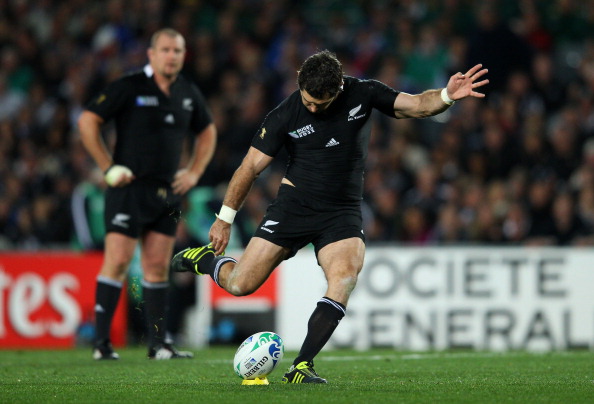 "Ben will have a shirt that fits him, so that's one significant difference," Jones joked. "And he hasn't been fishing, so that's another difference."
Spencer's situation is indeed not comparable to Donald's. But with South Africa ready to turn the final into an attritional, physical battle Youngs cannot be expected to last the full 80 minutes.
Spencer will be needed and if the game is still in the balance late on his contribution could yet prove as important as Donald's. 
Main image credit: Getty Images