Why the EU's mango ban's a really daft idea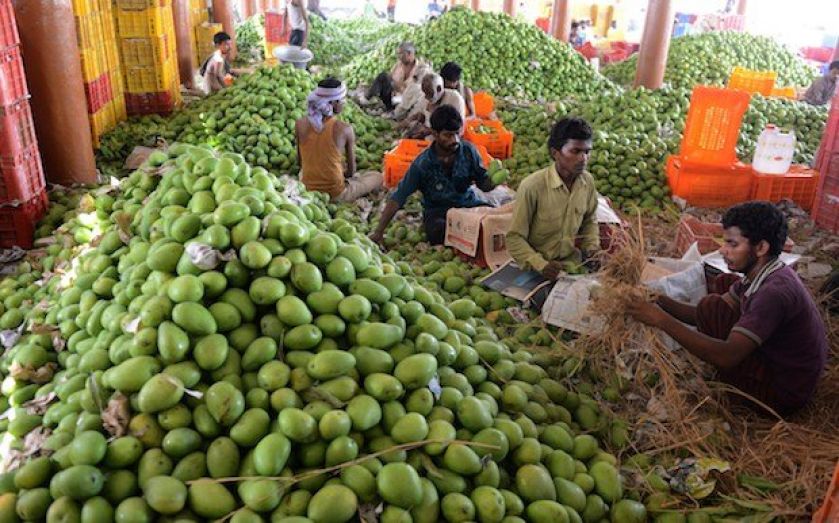 Today, an EU-wide ban on Indian Alphonso mangoes has come into force. Though temporary, it'll stop imports to the UK until December 2015.
The ban, which also applied to aubergines, two kinds of squash and a leaf called patra used for cooking, comes after non-European food pests, in the form of a type of fruit fly, were found in consignments last year.
The EU isn't India's biggest market when it comes Alphonso mangoes – the US and Middle East buy more. But be that as it may, the EU's ban stands to irk consumers, and poses a threat to producers and the Indian economy.
1. Knee-jerk reaction
The flies were found in 207 shipments of fruit and vegetables last year, but many have spoken out against the decision to ban, calling it out of proportion and severe.
Speaking to the BBC, Monica Bhandari said insects can be got rid of very simply – just with water. Writing on the government's e-petition site, she said the flies are not harmful to human health.
And Ajay Sahai, director general of the Federation of Indian Export Organisations, stressed detailed examinations and certifications have been put in place since the issue came to light.
2. Bad news for farmers
Many farmers have reported they won't be affected by the ban for the time being, owing to the nature of the contracts they have. But wholesalers are really feeling it, as they're committed to selling the top-end fruit. Local prices for mangoes dropped 15 per cent a few days ago, and a glut's already developing.
One farmer told the BBC's Today programme this morning that he's hoping to find demand elsewhere, in other countries. When it comes to India's economy at large, impact depends on how long the ban stays in place.
3. Bad news for us
We import over 56,000 tonnes of mango each year. 8.5 per cent of that comes from India – almost 5,000 tonnes. Over 1,400 people have signed an e-petition to reverse the ban, with several MPs rallying to the cause.
Joining them is Labour MP Keith Vaz, whose constituency, Leicester East, holds an annual mango festival. Championing the cause, he took a case of Alphonso mangoes to Number 10, saying of the ban: "It will cost millions of pounds of lost revenue to the British economy and result in millions of mangoes going to waste in India."
Environment minister Lord de Mauley's said the UK's working closely with both India and the EU in a bid to "resolve the issue", which could impact our trading relationship with India.