Why Aruba lives up to its nickname of 'One Happy Island'
There are many places across the world where Brits aren't truly welcome. Sure, our incessant politeness and love of queuing endears us to strangers, but we also like to drink, and we speak loudly and exclusively in our mother tongue. 
Amsterdam recently launched a "stay away" campaign specifically targeted at young British tourists in an attempt to quell the rowdy influence they bring, summer holiday hotspots like Palma in Mallorca have been known to sport some charming "Brits go home"-themed graffiti, and more up-market locations have gained crude nicknames due to their surplus of Brits abroad (parts of Tuscany are known as "Chiantishire" to the locals, for instance). 
Aruba is not one of those places. With the far nicer nickname of "one happy island," this small Caribbean Island and former Dutch colony is extremely accessible from America (just three hours from Miami and five from New York), making it a US tourist hot spot. You'll pick up on this before you even catch a whiff of an accent due to the presence of chains like Wendy's and Taco Bell, which you clock on your way out of the airport. It means Brits are a breath of fresh air to Arubans, thanks to the overwhelming presence of US passport holders and the relative difficulty of getting to Aruba from the UK. Until now.
BA recently launched a semi-direct route to Aruba for the first time, making it easier than ever to visit that one happy island. I say it's semi-direct because there is a brief layover at Antigua, but you just sit on the tarmac whilst the crew changes around you, so it feels like less of a layover and more of a montage. The flight time is 12 hours, which may appear daunting but is completely worth it for an island that couldn't be more different if it tried (it also helps to be in business class, like I was, which felt like a fleeting, luxurious dream, not a double digits flight).
Once you get to Aruba, your Britishness is drawn out of you like when you sweat out a bad illness. Arubans do not care for awkwardness or over-politeness, they will welcome you with open arms and treat you as if you're a mix of British nobility and a member of their own family (shout out to Amayra on the tourism board who referred to me as her "daughter" for my whole stay, talk about a warm welcome). You're also forced to leave your fragile English sensibility at the door due to the sheer climate of the place – it averages around 33 degrees during the summer months and rarely drops below 25 even in winter. The wind is a blessing, cooling you down to the point where the heat is more bearable than many European cities in summertime, but beware, it is also a trap – I know this because I acquired the worst sunburn I've ever had on a boat trip around the coast.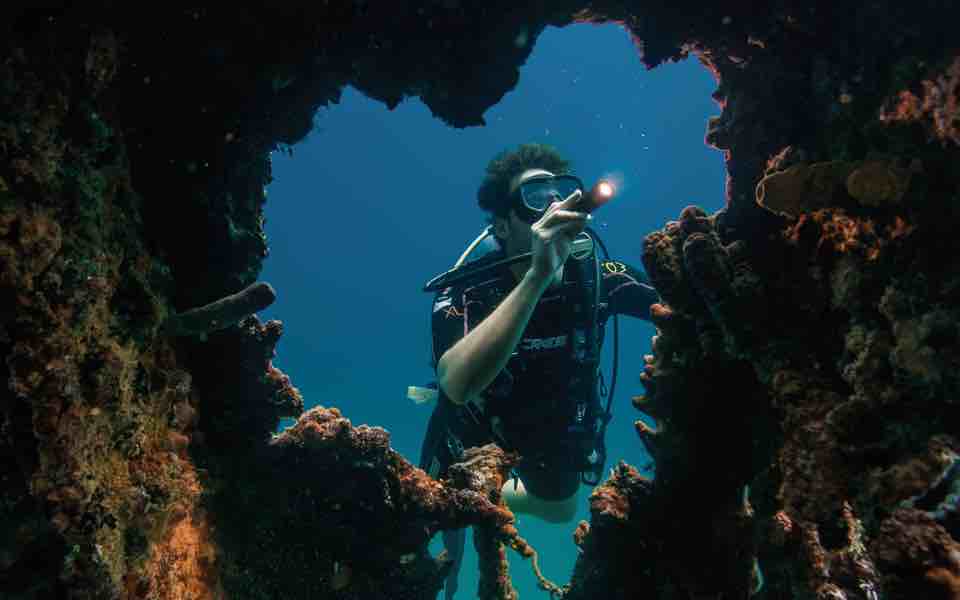 Which makes it all the more impressive when I say that this was one of the best boat trips of my life. We boarded the Tranquilo Sailing boat for a tour of the island's coastline, which was handily illustrated to us by one of the crewmembers, who had it tattooed on his calf. Normally I wouldn't drink at 10am (I have a job so I also *can't* drink at 10am) but rum punches were offered, and it is the Caribbean, after all, so rum punches were drunk. A brief break was taken from the day drinking and unabated sunshine to dive into the glassy Aruban ocean, where we spied groupers, sea urchins and a green turtle who was remarkably okay with us all following him around for a while. If you're anything like me, you'll have such a good time in this aquatic endeavour that you'll forget about how your butt slightly protrudes from the water while snorkelling, leading to a very inconvenient burn.
But don't worry, nature is smart, so it makes sense that the place where you get the worst burn of your life will also contain the best aloe vera of your life – a tube of which I still covet today, months on from my trip, and I'm a redhead so you best believe I get through those tubes quickly. Aruba is arid, meaning aloe is its main produce, but the natural side of the island is surprisingly verdant considering its relatively harsh climate.
I spent most of my time, as you do when you're in Aruba, luxuriating on the beach. I made sure to hide under sun shades for fear of turning a brighter colour than the coral, but I also dragged myself off the sand to see more of the island. One of the spectacular attractions is Arikok, a nature park which takes up roughly 18 per cent of the island (it's a pretty big park and Aruba is a pretty small island, you could fit Aruba inside Great Britain over 1000 times, for comparison) and houses many indigenous species, as well as protected turtle breeding grounds. We got to see a few of the indigenous species, including a Cascabel rattlesnake, which has a deadly bite, but usually gives you a warning bite with no venom before it actually hurts you, which the park rangers refer to as a "love bite". Even the snakes are nice in Aruba!
The rangers are also incredibly dedicated conservationists who adore their work and can recite a hundred facts about one specific breed of Aruban burrowing owl (it's called a "Shoco") at the drop of a hat, so anyone looking for a nature expedition when visiting Aruba is in capable hands – hands that handle rattlesnakes, so, really capable.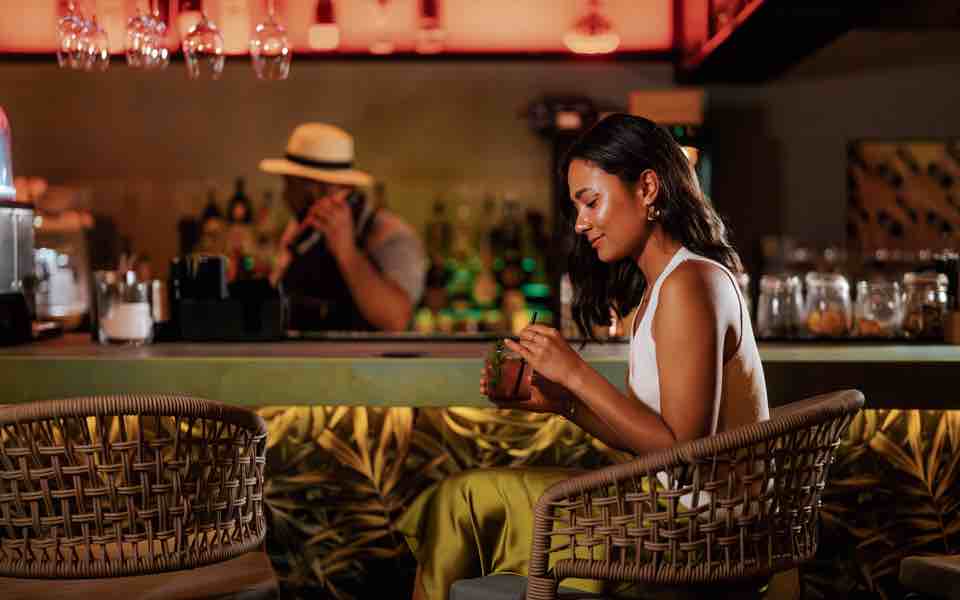 And then there's the seafood. It feels a little crass to pivot from the beauty of the natural world to how good it tastes on a plate but my god does it taste good. The sea bass and salmon risotto at French Caribbean restaurant Papillion is soft, subtle and packed with flavour, I would have eaten it every day if I had the option. That is, if I could restrain myself from gorging on the tuna tartare from Papiamento, an upscale Aruban restaurant located in a 100-year-old country home (cigar smoking room and all) where outside diners sit around an illuminated pool. The one thing I wouldn't recommend is the Aruban lobster, which is chewier than traditional lobsters, and can feel a bit disconcerting as you adjust to its thicker texture.
If poolside and candlelit dinners aren't enough for you, you can have dinner three metres from the sea at the Aruba Marriott, where we stayed, and if you're really lucky, you'll end up doing pickleback shots (shot of bourbon or whisky followed by a shot of pickle juice) with the hotel general manager, Raoul. Picklebacks are not an Aruban delicacy, to be clear, I just mentioned them and Raoul was intrigued so we did a bunch together.
Ultimately, Aruba is a world away from England and not just in the cliché way that people say when they spend a week away. I can't stop thinking about how everyone is just nice. The locals will warn you about every step, give an in-depth explanation of every menu option, advise on every drink pairing and guide you to the correct kind of aloe for blistering sunburn (thank you, young man at the Marriott aloe shop, you saved me). You'll come for the teal seas, burrowing owls and fish so good it'll ruin all other fish, but you'll stay for the people that sail on those seas, fish from them, and spend their lives protecting those little owls. They'll be happy to have you for as long as you want.