Where to watch Super Bowl LVII 2023. Bars in London staying open all night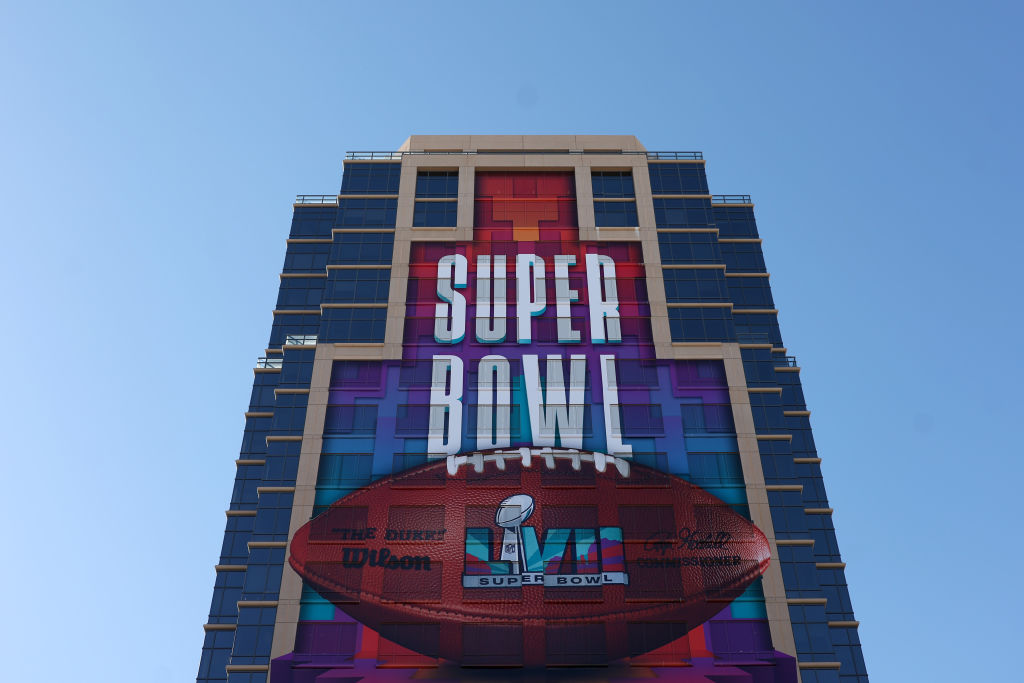 Ah yes, the Super Bowl, that giant American sporting event Brits don't really understand but use as an excuse to do something they do understand: staying up all night and getting drunk. For those in London, the Super Bowl rolls around this Feb 12 and begins at 11.30pm UK time, running through to almost sunrise if you stay the whole show.
The Philadelphia Eagles and Kansas City Chiefs will contest the 57th edition of the annual game in Arizona on Sunday as the duo look to get their hands on one of the most iconic prizes in domestic sport.
As well as the sport, the show is characterised by big live performances. Rihanna is playing this year to mark her comeback after a decade and Beyonce, Springsteen and Lady Gaga have performed in the past. Here are the London venues showing the Super Bowl in February. Book soon to guarantee a spot as the sport is becoming increasingly popular in the capital.
The Prince
The Prince in West Brompton is throwing its biggest ever Super Bowl party with huge projector screens and hundreds of NFL fans promising an unparalleled viewing experience. The party kicks off at 7pm, with guests invited to enjoy the pre-game coverage before the match itself. Expect in-house street-food style food including Super Bowl specials such as chicken wings and hotdogs. Tickets start at £10.
Gibney's London
Where better to watch the action unfold than in the lively surrounds of Gibney's, chef Richard Corrigan's basement saloon bar in Old Street. Enjoy a pint of their Gibney's Stout or a perfectly poured Guinness alongside bar snacks from the upstairs restaurant Daffodil Mulligan. Think salt chilli pork nuggets and deep fried durrus. Bag a private booth with your very own screen for the ultimate sporting treat with your pals.
TOCA Social
TOCA Social in North Greenwich will be showing the action on big screens, with tickets available on Design My Night from £80 for a table of four, with private screening for groups of up to 20 also available.
With the reservation lasting from 10.30pm to 3am, you'll have plenty of time to partake in the variety of games, including Crockinole, Beer Pong, Foosball, Cornhole and more. Food is available and beer will be served in all-American red cups.
Boxpark
London's three Boxpark eating and drinking meccas in Shoreditch, Croydon and Wembley aren't content with just showing the Super Bowl. They're also hosting food-eating competitions, a bucking bronco and beer pong tournaments, as well as live bands. It sounds every bit the American dream.
Heads & Tails
This West Hampstead bar will burst its doors open on Sunday evening for those looking to watch the showpiece event. It's famed for its Wild Turkey 101 Old Fashioned but will be serving food too – there is a steep £10 per head pre-authorisation, however.
Bar Kick
On football days, Bar Kick in Shoreditch has possibly the most high-energy vibe in London. Super Bowl fans wanting to replicate that football energy can head here where a £20 entry ticket gets you three drinks, and food from a specially-curated Super Bowl menu.
Skylight Tobacco Dock
Why not head to one of London's best rooftop bars in… the coldest period of the year? Don't worry, there are heaters and indoor areas as US-themed events change the vibe from blustery Shadwell to spring break in Cancun. There's a beer pong tournament at 9pm so guests will be absolutely legless a good hour before kick off. Pre-bookable areas are available and food and drink will be available, including nachos, burgers and wings.
Bodeans
With BBQ food and a diverse selection of beers, Bodeans will be making Londoners feel as if they've gone to Glendale, Arizona this February. There's a £30 set menu including chicken wings, mac and cheese, baby back ribs, pulled pork and fries and slaw. Choose from venues in Soho, Covent Garden, Tower Hill, Clapham and Fulham.
Big Penny Social
This adults only event may cost £10 entry but sees one of Walthamstow's liveliest venues host the American event. The kitchen will be open until the early hours of the morning and there's a huge HD screen to watch the Super Bowl – the venue is open from 7pm to 4am.
Madison
One of the City's swanky rooftop bars is opening for a late night session for the Super Bowl. £15 entry gets you a welcome beer and there's pre-booking available. A live band will warm up and there are DJs before the big event, with US-themed food throughout.
O'Neill's Wardour Street
Sometimes you just want somewhere comfortable and familiar, and O'Neill's in Soho is your straightforward pub offering. A classic pub menu will be available throughout the night.