UK factories see world-beating growth again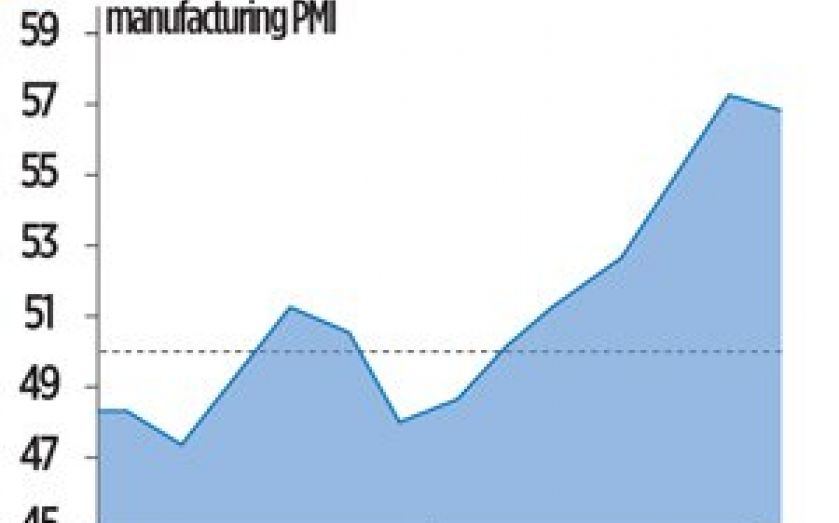 MANUFACTURERS in the UK recorded bumper growth again in September, the fourth month of world-leading expansion for the sector, suggesting robust growth in the third quarter.
The UK's score in Markit's manufacturing purchasing managers' index (PMI) for last month, announced yesterday, came in at 56.7. Any figure over 50 indicates an industry is expanding, and the UK took the highest score the countries surveyed again.
Purchasing managers indicated that September's expansion was not quite as rapid as August's, with the headline index falling from 57.1, which was the highest in two and a half years.
Responses also suggested that recent economic growth may be feeding into employment plans more than in previous months: manufacturers' staffing levels rose at the fastest pace for over two years last month.
With export growth moving more slowly, Robert Wood, chief UK economist at Berenberg, suggested that the boost has been led by UK demand: "This is at heart a consumer led recovery. Domestic demand was the prime source of new business for manufacturers, while new export business rose at its weakest rate since May."
The buoyancy of the industry poses a challenge for Bank of England governor Mark Carney, whose forward guidance aims to keep rates low until at least until unemployment falls below seven per cent. Though forecast for mid-2016, some are now pricing in an earlier hike in rates. Wood added: "For us the big picture is that the Bank under Mark Carney's leadership will err on the side of caution."