Trump could be discharged tomorrow despite drop in oxygen levels during Covid fight
Donald Trump could be discharged from hospital, where he is being treated for Covid-19, as soon as tomorrow, despite the President's oxygen levels becoming concerning twice during his illness.
Trump's medical team said this afternoon that he had suffered two episodes of blood-oxygen drops during his illness so far.
However doctors said he has remained without fever since Friday morning and that his vital signs are stable.
Trump, 74, has completed a second dose of remdesivir, and his kidney and liver functions were normal, Reuters reported.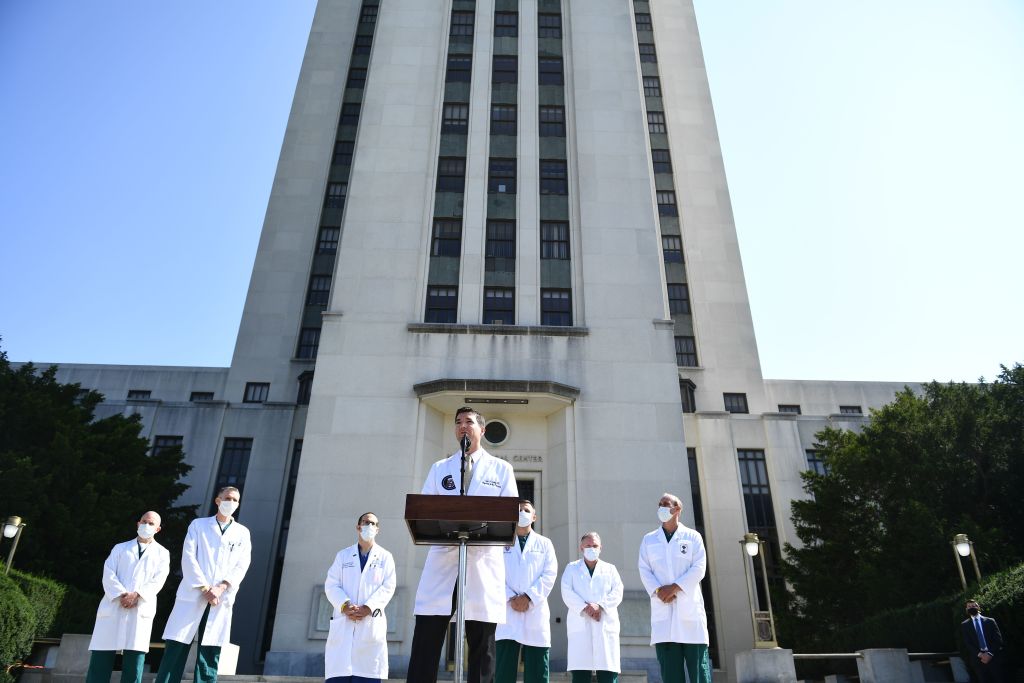 The President told Americans from his hospital room yesterday that the next few days will be the "real test" of his treatment for Covid-19, after a series of contradictory messages from the White House caused widespread confusion about his condition.
In a four-minute video posted on Twitter on Saturday from his hospital room, a tired-looking Trump said he was feeling "much better."
"Over the next period of a few days, I guess that's the real test, so we'll be seeing what happens over those next couple of days," Trump said into the camera, seated in front of an American flag and wearing a jacket and open-necked shirt.
The US President and First Lady Melania had positive coronavirus test results come back early on Friday morning.
In an early morning tweet on Sunday, Trump said "Thank you so much!" – referring to clusters of supporters who gathered on Saturday night outside the Walter Reed hospital waving Trump 2020 flags.
Trump was airlifted to a military hospital by helicopter overnight and was pictured leaving the White House, gesturing a thumbs up to photographers.
He later tweeted: "Going well, I think! Thank you to all. LOVE!!!"
He later posted a video to his Twitter account thanking "everybody for the tremendous support" and confirmed he was going to Walter Reed hospital.
"I think I'm doing very well but we're going to make sure that things work out, the First Lady is doing very well, so thank you very much I appreciate it, I will never forget it," he tweeted.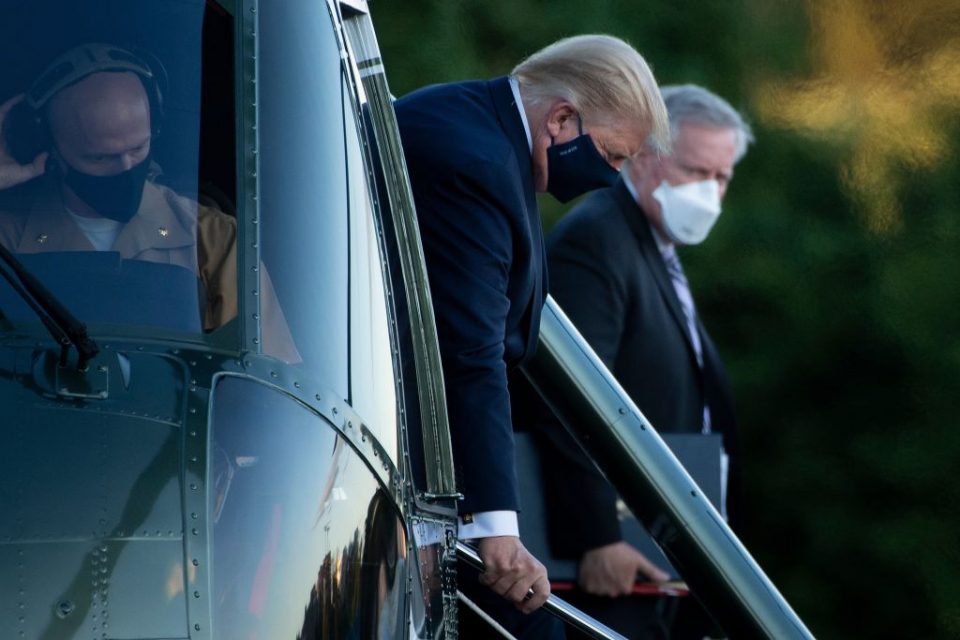 A White House statement said: "Out of an abundance of caution, and at the recommendation of his physician and medical experts, the president will be working from the presidential offices at Walter Reed for the next few days."
Mixed messages
Kayleigh McEnany, Mr Trump's press secretary, told reporters: "President Trump remains in good spirits, has mild symptoms, and has been working throughout the day."
According to a Reuters source, Trump has a mild fever and is fatigued but remains in "good spirits".
However, an adviser told CNN he is suffering from a shortage of breath.
The President was given an experimental antibody cocktail of drugs, which is still in clinical trials and desiring to prevent the virus from attaching to cells and replicating.
The single 8g dose of the drug made by Regeneron was administered "without incident", according to the President's doctor, Dr Sean Conley.
Trump has also been taking zinc, vitamin D, melatonin and famotidine.
He has also started remdesivir treatment at the hospital, which is an antiviral drug that has not yet been approved but has shown some patients recover quicker in trials.
Dr Conley said: "He's being evaluated by a team of experts, and together we'll be making recommendations to the president and first lady in regards to next best steps."
He added: "Melania Trump remains well with only a mild cough and headache. The remainder of the first family are well and tested negative for coronavirus."