Protestors have taken to the streets across the UK to protest against Boris Johnson's plans to prorogue parliament.
The Prime Minister revealed this week that he would suspend parliament for five weeks from 10 September and faced an immediate backlash.
Read more: Scottish court rejects bid to halt proroguing parliament
A number of court hearings are due next week to attempt to overturn the prorogation and on Saturday thousands of people voiced their concerns in rallies across the country.
Protestors outside Downing Street shouted "shame on you" toward Johnson and No 10 as streets around Westminster were brought to a standstill.
Shadow home secretary Diane Abbott told the crowds: "We cannot allow Boris Johnson to shut down parliament and to shut down the voice of ordinary British people."
Among other chants in Whitehall, people shouted "stop the coup" and "our democracy and parliament is under attack".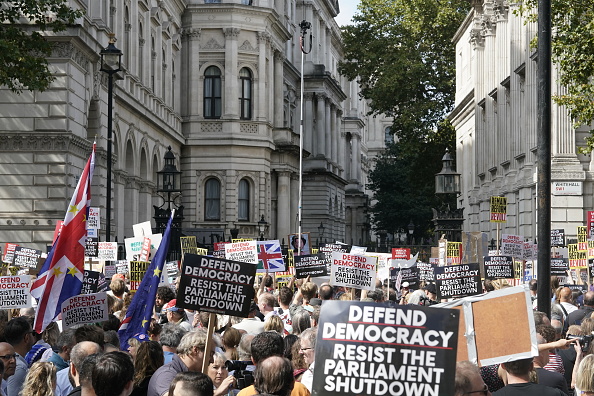 The demonstrations have been taking place in cities across the country, including Birmingham, Manchester, Newcastle, Liverpool, Glasgow, Swansea, Leeds, York, Belfast, Bristol and Aberdeen.
Johnson's opponents have claimed the move to prorogue parliament is a bid to restrict MPs ability to block a no-deal Brexit.
When questioned on this earlier in the week, he said: "No, that is completely untrue.
"We are bringing forward a new legislative programme on crime, hospitals, making sure we have the education funding we need."
Read more: Former PM John Major to join Gina Miller's court case against proroguing parliament
The Prime Minister has insisted the UK will leave the European Union with or without a deal on 31 October.
He also said there was "ample time" for MPs to debate Brexit before and after a crucial Brussels summit of EU leaders on 17 October.