The best ways to drink yourself silly in the Isles of Scilly
St Martin's Vineyard, a former flower farm, is now the only wine producer on the Isles of Scilly, making the Atlantic islands an outpost of modern boutique British viticulture and artisanal distilling.
Run by James Faulconbridge and Holly Robbins, St Martin's grows Seyval Blanc, Reichensteiner, Orion, Rondo and Regent grapes, as well as smaller plantings of Madeleine Angevine, Siegerrebe, Chardonnay and Pinot Meunier. Three thousand bottles of Scillonian wine are sold annually, exclusively on the islands or through the online shop.
"All the grapes are grown, picked, de-stalked, pressed and fermented within a two-minute walk on our five-acre site," says Faulconbridge, who worked as an ecologist near Nottingham. along with partner Holly, Faulconbridge took over the vineyard in 2020, four years after the first vines were planted.
"We use some of the land management techniques learnt from my time in ecology and conservation, for example using yellow rattle, a native wildflower that parasitises grasses and therefore reduces their vigour. Seaweed is harvested during winter storms and used as a mulch.
"Our wines are best enjoyed with a crab sandwich from 'Island Fish' on Bryher caught by Pender family fishermen."
The Isles of Scilly are also the last place for sailors to buy spirits before they get to the US Atlantic, with Navy Strength Island Gin made on St Mary's by Arthur and Hilary Miller. Arthur, formerly of E&J Gallo Winery, says: "We're a husband and wife team. We do everything, from distillation, bottling, labelling to packing, posting and looking after Bishop and Daisy, our two stills. We wouldn't have it any other way."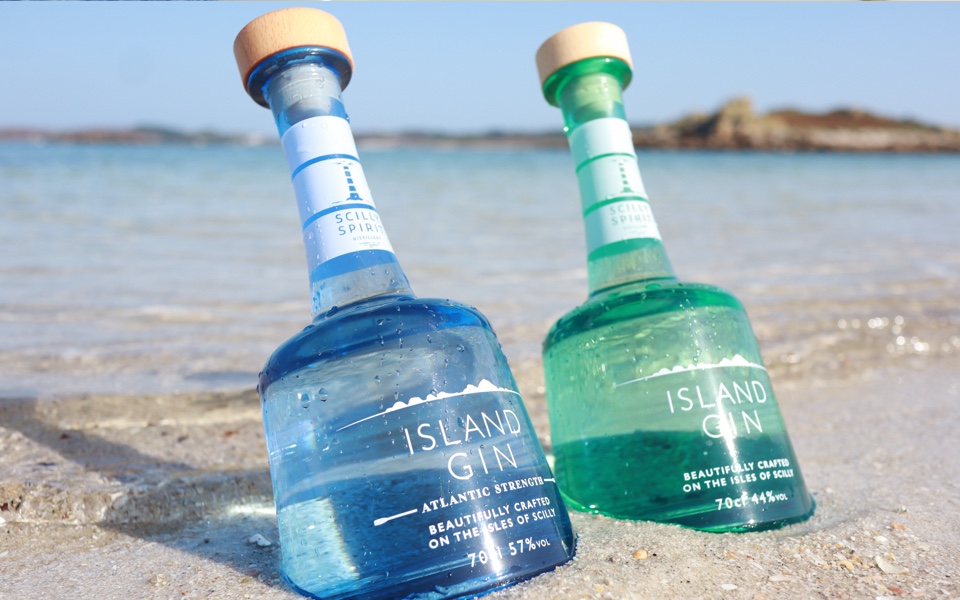 "We have two coves – Old Town Beach and Porth Minick – where we wander with a G&T to take stock or get inspired," says Hilary. "We collect cowrie shells along Porthcressa Beach too. The 1858 Bishop Rock Lighthouse inspired our bottle design. It's the westernmost point on the isles. There's only seven miles of road but we have our own delivery buggy."
Aiden Hicks is the gin maker on Westward Farm on St Agnes, the southernmost part of England. His family has farmed there for centuries.
"My parents started distilling essential oils," says Hicks. "We were primarily a flower farm, growing scented narcissi and, when the market collapsed, we needed to diversify. We planted apple trees for juice and cider, but in December 2016 I suffered from a brain haemorrhage."
Opening a gin distillery was Aiden's chosen method of rehabilitation. "My mum had said for years that our rose geranium would be great in a gin and often picked leaves to garnish a G&T. We distil it as a single botanical in the late summer, when the plants are at their best, to produce an intense geranium spirit which we then blend with batches of Scillonian gin throughout the year as we produce it.
"We use a specific rose scented geranium. We picked lots of different ones from all around Scilly until we found a bush that was just what we were after and propagated all of our plants from cuttings from that. It's won over a fair few non-gin drinkers.
"We also do the same with gorse blossom for our Wild Wingletang gin, which is made with gorse foraged on the island's Wingletang Downs where our cattle graze, and various other homegrown botanicals for our range of '28 Miles' gins."