Strong year for recruiters as fee income climbs
RECRUITERS are reaping the benefits of the UK's emerging economic recovery, with nearly three quarters of firms reporting increased incomes in the last 12 months.
According to the survey, released today by Deloitte and the Association of Professional Staffing companies (APSCo), 72 per cent of professional recruiters have seen their income from fees rise in the past year, and 61 per cent intend to open new offices in the year ahead.
Over a quarter of recruiters are reporting revenue increases of over 30 per cent, pointing to a surge in activity for firms.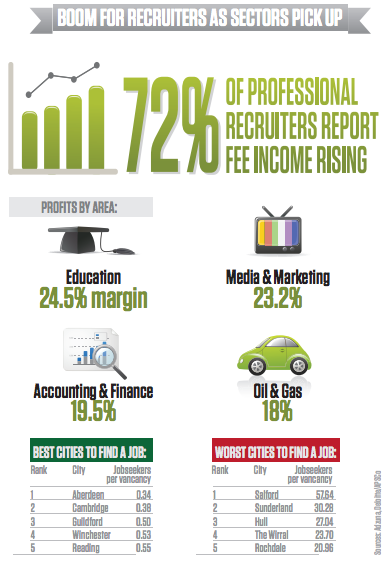 "Pockets of growth can certainly be found amongst those specialising in expanding, niche sectors," said Deloitte's Katie Folwell-Davies. "Talent is high on the board's agenda and will continue to be a main priority over the next year."
According to respondents, the biggest challenges for the sector are growing headcount, maintaining or improving profitability, and achieving financial growth, with 66, 69 and 70 per cent agreeing respectively.
In the wider labour market, new figures from Adzuna suggest that recent economic growth is now translating into improvements to job numbers in the UK. The number of jobs advertised in August rose to 534,269, up by 1.5 per cent on the same month last year.
However, graduates appear to have taken a hit, with salaries dropping to £21,709, a fall of over a fifth from August 2012. The number of positions for recent university leavers also fell, down by six per cent over the year.
Adzuna is also the latest group to predict that unemployment will fall below the Bank of England's new seven per cent threshold before 2016, suggesting a rise in interest rates may come sooner than expected. Broken down regionally, the picture is less rosy for the north of England, where the worst five cities to find a job are located.