Police arrest protesters against Egyptian President Abdel Fatah al Sisi outside Downing Street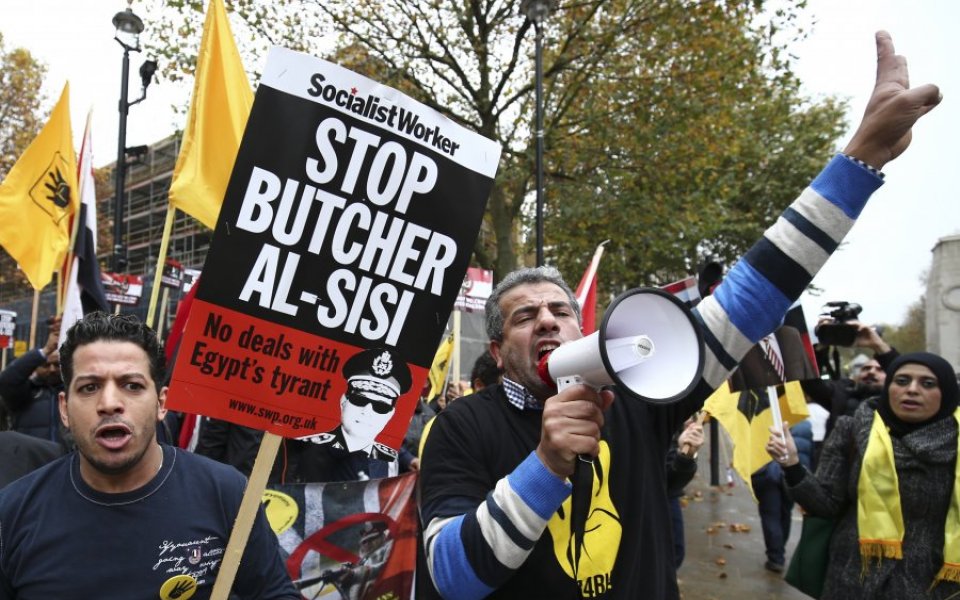 Metropolitan Police have arrested five demonstrators outside Downing Street, who were protesting against the arrival of Egyptian President Abdel Fatah al Sisi.
Protestors were up in arms that al Sisi – who has been denounced by many including Labour leader Jeremy Corbyn as a "coup leader" who overthrew a democratically elected president – was receiving the red carpet treatment from Prime Minister David Cameron.
Demonstrators waved posters describing him as a "butcher" and yellow flags carrying the four-fingered R4BIA symbol, in memory of the people shot dead by security forces in 2013.
Five individuals attempted to stop the front gates as al Sisi made his way into Downing Street. They were arrested for willful obstruction of a highway and taken to a West London police station, a spokeswoman told City A.M.
Police talking to protesters #DowningStreet pic.twitter.com/NAfzNMUC8m

— Marc Ward (@MarcWardVideo) November 5, 2015
Protesters arrested outside Downing Street @RTUKnews @Ruptly pic.twitter.com/fJKpEYluAd

— Jon Scammell (@JonScammell) November 5, 2015
Police move protesters outside Downing Street #Sisi pic.twitter.com/nzP9WM86Ig

— Marc Ward (@MarcWardVideo) November 5, 2015
Even without the protests, the talks between the Egyptian leader and Cameron are expected to be tense in the wake of the UK's decision to suspend all flights in and out of Sharm el-Sheikh, which Egypt's foreign minister Sameh Shoukry slammed as "premature and unwarranted", saying it would have devastating consequences on the country's tourism industry.