Entertainment One share price rises as Peppa Pig helps profit grow despite film struggles
The figures
Entertainment One's share price jumped by two per cent in early trading as the group delivered a 13 per cent rise in full year profit before tax to £44m as sales of pre-school Peppa Pig properties hit $1bn (£640m) worldwide.
Revenue at the group fell by five per cent from £823m to £785.8m – a drop primarily driven by a 14 per cent drop in revenue at the group's film division to £592.6m . A 37 per cent rise to £227.6m at the group's TV arm made for more pleasant reading to investors.
Also appreciated will be a 12.5 per cent rise in earnings per share to 23.5p on an adjusted basis.
Peppa Pig, the popular children's TV show, has enjoyed a successful roll-out into America and Asia – signing 600 licensing deals globally – and has plans to enter China later this year.
Alongside 572 half hours of new programming delivered in the year, Entertainment One increased its acquisition of programming by 44 per cent which the company said drove growth in international sales business.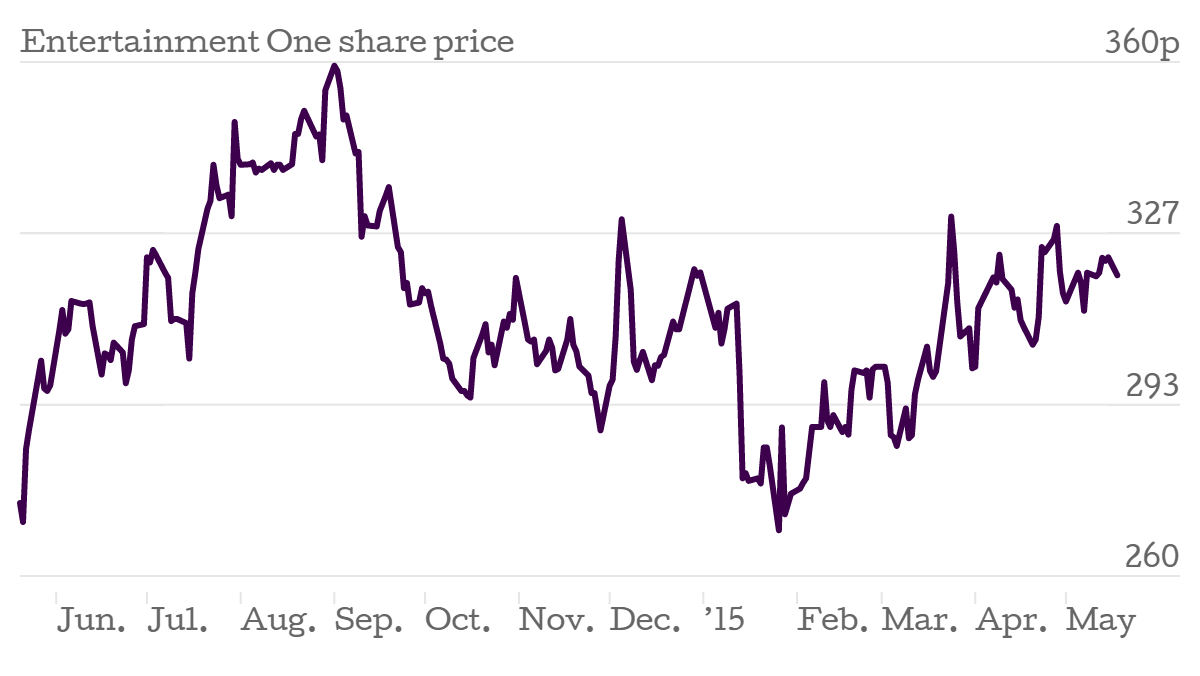 Why it's interesting
No customer has let down Entertainment One more than the cinemagoer, as theatrical sales slumped by 38 per cent – the biggest drop of any section of the company's business during the year – while its own features division suffered a 30 per cent drop.
However, the group currently has four feature films in production which could lift film revenue after box office receipts in 2014 fell by £64m with Suite Francaise and Woman in Black: Angel of Death failing to replicate the success of 2014's Insidious: Chapter 2. With another Insidious installment as well as a feature film starring Ricky Gervais reprising the role of David Brent, revenue may not be so damaged by film this time next year.
Yet where film struggled, Peppa Pig excelled and with a 71 per cent rise in the family and licensing division of the group's TV arm, Entertainment One's film business will look to replicate the success with having recently acquired Phase 4 Films, an independent film and family content distribution business.
What Entertainment One said
The Group's model to source, select and sell has once again underpinned both a strong set of results and significant operational progress including new deals with digital platforms, the acquisition of the stake in The Mark Gordon Company and further progress internationally for Peppa Pig. During the year we set out our updated growth strategy and since its launch have made solid progress against this across each pillar.

Scale is key, fundamental to attract and partner with more of the world's best creative talent to produce the best content for distribution across our global network, which drives an improved financial return for the Group. This, alongside our portfolio approach which mitigates against concentration risk, ensures that eOne is well positioned for the coming year and beyond.
– Chief executive Darren Throop
In short
Feature films may not be as popular as they once were, but not to worry – cuddly animated Pigs can deliver the billions instead.