Network Rail issues pre-emptive apology for Easter train travel delays at stations across London and south east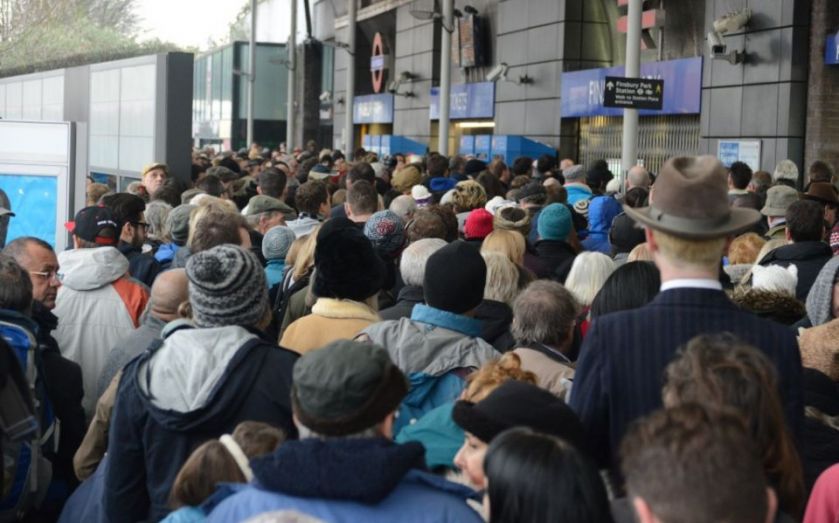 Network Rail has issued a pre-emptive strike against commuter complaints, apologising in advance for any disruption its ongoing work could have on those travelling during the four-day weekend.
The transport group said it had "good contingency plans" in place but acknowledged there would be travel woes for some, urging passengers to check before they start their journey.
Passengers travelling between London, Kent and the rest of the south east have been warned to check before they travel because of "major" work being done during the four-day bank holiday.
Network Rail's route managing director for the south east, Dave Ward, said: "
There's no good time to do this work and we have to do it when the trains are less busy, outside the working week.
"From new track to new signals, this work will play an important part in increasing the reliability of London and Kent's railways"
Chief executive Mark Carne –
who had to turn down his bonus after the Christmas carnage
– said: "We are acutely conscious that many people want to use the railway during the holidays to reunite with their friends and families, which is why the vast majority of the network is running normally over the holiday period but there will be disruption for some.
"I'd like to apologise to any passengers whose plans are affected by our improvement work, but I hope they will understand that this is a quieter time on the railway and we want to minimise the overall impact of these vital projects on passengers."
He added: "We have thoroughly reviewed our Easter improvement work and worked closely with the train operating companies. The industry has good contingency plans in place that will put passengers first."
Network Rail is investing more than £100m in improving systems over the Easter period alone. It promises "new station facilities, new platforms, new junctions and thousands of pieces of new, more reliable, equipment" at the end of the four days, when passenger numbers are 20-40 per cent lower than usual.
In total a 14,000 "army" is being deployed to fast-track Network Rail's works.
Here is where the work will be
Charing Cross
There will be no trains to or from Charing Cross, with services from Kent diverted to Blackfriars and Victoria, and some will terminate short.
Waterloo East
There will be no trains to or from Waterloo East, with services from Kent diverted to Blackfriars and Victoria, and some will terminate short.
Cannon Street
There will be no trains to or from Waterloo East, with services from Kent diverted to Blackfriars and Victoria, and some will terminate short.
London Bridge
Work is being planned to improve tracks, signalling and platforms over the four-day weekend as part of the £6.5bn overhaul that has already left both commuters and staff pushed to the edge.
London Liverpool Street
Work is being undertaken to provide a more reliable service between Norwich and the London terminus, with new overhead lines installed at Chadwell Heath, Romford and Ilford on the main line, resulting in no service between Ingastone and Liverpool Street on April 5 and 6.
Reading
New freight lines will be built under the Reading viaduct to completely separate passenger and freight services. An entire new signalling system is also being brought on-line replacing the existing one that has brought the route to a halt almost half a dozen times in the recent past
Watford
Network Rail is using Easter to replace a worn-out bridge, south of the station. The new bridge will enable line speeds to be increased. The team, as part of the £81m scheme will also be replacing old and tired track, signalling and junctions.
Sittingbourne
I
nstallation and testing of a £145m signalling project stretching from Longfield to Sittingbourne will continue over the weekend, to eventually replace signals and signal boxes installed in the 1950s.
As a result, there will be no trains between Faversham and Swanley on Friday and Saturday; Faversham and Sole Street on Sunday and Monday and no trains between Maidstone West and Gravesend on Sunday and Monday.
Buses will replace trains on those routes and High Speed services from Margate, Canterbury, Dover and Ashford will continue to run to St Pancras.