Motoring review: Porsche 911 Targa 4S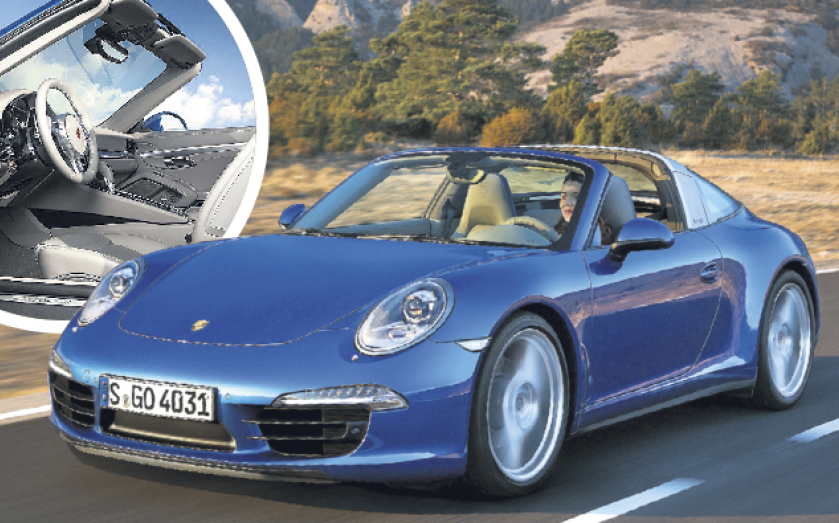 The dream of convertible motoring rarely matches reality. Dream: bathing in the sun. Reality: baking in the sun. Dream: breath of fresh air. Reality: a breath of noxious toxins and cow poo.
As a result, you tend to leave the roof up most of the time and suffer, irony of ironies, a darker and more claustrophobic cabin than the coupés that cost thousands less. And convertibles shake more over bumps. And they weigh heavier on the mind when you park them on dark side streets overnight.
What's needed is a half way house – and not one of those awkward-looking folding hard-top models that generally, apart from the Mercedes SL and SLK, don't work. Enter the Porsche 911 Targa with its big, glassy rear window and soft-top roof over the front seats. Surely it's the best of all worlds?
It's hard to argue when you see that polished central "Targa" hoop glinting in the Italian Bari sunshine. This has been a 911 Targa trademark since Porsche invented (and, yes, trademarked) the design back in the 1960s, and looks just as wonderful in its newly revived 2014 incarnation. The Cabriolet isn't a patch on this in terms of street appeal.
And the theatre when you operate the roof will draw crowds. The huge rear glass deck raises, the soft-top section folds back in a Z-shape and the deck drops back down to conceal it. It creates an open-roof car without the exposure of a convertible. It feels great from inside. The rear glass keeps the worst of the wind blast at bay too, so you can drive at higher speeds without being deafened. Climate control can still work as it should and you can still hear the stereo, it's a lovely environment to travel in.
There's no missing out with the roof up either. Even closed, the cabin is brighter and breezier than a regular coupé. Just the thing for savouring a tick sheet of Italian clichés: rolling hills, vineyards, crazy driving (in a Targa, you can see the tailgaters in glorious panorama).
So why doesn't everyone who can afford it drive a 911 Targa? Well, there are a few clouds. It's heavy, for one – heavier even than the Cabriolet, would you believe. Porsche sells it in two four-wheel drive flavours, regular 350hp guise and the 400hp 4S. Don't even think about choosing the standard car – you'll be easy pickings for committed hot hatches. The 4S, in contrast, goes well and sounds delicious.
It's not as sharp as the coupé through bends either. OK, it's still a 911: by most standards, it's fantastic, with a purity and feel few other modern cars can match. The steering of this latest edition continues to improve and it gives you plenty of confidence. But if ultimate sharpness is all, take the hard-top.
And then there's the price. £96,413 for the Targa 4S (we'll spare you the remote temptation of saving on the standard Targa 4). Plus over £2k more for the must-have PDK auto. So just a fancy paint colour shy of £100,000. You could get a track-ready 911 GT3 for that.
Porsche has brought back the traditional Targa design after years of trying to fool people with a 911 "Targa" sporting a big glass sunroof. This is, once again, the retro 1960s real thing, and it's an extremely appealing take on 911 motoring. But, goodness Porsche, let's hope the pricing doesn't turn the dream you've created into a nightmare.
Richard Aucock works for motoringresearch.com.