Michael O'Leary: Ryanair CEO's four lessons for business leaders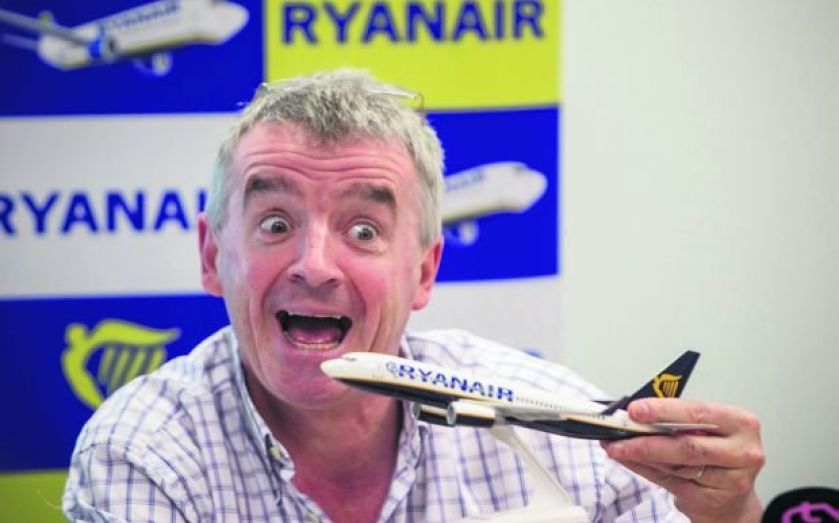 Ryanair's boss proves that plain speaking needn't hold you back.
Ryanair, the no frills budget airline, known for its hard-headed attitude to customer service, raised its profit forecast yesterday, after its half-year profits rose by a third. The news followed a profit warning a year ago, when guidance was slashed. Consistently low fares and trimming overheads meant a strong summer for the company, but chief executive Michael O'Leary said being "nicer" to customers also played a part.
O'Leary, who took on the top position back in 1994, has always been known for his abrasive attitude – he once called Ryanair customers idiots. But in light of yesterday's results, what can you learn from O'Leary's unusual leadership style?
GIVE CUSTOMERS WHAT THEY WANT
O'Leary has maintained that what really matters to customers is a good deal – and you can never be too honest. In October 2013, he took to the Twittersphere and said: "we're not interested in being your friend. We want your money and we want your bum on our seat." This Marmite approach to customers doesn't seem to have dented the firm's fortunes – revenues rose from €231m (£181m) in 1998 to €4.3bn in 2012, for instance – and O'Leary has been adamant as to why that is. "The undisputed proof of the 30 years of Ryanair's success has been that, when you put a lower fare up against every other service enhancement known to man, the lower fare wins."
CHANGE TACK – LOUDLY
Whether you find his upfront attitude refreshing or ridiculous, no-one could accuse O'Leary of skirting round a topic – he gets straight to it. Cost-cutting served the business well for years, but the quarterly loss at the end of 2013 prompted a rethink. Speaking yesterday, he abruptly detailed the firm's touchy feely volte face: "we've been listening to our customers in the last 12 months… I think this being nicer to [them] is really a new and winning strategy for me and Ryanair."
NO SUCH THING AS BAD PUBLICITY
While some of O'Leary's statements have shocked, he has shown an uncanny ability to use his public persona to advance Ryanair's brand. In 2009, O'Leary told the BBC that "one thing we have looked at in the past, and are looking at again, is the possibility of maybe putting a coin slot on the toilet door, so that people might actually have to spend a pound to spend a penny in future." The subsequent outcry did little to dent the airline's reputation for providing a truly no frills service. And when Ryanair announced in August that it would offer a "business class" service, it arguably didn't need to rely on an expensive advertising campaign to get the word out. The apparent irony was probably enough.
DON'T TRY TO BE A ONE OFF
Yet despite the humour of O'Leary's interventions (the comedian David Mitchell is one of his many fans), the Irishman is still a business one-off, and his approach is unlikely to work in less colourful companies. Defying all conventional wisdom on good leadership, for example, he once said that "I'm paid about 20 times more than the average Ryanair employee, and I think that gap should be wider". Not a wise thing to say in banking, perhaps.
---
HASSLE-FREE PRESENTATIONS
Free
If you deliver presentations at work, SlideShare will prove a great help. An award-winning app, designed with sales professionals in mind, it enables you to deliver your firm's message easily and consistently. Accessing a presentation across multiple devices, and remotely, you can import from seven different cloud storage providers, in addition to getting hold of anything in PowerPoint. You can also edit and annotate slides, and share presentations with colleagues.