London Fashion Week: Extinction Rebellion protesters soak themselves in fake blood
Extinction Rebellion protesters have doused themselves in fake blood as they stage a so-called die in at the start of London Fashion Week.
The climate change activists also poured buckets of red liquid around the entrance to the annual trade event as they accused the fashion industry of having blood on its hands concerning its role in damaging the environment.
Read more: Extinction Rebellion forced to delete 'misleading' prison advice on yoga and meditation

Five protesters wore white dresses and bleeding hearts glued themselves to the main entrance of London Fashion Week in the Strand, Charing Cross, today.

The act begins five days of action targeting the capital's annual fashion mega-show including a Boycott Fashion event in Hammersmith's Lyric Square, where activists will tell the public about the fashion industry's adverse impact on the environment.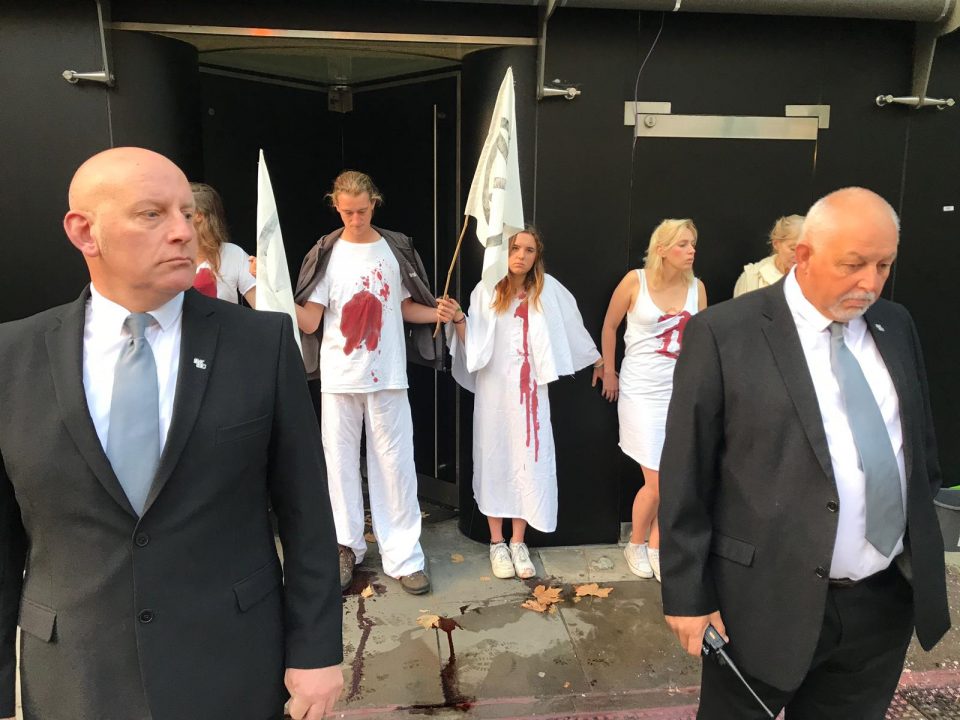 Activists will also organise "swarming actions" to block major roads near London Fashion Week venues on Sunday and Monday. They are yet to confirm which venues will be targeted.
Protests will climax with a funeral procession at Trafalgar Square to mark the end of London Fashion Week "to reflect on the lives already lost and that will be lost as a result of climate and ecological breakdown".

"Instead of the fashion industry exploiting sustainability to sustain business as usual it should use its influence and creativity to sustain life on earth," said Extinction Rebellion member Sara Arnold.

"The industry is set to grow by 63 per cent between now and 2030. It is time for it to admit that it has failed to make itself sustainable."

Extinction Rebellion protesters target London Fashion Week

P Extinction Rebellion protesters wore white dresses covered with fake bloodstains

Bouncers for London Fashion Week stand unmoved by the protest

Campaigners staged a 'die-in' at London Fashion Week

Extinction Rebellion poured buckets of fake blood around the entrance

Extinction Rebellion activists in white dresses and 'bleeding hearts' glued themselves to the main entrance of the London Fashion Week tradeshow

London Fashion Week continued regardless of the attempts to put off attendees
Today's protests follow a letter Extinction Rebellion sent to British Fashion Council boss Caroline Rush in July urging her to cancel the event.
Rush refused, but replied to say: "We are facing a climate change emergency and all need to act."
Read more: Heathrow Airport remains open, but it's the drones that are grounded
A splinter group from Extinction Rebellion, called Heathrow Pause, attempted to cause disruption at Heathrow Airport by flying drones inside the perimeter of the airport.
However, signal-jamming technology meant activists struggled to get their drones airborne and two men were arrested this morning on suspicion of conspiracy to cause a public nuisance.
All pictures credited to Gareth Morris