King of Clay on cloud nine after French triumph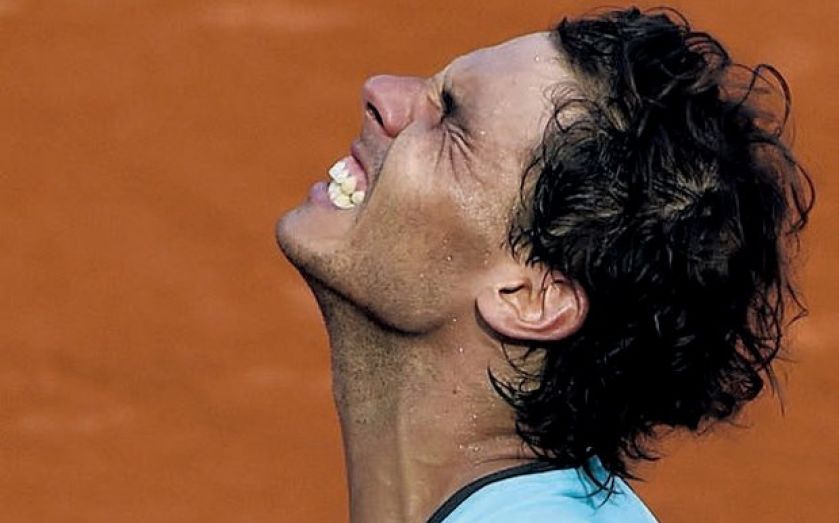 WORLD No1 Rafael Nadal has his sights set on a first Wimbledon title since 2010, after beating Novak Djokovic to claim his ninth French Open crown yesterday.
Djokovic's pursuit of a career grand slam began well with victory in the first set, but Nadal battled back to win 3-6, 7-5, 6-2, 6-4 and seal a record fifth title in a row at Roland Garros.
The Spanish star has now won 14 grand slam titles, putting him level with American great Pete Sampras, as well as an astonishing 66 of 67 matches contested at the French Open.
Nadal, who picked up a €1.65m (£1.34m) winner's cheque, said: "I want to try to play well again in Wimbledon. I'm healthy, that's the most important thing.
"I hope my knee will have the positive feeling on grass, because I feel my knee is better than last year on the rest of the surfaces. Last year I tried, but I was not ready to compete at Wimbledon.
"The most important thing now is I won the most important tournament of the world on clay, probably the most important tournament of the year for me."
The French Open title remains the only grand slam to allude Djokovic, who appeared to wilt in the Paris heat, even vomiting in the fourth set before serving a double fault in defence of match point.
The 27-year-old world No2 has now lost twice to Nadal in the French Open final and conceded he was second best against the King of Clay.
Djokovic said: "It's not impossible, but it's very, very difficult to stay with Rafa in this court, throughout the whole match on the highest level of performance.
"Overall I wasn't at the level I was at when I beat him in Rome last month. At this level, it take it out of you. He was better in the crucial moments."
GRAND SLAM KINGS
17 Roger Federer
14 Pete Sampras, Rafael Nadal
11 Bjorn Borg
8 Jimmy Connors, Ivan Lendl, Andre Agassi
7 John McEnroe, Mats Wilander
6 Stefan Edberg, Boris Becker, Novak Djokovic
*No of wins in the Open era