Jimmy Choo's a shoe-in with post-IPO revenue rise
Jimmy Choo net revenue rose 12 per cent to £299m in the year to December, marking a positive start to its London Stock Exchange listing.
Foreign exchange fluctuations had some effect on the numbers however with revenue climbing 6.2 per cent on a constant currency basis. The firm said Asia and Japan continued to deliver strong growth.
The maker of designer shoes and accessories floated in October priced at 140 pence per share, the lower end of expectations amid a cooling of the London IPO market.
Shares have risen as high as 180 pence per share in December and yesterday closed at 168 pence per share.
Shares opened two per cent up in early trading to 170 pence per share at pixel time.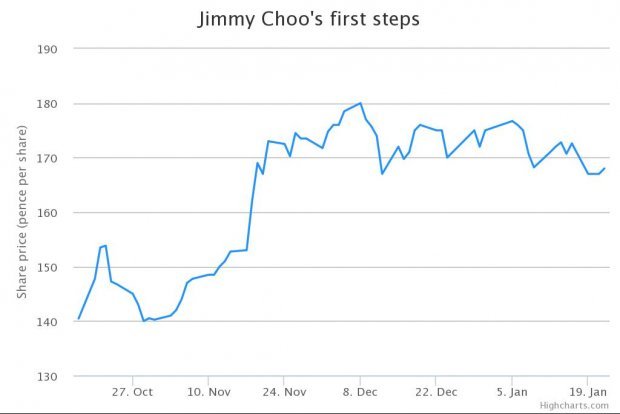 "We are delighted with this record net revenue performance, with a mix of like for like, retail and wholesale growth underlined by the success of our products," said Jimmy Choo chief Pierre Denis. "Our focus on shoes and dedication to product quality has ensured we produced innovative products which resonate strongly with our clients around the world.
As these are our maiden performance figures since the successful IPO, I would like to take this opportunity to thank our incredibly talented and hard-working teams for their unstinting commitment and enthusiasm.