Is digital currency the future of cashback and loyalty points?
Loyalty program rewards
Let's consider four major types of loyalty program rewards:
Airline miles (flights and upgrades)
Hotel points
Universal points that can be redeemed in multiple ways, mostly also travel-related points, miles, etc.
Cold, hard cash
These loyalty points are usually earned either directly from service providers for direct purchases from them, or on transactions via credit cards associated with the provider (hotel chains, airlines, and others). Until recently, earning airline miles was the leading choice for rewards redemption for Asia and Australia. Then COVID-19 hit and changed everything.
Note: In most of the examples below, we focus on airline miles. However, similar travel rewards followed the same path until (and after) 2020, when the COVID-19 pandemic started.
Airline miles
Contrary to what you may think, airlines do not only make money from travel. They earn from loyalty programs. And this worked perfectly, especially for the US market since the 1980s.
Airlines sell huge amounts of air miles to credit card companies at a profit, which in turn produces billions of airline miles as rewards to fuel their frequent flyer programs. They provide this service using major banks like JP Morgan Chase, American Express, and Citibank, among others.
The problem with travel and airline miles loyalty programs
Frequent flyer programs make billions of dollars for airlines. In fact, American Airline's valuation for 2019 showed that travel itself was a loss-making venture – most of the company's billions came from loyalty revenue.
Little did the airlines know that the travel restrictions accompanying Covid-19 would blow them out of the water. When the pandemic hit, everything changed. The value of travel-related loyalty points plummeted.
Data from ValuePenguin shows how these airline companies were adversely affected. Despite the airline restrictions, people continued earning miles:
Image source: CNBC
But most were not redeeming those miles from 2020 onwards:
Image source: CNBC
This put the airlines in a fix. As they were struggling with losses, they wanted more people to purchase tickets rather than redeem miles rewards. At the same time, there were billions of dollars of unredeemed miles.
This has not just affected airlines. It's messed up the entire travel industry, including hotels. In fact, Deloitte claims that loyalty programs are in crisis.
On the other hand, cryptocurrencies – both big-name cryptos and the whole market's capitalisation – have blown through the roof.
Major cryptocurrencies like Bitcoin and Ethereum went up 10x or more in value, on their way to all-time highs. If you take March 2020 as the baseline, for example, Bitcoin was worth as low as $5,000 in March 2020 and hit $63,000 by April, 2021.
Let's put the struggling rewards programs and bull-run crypto together and discuss how cashback and loyalty programs could survive and thrive by utilising cryptocurrency trends.
The surge of cryptocurrencies
2020 will be remembered for many things: There was an outbreak of a terrible worldwide pandemic, some industries (such as travel) tanked, and the tech industry soared to new heights. As people went deeper into isolation and switched to working from home, they also accepted tech developments like cryptocurrencies more.
This mainstream acceptance sparked a huge crypto bull run that continued well into 2021, seeing Bitcoin rise by more than 1,000 per cent in value in the span of a year. Many other cryptocurrencies, such as Ethereum and Dogecoin, followed suit.
Now, nobody's denying that crypto isn't perfect and is still extremely volatile. It can rise 10x or drop 4x any time, with a word from a celebrity or a single piece of news. Nobody knows for sure what will happen and when. However, the numbers don't lie.
Let's check out the current data-backed response to crypto:
Let's put all this together visually. The graph below shows that more Americans have bought cryptocurrency within the last two years: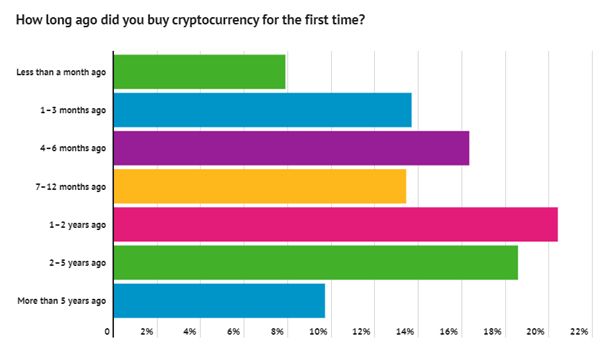 Image source: Fool.com
Here, we see that more than 30 per cent of Americans own crypto to make secure payments: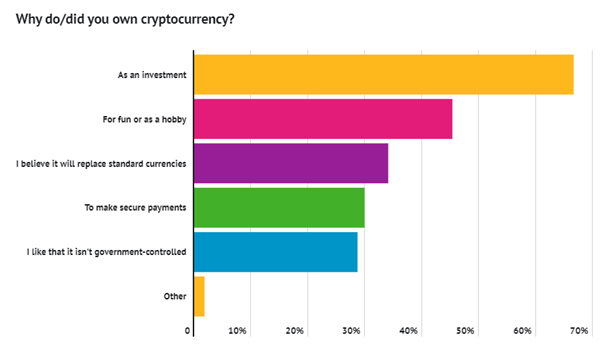 Image source: Fool.com
And this Plutus report shows us that most respondents want to earn crypto as a loyalty reward – way more than those who want to buy or earn it as a salary.
Image source: Plutus on Medium
The perfect storm of digital loyalty
Can cryptocurrencies take the place of points and miles in the hearts and wallets of frugal consumers? The important news is that, from the data above, most people are still too sceptical to convert their salary into crypto… but most are very happy to earn it as a loyalty reward.
Gemini has partnered with Mastercard and is now offering cryptocurrency rewards on purchases. Cardholders get three per cent cashback in Bitcoin (or other crypto available on Gemini) on qualifying purchases. This happens real-time and there's no annual fee.
Starbucks now allows rewards members to convert crypto into cash on their Starbucks card balances using a third-party app, Bakkt. Other Bakkt partners include Choice Hotels, Fiserv, GolfNow, and Best Buy.
Crypto is the future of cashback and loyalty
When there's a crisis, what matters most to the ordinary consumer is the response. A study by Deloitte shows that 40 per cent of customers will purchase more from companies that have an excellent response to the current crisis.
The current loyalty system is broken and ripe for disruption. This perfect storm has pegged crypto as the ultimate solution for cashbacks and rewards. In fact, that's exactly how many of the respondents surveyed above want to get into or invest more in crypto.
Customers know that if they get a five per cent cashback in a cryptocurrency that's likely to grow 5x, 10x or 20x in the next year, they're getting a lot more value for their rewards, in some cases this means that the purchase will effectively become 100 per cent free. For example, this would be the case for cashback being received in top crypto coins like Cardano or Dogecoin, since, even after the mid-2021 market correction, Cardano has risen 15x since December 2020, and Dogecoin about 70x.
The shift is already happening. There are already companies like Bakkt and Gemini that have jumped at this opportunity. The fact that they're partnering with big mainstream players like Mastercard, Best Buy, and Choice Hotels, confirms the fact that cryptocurrency is here to stay.
The good news is that there's lots of room for innovation and those who deliver excellent value will be able to both offer immense rewards for customers and capture a lot of this value for their stakeholders.
Alex Lightman is the founder and CEO of Keemoji and KeePay, makers of digital privacy keyboards and a new platform for cashback, including cashback in digital currencies, payments, tokens and digital collectibles. He is the author of Brave New Unwired World and Reconciliation, the co-author of Augmented: Life In The Smart Lane, and recipient of four global awards, including the first Economist magazine Readers' Award for innovation, beating Elon Musk in a global vote.