How whiskey became Kentucky's multi-billion dollar cottage industry
Standing in the private dining room of a Louisville hotel, I angle a roasted marrow bone towards my face and pour a shot of Wild Turkey down the emptied channel. It sluices the remaining beef fat into my mouth, adding a rich, silky finish to the oaky caramel of the bourbon. A cheer goes up from the assembled crowd. I have only been in Kentucky for a few hours, and my head is already swimming from all the Southern hospitality.
At one end of the table was our host for the following days, Jimmy Russell, the octogenarian "Buddha of Bourbon". At the other end was his son – and fellow Wild Turkey master distiller – Eddie; who had just finished a bone-luge of his own. Jimmy Russell began working for Wild Turkey in 1954 and is the longest-tenured active master distiller. Eddie joined the company in 1981, becoming master distiller in his own right in 2015. Between the two of them they have over a century of whiskey-making experience. I was there to learn, and they were throwing me in at the deep end.
In 1964, the US Congress recognised bourbon whiskey as a "distinctive product of the United States", and the Federal Standards of Identity for Distilled Spirits state that bourbon must meet a series of strict requirements, right down to the type of barrels it must be aged in (new, charred oak).
Strictly speaking, "bourbon" is not an appellation of origin, although only American-made whiskeys can be sold as bourbon in the United States. Indeed, there is some disagreement about whether the name even ties the drink to Bourbon County, Kentucky, with a plausible case being made for Bourbon Street in New Orleans, where it gained popularity in the mid-19th century as a cheap, domestic alternative to French cognac.
Be that as it may, according to the Kentucky Distillers Association, 95 per cent of bourbon is produced in the Bluegrass State, where distillation was introduced by Scottish and Irish settlers in the late 18th century, and the limestone filtered water, hot summers and cold winters provide the essentials for making and aging the spirit.
This is not a tale of uninterrupted progress, however. There was a time not so long ago when bourbon was on its knees. Yuppies were drinking clear spirits, regular folk had beer, and once-great distilleries were being shuttered. A hardy few hung on to make whiskey for a dwindling contingent of old Southern men.
But after decades of decline, the turn-around has been rapid, driven by a number of factors. Alongside trends towards locally produced and quality crafted produce, there have been swashbuckling bartenders unearthing old spirits, reviving old cocktails and seeking novel ingredients, all the while accreting more bourbon enthusiasts, aficionados and obsessives. The tired complaint that "Millennials ruin everything" has no place here, with younger drinkers embracing the bourbon that Boomers and Gen-Xers once shunned. Pop-culture has played its part too, particularly shows like Mad Men, in which Don Draper stepped behind the bar to mix his own old fashioneds, or the Kentucky-set crime drama Justified, which referenced "Jimmy Russell's finest".
In 2005 there were around 50 micro-distilleries in the US. By 2012 that number had quintupled to 250. In the last decade bourbon production has increased 115 per cent, with growth led by sales of artisanal, premium small batch, and single barrel offerings. Increased consumer interest drew the attention of major spirits companies, with Diageo acquiring Bulleit, Suntory merging with Jim Beam, and Angel's Envy (a distillery that was founded in 2005, and didn't release its first whiskey until 2011) being snapped up by Bacardi in 2015. Wild Turkey was ahead of the curve, having been bought by Pernod Ricard in 1980, but with the upturn in the bourbon market it was sold on to its current owner, Campari, in 2009.
In 2018 Kentucky produced 1.7m barrels of bourbon, matching the previous record high output, set 50 years earlier, in 1968. The total number of bourbon barrels aging in the state is 7.5m; a figure unmatched since 1972. The next five years will see $2.3bn spent on capital projects including expanded distilleries, aging warehouses, bottling plants, and facilities for tourists. The Kentucky Bourbon Trail, created in 1999, gives visitors the opportunity to tour distilleries and experience whiskey production first-hand – it attracted 1.4m visitors in 2018.
It's a crisp autumn morning when I visit the fourth-generation family-owned Vendome Copper and Brass Works Incorporated factory, Wild Turkey's still-maker. Dozens of denim-clad workers are there, in hoodies, jackets and welding caps are variously drilling holes, rolling sheet metal, hammering, and joining.
These men (and they are mostly men) are skilled technicians who take pride in their work. One pulls up the sleeve of a thermal undershirt to reveal a tattoo of a still, which covers the whole of his forearm. Vendome are producing 40-50 stills a year, some of which are replacements or additional units for existing distilleries, but the number also reflects the rampant growth in craft whiskey.
Few bourbon makers build their own barrels, so barrel production is another integral part of the industry. The Independent Stave Company, whose cooperage is located in the town of Lebanon, Kentucky (coincidentally, they have another cooperage in Lebanon, Missouri) supplies major brands such as Wild Turkey, Four Roses, Buffalo Trace, and Jim Beam. Inside the facility it's uncomfortably hot and noisy, with barrels rolled in front of an industrial flamethrower and blasted on a scale of one (lightly toasted) to four (the so called "alligator char", because the end results resemble blackened alligator skin).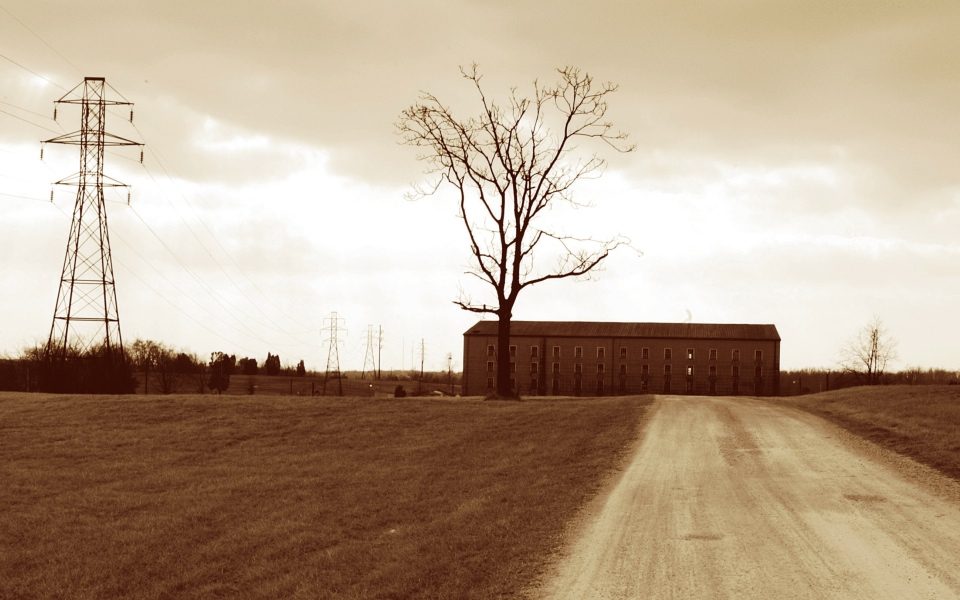 The Wild Turkey distillery sits atop a cliff with the Kentucky River below. The facilities are ominous-looking: multi-story, grey, wooden, aging warehouses surrounded by raised-earth berms to limit the risk of fire and spillages. But this is where the magic happens.
Wild Turkey 101 gets its distinctive taste by using more rye than most bourbons, giving it an assertive and peppery quality. The distillate is barrelled and aged for at least six years, coming out of the barrel at almost 55 per cent ABV, and is only slightly diluted, to be bottled at 101 proof (50.5 per cent ABV). Other whiskeys made here include Wild Turkey Rare Breed, bottled at cask strength using a selection of six, eight, and 12-year-old bourbons.
Wild Turkey may be owned by a huge corporation, but it's still a family business; like many distilleries in the area, there's something almost dynastic at play here. Eddie's son is Wild Turkey's national brand ambassador, while the gift shop is run by Jimmy's granddaughter (and Eddie's niece), who both men tease affectionately because she had the bad judgment to be born in Tennessee.
After a long day learning the intricacies of the trade – and sampling the produce – I grab a farewell drink with Eddie. I'm surprised when he asks the barkeep for a boulevardier (a bitter cocktail, essentially a negroni with whiskey in place of gin): I assumed he'd be a 'straight-up' kind of guy. "Well, if you asked Jimmy…" he says, pausing to take a sip, "he'd tell you that even an ice cube in your whiskey makes it a cocktail."
• You can buy Wild Turkey 101, and other Wild Turkey products, from The Whisky Exchange, thewhiskyexchange.com; You can visit the Wild Turkey Distillery as part of the Kentucky Bourbon Trail, kybourbontrail.com