Stress Awareness Day 2014: How to cope with workplace pressure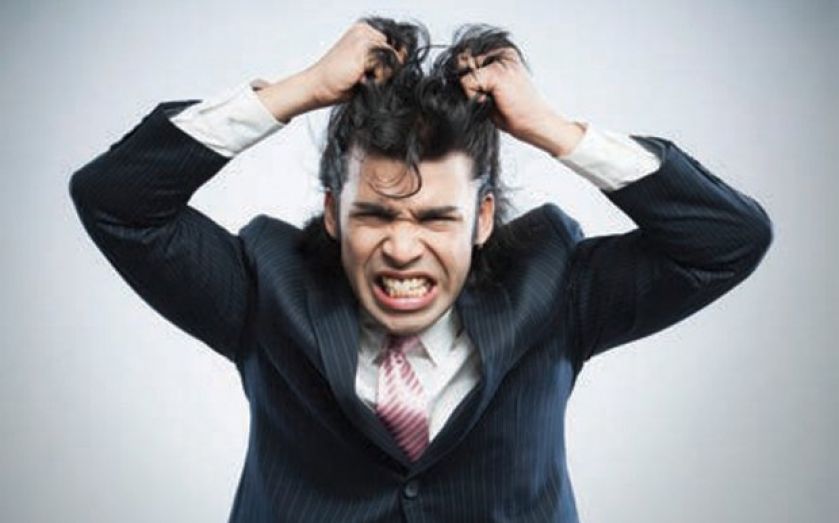 On Stress Awareness Day, Brian Claridge looks at how high-powered businesspeople manage the strain.
It's often painted as a purely personal issue, but research released today by Friends Life finds that stress could be costing UK companies £690m a day. The report, coinciding with National Stress Awareness Day, found that 23 per cent of employees called in sick due to stress in the past year.
For my new book, Stress in the Spotlight, co-authored with professor Cary Cooper of Lancaster University, I spoke to people with experience in high-stress careers about how they cope. Here are a few of their insights, followed by three of our own.
KEVIN ROBERTS, WORLDWIDE CHIEF EXECUTIVE OF SAATCHI & SAATCHI
"Focus, commitment, and discipline are at the heart of my stress management program, and if you rigorously, relentlessly, and joyfully implement these, you never lose the ability to cope. Stress, worry, regret, pain and guilt are all emotions that must be managed, reduced, or eliminated, and replaced with positive behaviours."
DAME MARY PERKINS, CO-FOUNDER AND SENIOR EXECUTIVE OF SPECSAVERS
"If you suffer with stress or have a work-related problem, the best thing to do is to talk about it – either to a work colleague, or HR if you work for a large company. Work out why the stress is there in the first place, write the problem down, and it will hopefully resolve itself once you've figured out the root cause. Health is all-important, so make sure you eat healthily, get plenty of exercise, fresh air, and a good night's sleep. Learn relaxation techniques and make sure you include quality 'me time'."
MAJOR CHRIS HUNTER, FORMER BOMB DISPOSAL EXPERT
"In the surreal high-stakes, high-pressure world I was living in, where every decision could have been my last, I grew to learn that fear can be your friend. Confucius once said: 'Our greatest glory is not in never failing, but in rising each time we fail.' He was bang on. Instead of allowing it to curtail success, use fear to give you an edge. Visualising a successful result and learning breathing techniques also helped."
ANGELA KNIGHT, CHIEF EXECUTIVE OF ENERGY UK
"The key points in being successful in business are to have a clear strategy and to execute it properly. Never be afraid to say you're wrong, and don't be discouraged by setbacks. I'm a risk-taker, but don't rely on gut instinct. If you get stressed with the work you do, often it's because it's the wrong job. Learn from successes and failures."
LORD BILIMORIA, CO-FOUNDER AND CHAIRMAN OF COBRA BEER
"My role is at its most stressful when I feel I cannot fit everything into a day. Constantly prioritising my time can be very stressful, but with a good team to help me it's possible to get everything done. A good way to cope with stress is to always leave your desk clean at the end of each day. It's something my father taught me – it helps clear your mind so that you don't take work worries into your personal life".
BE FLEXIBLE
To cope with all the stresses and strains of pressured jobs, we need to adapt to everything that is thrown at us in the workplace and in life.
TALK ABOUT YOUR FEELINGS
Share your concerns with someone you trust, whether a partner, friend, or family member. Keeping problems repressed is an unhealthy strategy. It's all too easy to hide your problems behind a veneer of self-confidence, but this can eat away at you and cause serious health issues.
DON'T DWELL ON THE PAST
Never look back and say "I wish I had" or "I should have." Learn from your mistakes but don't dwell on them. The people who get ahead in life are those that have a "bounce-back" mentality. They get on with the next venture without wallowing in the failure.
Brian Claridge is co-author, with professor Cary Cooper, of Stress in the Spotlight: Managing and Coping with Stress in the Workplace (Palgrave Macmillan). Visit www.palgrave.com/page/stress-in-the-spotlight-discount-UK to order a copy.
---
Quantify your stress
Free
You might wonder how useful it is to attach a number to your stress level. But Stress Check allows you to do far more than that. Beyond the overall score out of 100, the app lets you dig into the specific psychosocial drivers of your stress (interpersonal, physiological, situational etc), so you can pinpoint the direct causes.