Government motion to dethrone speaker John Bercow fails amid accusations of "grubby" politics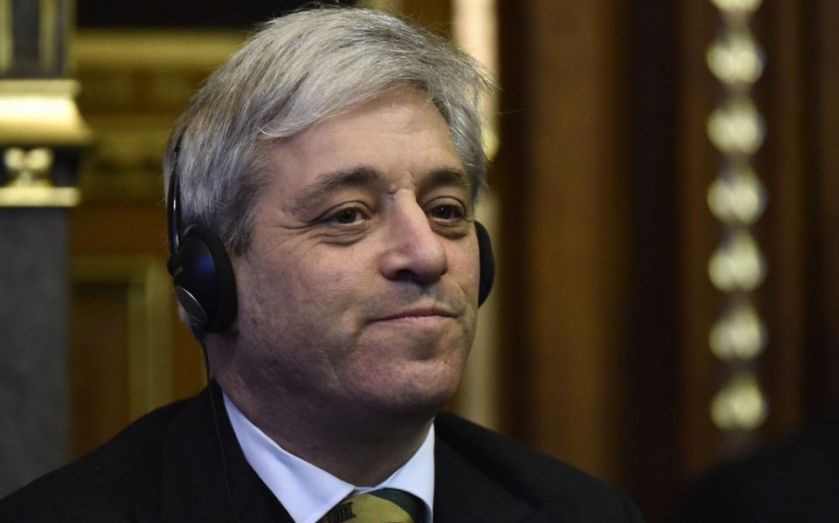 House of Commons speaker John Bercow has narrowly avoided being dethroned after a motion to oust him failed by just 26 votes.
Last night the government tabled a motion that would introduce a secret ballot for the re-election of the divisive speaker when parliament meets after the General Election.
Every future speaker will be elected by secret ballot – a rule introduced in 2009 – but a public vote would be required to get rid of Bercow. It is argued that this would make it less likely for members to vote for his removal, out of fear of repercussions if they fail.
But it was defeated by 228 votes to 202 "ayes". This Vine below captures the look Bercow gave William Hague after the result was announced.
Hague came under fire for the government's handling of the vote, which was not tabled until yesterday evening, when many MPs had already left Westminster as they enter purdah.
Three times backbenchers urged him to withdraw the motion, without success.
MPs have variously described the move as "grubby" and "a bad day for parliament".
https://twitter.com/dan4barnsley/status/581111692056199168
https://twitter.com/tom_watson/status/581023421712052224
https://twitter.com/GwynneMP/status/580844568331042817
https://twitter.com/paulwaugh/status/581059945384275968
Though not everyone agreed:
https://twitter.com/Mike_Fabricant/status/581099204371693568
One MP claimed he was "played like a fool" by Hague and his special adviser, as well as chief whip Michael Gove, noting how he had met with them this week but were not told of the plans.
Charles Walker, who chairs the Procedure Committee, complained that they did not share their plans with him despite being based on his committee's report – which had been ignored for the rest of this parliament.
"I have been played as a fool and when I go home tonight I will look in the mirror and see an honourable fool looking back at me. I would much rather be an honourable fool, Mr Speaker, in this and any other matter than a clever man," he said.
Earlier today, Bercow had said he was "not going anywhere".