Glencore earnings beat estimates as it shoulders commodities rout
The figures
Switzerland-based Glencore said attributable net income fell seven per cent to $4.3bn (£2.7bn), down from $4.6bn a year earlier. This beat expectations as analysts had forecast $4.1bn.
Meanwhile, net debt rose to $30.5bn. It set aside $1.1 billion of impairment charges for crumbling commodity prices. The company has also recommended a final cash distribution of 12 cents a share.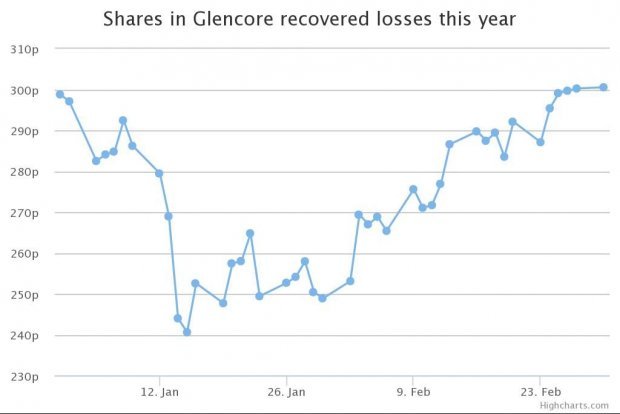 Why it's interesting
Glencore's results beat expectations as gains in its trading division helped offset low global commodity prices. Marketing adjusted earnings before interest, taxes, depreciation, and amortization – which is a measure of profitability – increased by 15 per cent to $3bn n 2014.
Global commodity prices have come under pressure as a result of the waning appetite of the once voracious China. As its economy has slowed, so too has its consumption of copper and iron ore, which companies like Glencore provide. Meanwhile, a global oil price rout saw prices crash to $45 per barrel in January, later recovering to $60 per barrel. Nonetheless, Glencore's ability to generate revenues from trading, means it posted better results than peers such as BHP, Rio and Vale.
What Glencore said
Ivan Glasenberg, chief executive of Glencore, said:
"Our ultimate goal remains to grow our free cash flow and return excess capital in the most sustainable and efficient manner."

"As the most diversified raw material producer and marketer, Glencore is well positioned to react to and benefit from changes in commodity fundamentals. Glencore will continue to focus on maximising the value of the potential within our businesses."

"While there remains the potential for future economic setbacks and no shortage of bearishness towards commodities in financial markets, physical demand for our raw materials remains healthy. We anticipate tightening supply conditions to materialise in our key commodities in response to lower prices, production / investment cutbacks and falling grades."
In short
Glencore hasn't been unaffected by crumbling commodity prices – it's made a loss and set aside cash for impairment charges – but its ability to generate revenue from its trading division helped it beat market expectations.