Crack-smoking former mayor of Toronto Rob Ford is selling "memorabilia" on eBay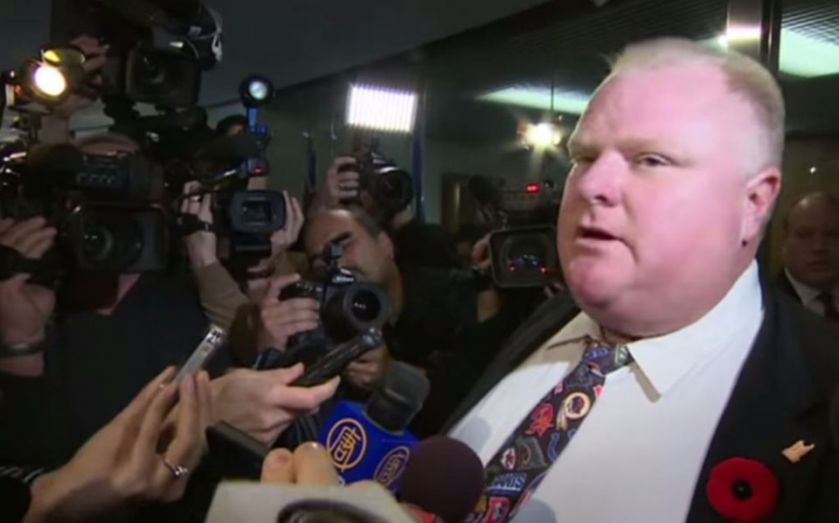 The infamous former mayor of Toronto Rob Ford has put the tie he was wearing when he admitted to smoking crack cocaine up for sale on eBay.
Ford, who is now a Toronto councillor, has put a number of items up for sale on the bidding site, including a personalised Saskatchewan Roughriders Jersey, which he got while attending a game in July of 2013, and a "Keep Calm and Carry On" poster.
But the tie – which features logos from NFL teams past and present – appears to be the most popular item, and bids had reached CA$2,425 (£1,258) with six days left to go before the auction ends.
Source: eBay
"This is the original piece, not a reproduction – there is only one of these in existence," the description notes.
Each of the items comes with a "signed, original, Certificate of Authenticity from Councillor Rob Ford himself".
Sadly for those of us in the UK, he is only shipping to the US and Canada.
Ford, who has previously indicated that he would seek re-election in 2018, tweeted his plans to sell off some of his possessions earlier this month.
https://twitter.com/TorontoRobFord/status/566325619617976320
https://twitter.com/TorontoRobFord/status/566325640765657088
https://twitter.com/TorontoRobFord/status/566325677776199681
Ford served as mayor for four years despite videos surfacing of him smoking crack cocaine and ranting at people in what appears to be a drunken rage.
He is now being treated for a rare form of cancer called liposarcoma.