Focus On: Get yourself into a Pickle in booming Bermondsey
Located in the south-easterly London Borough of Southwark, Bermondsey has a fascinating past. Back in the 1800s it was known for its industrial plants for processing animal hides (hence some road names such as Tanner Street and Leathermarket), as well as slums for local workers and the notorious docks that inspired scenes in Dickensian novels such as Oliver Twist.
Later, in the early 1920s, some of the buildings were being used for food production – in the case of Crosse and Blackwell, they were operating enormous industrial kitchens on Crimscott Street that produced vast quantities of jam, chutneys and England's famous Branston Pickle. These days it is made in Suffolk's Bury St Edmunds, and the former factory has been turned into a desirable new residential development with a "highly individual and quirky" mix of duplexes and apartments.
Still dubbed the "Pickle Factory", the site is located in the new neighbourhood of London Square Bermondsey, complete with 4.7 acres of landscaped gardens, a residents' gym, secure underground parking, and Bermondsey-based charity Tannery Arts, which supports emerging artists and also runs community art projects. The first residents moved in this autumn and a real sense of community is already emerging.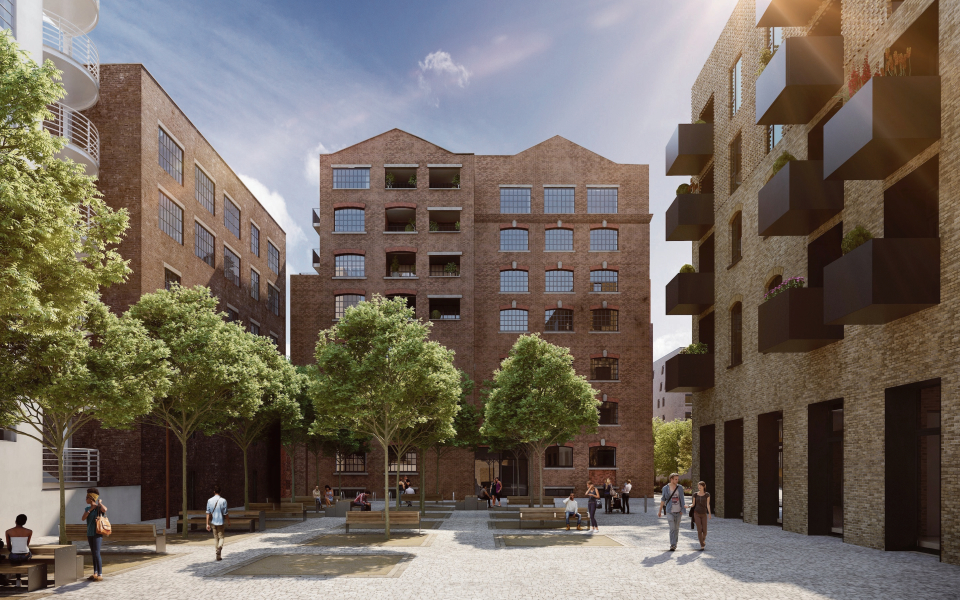 The homes are a mix of one-, two- and three-bedroom residences and prices start from £640,000 for a one-bedroom apartment in The Pickle Factory, which features Crittall-style windows and industrial detailing. The larger two- and three-bedroom duplexes have the look and feel of a house with their own front entrances and private terraces, spacious open-plan living areas, SieMatic kitchens and first-class specification throughout. These start from £1,140,000. (Prospective buyers who reserve by the end of November get their stamp duty paid.)
How do prices compare?
Jo McDonagh, sales and marketing director of London Square, says: "Despite the pandemic, Bermondsey's market for flats remained resilient. Bermondsey recorded price growth in 2020 and average sale prices in 2021 have risen a further 12 per cent compared to 2020. The average sold price in Bermondsey in 2021 was £705,827, compared to Bankside and London Bridge, where sold prices were on average £943,423. So the area still offers potential buyers value for money."
Apart from the kudos of living in the former Branston Pickle factory, why are people moving to Bermondsey? First, its proximity to London Bridge station and Southwark Tube means it has great pubic transport links. Second, as McDonagh says, "Bermondsey is one of the few areas of the capital which can truly be called authentic, with independent producers and retailers creating amazing food and goods that can only be found in SE1".
Most of the buyers at London Square Bermondsey are young professionals working in finance or law, with offices within walking or cycling distance (many large employers such as PWC have also moved into the area). But there are also young families buying the larger apartments and duplexes.
Chloe Luxon, head of sales in Savills Wapping office, agrees that Bermondsey is a highly sought after area of south London, particularly amongst young professionals and first-time buyers. She says: "In recent months, there has been an increase in the 'pied-a-terre' market, as we return to the office with greater regularity. With transport links to the suburbs and countryside from London Bridge, paired with an ease of access to the city centre, it's easy to see what makes Bermondsey so attractive to buyers."
Area highlights
Close to London Bridge station, Bermondsey Street highlights include the White Cube art gallery (bottom left), the Fashion and Textile Museum, and popular restaurants such as Cafe Murano.
The Thames Path (top right) is a 184-mile walking trail that be joined just three minutes from London Bridge – there are also riverboat services here to Greenwich and the West End.
Maltby Street Market (top left) sits beneath the old railway arches and offers a lively mix of street stalls, craft beer bars and concessions such as Lassco Flooring selling reclaimed timber. maltby.st.
Southwark has the public green space equivalent of 30 football pitches. Bermondsey Spa Gardens is great for summer picnics and is a year-round favourite among families thanks to its children's playground.
Jensen's Distillery (bottom right) produces produces two types of London gin and is also open for public tours on Wednesdays and Thursdays. bermondseygin.com
On the market in Bermondsey
Grange Road, SE1, £1.75m
A two-bedroom penthouse featuring a split-level living space with a mezzanine, semi-open plan kitchen, private roof garden and concierge. Call Foxtons on 020 7386 6500
Green Walk, SE1, from £900,000
Located on a quiet side street, this 82 sqm period property has two bedrooms and a kitchen with bi-fold doors leading to a courtyard garden. Call Knight Frank on 020 3687 8234
St James's Road, SE1, £640,000
A penthouse flat with a private balcony, integrated appliances and kitchen island located in Higgins House, a new development on the southern fringes of Bermondsey. Call Dexters on 020 7749 3810