First homes inside former BBC Television Centre go on sale next month – starting at £500,000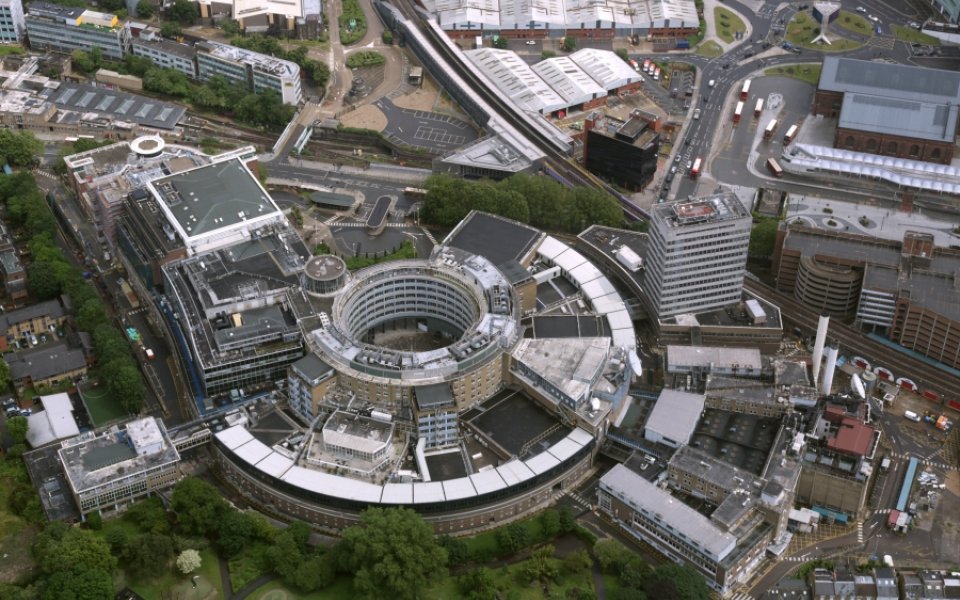 Homebuyers will be soon able to own a slice of television history, with the first 450 homes inside the former BBC Television centre set to go up for sale next month.
The scenery block at the former BBC Television centre in London's White City is eerily quiet. For over 50 years the cavernous space used to bustle with carpenters and designers assembling sets for some of Britain's best known programmes, including Fawlty Towers and Top of the Pops.
Even its futuristic roof has a story to tell – its circular windows, which resemble upside-down colanders, are said to have inspired the iconic control room for the Tardis in Dr Who.
Now empty of time-machines and Basil Fawlty's reception desk, the scenery block is one of a number of buildings set to be transformed into homes a part of a £1.5bn overhaul of the television centre.
The first homes to be developed will be inside the famous doughnut-shaped building with 450 flats set to go up for sale in September, City A.M. can reveal.
Although the official launch is not until the Spring of next year, thousands of prospective buyers who have already registered their interest will be given the chance to buy flats ahead of time at a preview launch in the Autumn.
Alistair Shaw, managing director of Stanhope's BBC Television Centre redevelopment, said the homes will be marketed directly from the site to UK-based owner-occupiers rather than "buy to leave" foreign investors.
"We think there is enough demand from Londoners attracted by the authenticity of being in a historic building," he said in an interview with City A.M.
Prices will range from £1,000 to £1,300 per square feet, with one bedroom flats starting from just under £500,000. There will also be six penthouses at the top of the building, which could fetch as much as £7m.
These prices will still be out of reach for many Londoners hoping to get on the housing ladder. However Shaw argued the site offers better than many of its neighbouring areas like Notting Hill while the 142 affordable homes will go on sale at 20 per cent of their value.
The 53-year-old Television Centre was sold in 2012 to developer Stanhope and its Japanese and Canadian backers, Mitsui Fudosan and Alberta Investment Management Corporation, for £200m on a 999-year lease.
The trio plan to convert the landmark 14-acre site into a £1.5bn mixed-use scheme with 350,000 square feet of offices, a hotel run by Nick Jones' Soho House group, restaurants and a total of 950 new homes including 142 affordable flats.
Last month, Stanhope and Mitsui also bought the BBC's Media Village, which will be revamped into office space and renamed White City Place.
The £87m marked the latest step in the BBC's move away from West London, although it will still retain a presence on the historic 1960s complex, which owes its distinct shape to architect Graham Dawbarn after he reportedly doodled a question mark on the back of an envelope.
BBC Worldwide has already moved into newly refurbished headquarters on the site, while three of the eight original studios will be refitted and handed back the to the broadcaster ready to be used again in 2017.
Since 1998, the corporation has reduced its property footprint by around 40 per cent as it attempts to increase efficiency. By 2017 it hopes to make total savings of £1.5bn a year.
The Television Centre development forms part of a wider 100 acre regeneration of White City, including the expansion of Westfield London shopping centre, a new Imperial College campus and a 1,500 home development by The Berkeley Group.
The 450 homes in the first phase of the development are expected to be completed in 2017 to coincide with the launch of the Westfield extension, which will be anchored by John Lewis's largest ever department store.