Fever-Tree's audacious success has taken the drinks industry by storm, but where do they go from here?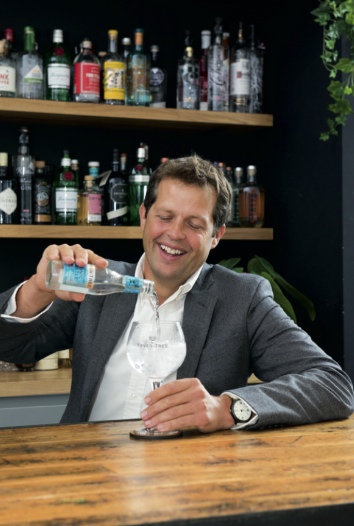 A few weeks ago, Jake Meyer became only the 10th Briton in history to reach the summit of Pakistan's K2 mountain. How did he celebrate this towering achievement? He cracked open a tiny bottle of Bombay Sapphire gin then poured it into a Fever-Tree branded glass, topped up with its signature Indian tonic water. Apparently, it was the highest gin and tonic ever enjoyed and a nice bit of free PR for both brands, neither of whom were aware he was planning the stunt.
The following month, The Guardian's columnist Ellie O'Hagan described Fever-Tree as the embodiment of 'the absurdities of late capitalism', under the sub-heading 'Britain's best-performing business makes a mixer slightly fancier than other mixers. We are sipping cocktails as the world burns.'
As with much of modern life, Fever-Tree is a polarising ingredient in our national conversation, dividing people into two camps; those who see it as a much-needed disruptor of the drinks market, and those who think it's a marketing con to convince us all to pay more for a staple we all got along perfectly well with for hundreds of years.
The mixer category was the preserve of one big brand and, in truth, they'd revelled in the fact people weren't concentrating on them
No prizes for guessing which camp co-founder and CEO Tim Warrillow is in. When I visited their offices, an unassuming warehouse in Hammersmith, I was shown into a waiting room packed with awards. Nestled among a Queen's Award for Enterprise in International Trade and a coveted City A.M. Award was a framed letter from 10 Downing Street, when David Cameron was the incumbent, thanking the founders for samples "which I will enjoy during the festive season."
Soon afterwards, I was shown into a bright boardroom where Warrillow sat behind a parade of soft drinks. On one side was Schweppes' Premium range, with the Fever-Tree equivalent lined up alongside. "We've even chilled them for you," says Warrillow, a tall, well-spoken gentleman whose voice has a similar timbre to Boris Johnson's.
He urges me to take a sip of Schweppes' ginger ale, then Fever-Tree's, then back to Schweppes. He's right, it's not as gingery. Fizzier, too. "I did this with a guy called Dave Broom [a whisky writer], charismatic guy… he said, 'that's not ginger ale, that's brown Sprite! They should be done for trade descriptions!'"
For the record, it's not unusual for a CEO to have confidence in their own product, but it is unusual for them to directly criticise the competition, especially in front of a journalist. But Warrillow clearly sees Fever-Tree as an underdog here and one that's been under sustained attack.
"They've been competing with us very aggressively, frankly, over the last couple of years; they've been throwing sponsorship at it, new products, new flavours, and fortunately our market share is growing ahead of them so we're not going to change plans, we're going to just keep doing what we're doing. We're definitely the cooler brand."
But what is it they're doing exactly? When Warrillow met his business partner Charles Rolls in a Chelsea pub, he was a luxury food marketeer and Rolls had been the managing director of Plymouth Gin. They had this "fortuitous meeting of minds", as Warrillow puts it, at just the same time as the craft gin movement was kicking off.
"Independent craft spirits were coming out and consumers were starting to understand the language of them. Yet, in very stark contrast, the mixer category was the preserve of one big brand and, in truth, they'd revelled in the fact people weren't concentrating on them and were quietly cutting their cloth in every way they could."
Coca-Cola-owned Schweppes still has the largest market share in tonic water in the world and a Royal Warrant to boot, but Fever-Tree overtook them in off-trade sales in the UK back in January, accounting for 50 per cent of all mixer sales in its results published last month. Fever-Tree's profit before tax in 2017 was £56.4m, and it looks set to smash that record this year, with a pre-tax profit of £32.7m in the first six months of 2018. Not bad for a company that makes 'a mixer slightly fancier than other mixers'.
It attributes its success to the 'ginnaissance' and the fact that people wanted to actually taste their mother's ruin for the first time, rather than douse it in sugar water. Rather than go Fair Trade or organic, Tim went in search of the best tasting ingredients, until he found himself in "the deepest, darkest parts of the Democratic Republic of Congo hunting down this quinine." Fever-Tree is named after the African specimen whose distinctive yellow bark was said to produce quinine, a botanical used throughout the British Empire to ward off malaria.
After Fever-Tree's initial tonic water came the pairing wheel – now used in all of its advertising – that matches the flavours in your gin to its four main tonic variants; Mediterranean; lemon; elderflower; and aromatic. "The amount of requests we get from customers asking if we can make that into fridge magnets and aprons is unbelievable," Warrillow says. Now there are six tonic flavours in a growing family of mixers, he'll have to invent a new wheel.
Of course there's a margin in our product, but we use the best ingredients we can
The brand recently drew criticism for the amount of sugar in a single serving, which is around 14.2g. This led to Fever-Tree's 'Refreshingly Light' range across most of its variants, which is a mid-calorie range that uses fructose rather than cane sugar. It's more intensely sweet than its counterpart so you don't have to put as much in.
Why don't they just make a no-calorie diet version, you ask? That would be crossing one of Fever-Tree's red lines: the company is committed to only natural ingredients, which is also what makes it more expensive than other brands. A quick check on the Tesco website will bring up a 500ml bottle of Fever-Tree Original Indian Tonic Water for £1.45, a 1 litre bottle of Schweppes for £1.19, and a litre of Tesco's own brand for just 40p.
"Of course there's a margin in our product, but we use the best ingredients we can," says Warrillow. "If you take sugar, saccharin has found its way across the whole of the tonic category for one simple reason; to use saccharin to sweeten your product costs you nothing, relatively speaking. To use real natural cane sugar, as we are using, costs seven times as much."
This obsession with natural ingredients is how I found myself on a farm in the middle of a National Park about an hour's drive from Marseille airport talking to a farmer called Laurent Tessier. He's known locally in the village of Apt as Monsieur Lavande because he carries a pungent whiff of the stuff with him everywhere he goes.
This is where he produces lavender and lavandin essential oils for a number of overseas businesses under the name Apt Aromatiques. Laurent takes me to see his bobbly lilac acres, carpeting the breezy mountains that play host to the Tour de France. "I don't take holiday, I am on holiday," he says, as his neighbours appear around the side of his 16th century distillery for an impromptu glass of rose.
It's a far cry from the rooftop bars in Shoreditch where Laurent's produce ends up. Specifically, he grows lemon thyme for Fever-Tree, the main ingredient in its Mediterranean tonic. It's just been cut when I arrive; I rub some sprigs between my fingers and the smell lasts for days. It's oddly intoxicating and I feel like I want to lie down in it, like Dorothy in the Wizard of Oz.
He asks me why I'm interested in Fever-Tree and I explain it's a very popular mixer in the UK with big international growth potential. Is it popular in France, I ask? "Ah," he shrugs in a non-committal, Gallic way, "we drink wine." But what about spritzers, wouldn't you dilute it if you had a hard day of ploughing ahead? "Dilute?," he says, clearly disgusted. "No, we have very good wine." The French are, after all, not known for moderation.
Still, I was suitably impressed by the lengths Fever-Tree went to to find its ingredient and the fact they had chosen such a small, local operation to produce it.
And though the French remain relatively unmoved, the company is finding success in Spain, Italy, the Netherlands and Germany, where gin is almost as popular as it is here. Brands like Aperol and Campari have only popularised mixing, and one in four Fever-Tree sales are now made in Continental Europe, taking its global reach to 74 countries and counting (the most surprising, says Warrillow being Angola, "because we didn't know we were sold there – someone reported back and took a picture of it").
The next market is the big one, however: the USA and they're going all in, setting up a 32-employee operation Stateside. While white spirits aren't as well-loved, the premium craft market in bourbon, rum and tequila is enormous. That's why Fever-Tree has recently brought out three ginger ales, one ginger beer and a cola to complement peaty, smokey spirits, with one eye on Japan's well-established whisky market, too.
"There's plenty to go after," Warrillow says. "In America, spirits are growing, beer is in decline and even wine consumption is suffering now because – look at these flavours!" He says, shaking his hands at the bottles laid before us. "Where do you get that variety of flavour in the beer market?"
Ten years ago, if someone had said that one of Britain's most successful, exportable companies was going to make tonic water costing twice the price of the stuff we'd been sipping for decades, they'd have been laughed out of town. Warrillow proved otherwise, and the he'll remain immune to any notes of dissent so long as his business remains as audaciously profitable as it currently is.
"I learnt is not to listen to the doubters," he says, "because there are a lot of those and you could be easily put off. Make sure you've researched your opportunity as hard as you can, then go for it."