Explainer: The impact of floods on Ukrainian farmlands after the destruction of the Kakhovka dam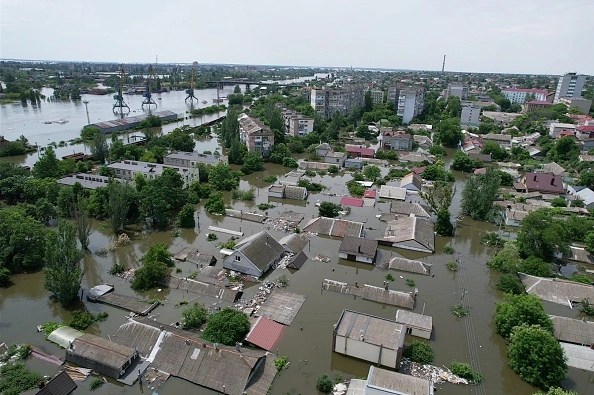 On Tuesday, the Kakhovka hydroelectric power plant and dam in Ukraine was destroyed, causing floods of disastrous proportions. The dam was the largest reservoir in the country in terms of volume. 
Ukraine blamed it on Russia, saying it destroyed the dam to block Ukrainian troops in their counter-offensive. Russia, of course, blamed Ukraine, without providing evidence.
The human and environmental consequences of this industrial disaster started to emerge in the following days, and are now painfully clear. It's impossible to say how many people might die, and thousands have been evacuated from areas on both sides of the river Dnipro.
The difficult process of evacuating people is ongoing, with around 230 square miles of the Kherson region underwater as of yesterday.
Meanwhile, Russia continues to bomb and attack the area, with one person killed during the evacuation efforts in the city of Kherson. The Ukrainian president visited the area and described the situation as dire.
The human cost is high as people flee the area, risking becoming homeless. But there are also serious health risks, as the river has been contaminated with 150 tonnes of industrial lubricant, according to President Volodymyr Zelensky, and more could leak.
Hundreds of thousands of people currently don't have access to drinking water. The World Food Programme defined the situation as a "public health crisis in the making" because of the toxic material present in the water.
The economic consequences and the impact on Ukrainian industries will also be bad, with farmers likely to be the worst affected. As a result of the destruction of the dam, the irrigation system of the entire Kherson region was destroyed. According to the Ukrainian Agri Council, it will take more than $1bn and 5 years of work to restore it.
The Council says water supply has been cut off to 31 irrigation systems in the Dnipro, Kherson, and Zaporizhzhia regions, most of which are currently temporarily occupied by Russian troops.
According to the chairman of the Council, Andriy Dykun, Ukraine is losing "14 per cent of its agricultural production, or well over 3 million tons of grain grown in the south". The areas affected by the floods specialised in the production of grain and different types of vegetables.
"It is unclear when the water will eventually recede, what losses will be incurred by farms, how many animals died, whether there will be epidemics, and the extent of pollution", said Dykun.
Floods are high-risk and excruciating scenarios, as we've seen across the world, from Emilia-Romagna in Italy last month to Haiti just days ago. Having to go through one in a war-zone is unimaginable.