Exclusive: O2 exec on the £31bn mega merger with Virgin Media and why mobile is the future
O2's recently approved £31bn tie-up with Virgin Media will speed up investment in telecoms infrastructure and bolster the UK's post-pandemic recovery, the mobile network's boss said recently.
The mega-merger, agreed last year by O2 owner Telefonica and Virgin Media parent Liberty Global, received final approval last month after an in-depth probe by regulators amid concerns it could harm competition.
Parent companies Liberty Global and Telefonica are now cleared to integrate the two businesses, which represents the biggest UK merger in a decade and the largest UK telecoms deal ever.
City A.M. sits down with Ant Morse, head of digital Solutions at O2, to discuss what consumers and telecom players across the UK can expect, such as cross selling and more bundles.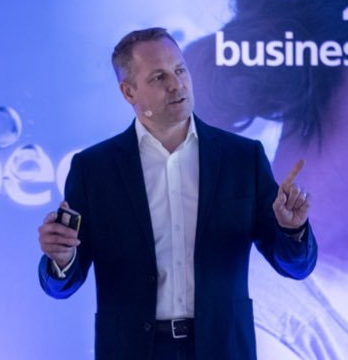 ---
The Virgin Media/O2 merger was recently approved by the CMA. Congratulations. What synergies do you expect to come out of this combination?
The new business becomes one of the UK's largest, with 47m connections across broadband, mobile, TV and home phone. It offers connectivity services, applications and digital solutions to tens of thousands of UK businesses and public sector organisations.
So what can we expect, new or different packages?
Most of the synergies will come from network and systems integration activity, as well as cross selling and bundling opportunities for residential and business customers. While there is no change to existing services today, plans are well underway to offer seamless broadband, entertainment and mobile services all in one place, under one roof, later this year.
I read somewhere that, late last year, you said "The one constant in our industry is change" – how is digital technology driving transformation in the telecoms industry?
The progressive improvements we've seen in network technologies – from 2G through to 5G – have opened up new possibilities with every stage. As the industry embraces these opportunities, innovation comes in, with a constant advent of new and exciting services.
Innovation that doesn't solve a problem is a gadget.
To drive transformation at scale, tech needs to overcome challenges or create real value. If we look at the pandemic and lockdown specifically, technology has allowed businesses and people to stay connected and communicate in different ways. While this feels new to many, technologies like Microsoft Teams and Zoom have been around for many years, the key difference now is that the pandemic has levelled the playing field around remote working.
As everyone has been forced to embrace it, it's become transformative: more people have realised the power of the technology and the increased efficiencies and flexibility it brings, and they've enjoyed better work/life balance.
Including working from home.
Yes, our own O2 business research has found that the majority of workers, about 74 per cent, now want the ability to work from a mixture of places, be that home, the office or elsewhere. In the case of video and unified communication, this widespread hybrid working adoption will continue to drive further and significant transformation for our industry.
We're seeing a race and battle for market/wallet share as we seek to solve problems and improve employee experience in a digital working world.
From improving virtual meetings, workshopping, and meeting room bookings, to virtual presenting, or more advanced solutions such as Virtual Reality and holograms – we're seeing innovation, fuelled by the inevitable race for customer spend, ready to create real progress ahead.
Will the mobile device, ultimately, replace desktop computers?
The power of the mobile devices in our pockets is truly incredible, so I would say that the tech is there now to give people the choice, and in the future the lines will become increasingly blurred. We're already seeing this, as laptops get smaller, thinner and lighter (leaving it more a question of operating system than anything else).
The beauty for the user is that advances in apps and wider interoperability mean regardless of our choice, there is generally an app for the service we want access.
As the tech evolves, we'll likely see a further impact on computer design. For example, we'll have less need for a keyboard as we use more voice-assisted commands. And as AI progresses, we'll automate many basic tasks, like simple replies and updates in applications. New hardware will enter the field – such as visor-type Glass technology that harnesses the power of faster 5G networks and IOT to provide a wider range of Augmented Reality solutions. We are seeing some very exciting innovations in this field and the future use cases appear endless.
5G is being rolled out, how will this impact the mobile ecosystem?
5G will transform the future of communications. The power and opportunity it brings will see some revolutionary solutions brought to market. And unlike the consumer focus of its predecessors, 5G's initial potential is for businesses. The convergence of this enterprise focus will drive wider innovation and likely influx of consumer focused applications.
And what about businesses.
There are businesses in this space that are already deploying 5G Private Networks to transform a wide range of industries, from manufacturing through to entertainment. For example, at O2 we have launched a Private 5G Network initiative with Leonardo, a global high technology company in the Aerospace, Defence & Security sector. We have also announced a new partnership with Microsoft to deploy on-premise Mobile Edge Computing (MEC) capabilities within a Private 5G Network and revolutionise secure data management.
And long term?
Looking ahead, we will see organisations enhancing their existing customer interactions in areas such as retail. Imagine a fully interactive store where shoppers could use visors or their phones for an augmented experience. Pricing and offers are placed in their field of vision with voice assistance, allowing them to search for a product in a supermarket, be directed to it by a visor or their phone, before being shown personalised offers and buying products on a follow-me-home basis.
5G will also power the Internet of Things.
Yes, aside from super-fast data speeds, 5G will also provide mass capacity for a rapidly growing world of the Internet of Things, where billions of sensors and devices monitor and improve services across industry and the public sector.
The really exciting opportunity ahead for me personally, and the driver of real transformation, is the collaboration and interoperability of these services.
The collision of IOT sensors, application and data insights driven by 5G services will bring some incredible solutions to life, especially across smart cities and smart venues/locations.
How has the role of the CIO and IT teams in general changed considerably in recent years?
IT is no longer a siloed department within an organisation. The CIO and IT teams have a critical role at base business level, from operations through to people management and service. This role has progressed from keeping the lights on, driving efficiency and keeping up to date with the latest innovations to now having to consider the risk of digital disruption and disintermediation from new entrants and innovators.
O2 also had to adapt. From my perspective, the priority is providing the right advice – way beyond the basics of the service – delivering end-to-end solutions that go beyond supplying devices and connectivity to integration and deployment. It's certainly not about technology for technology's sake.
Let's look ahead, life after lockdown, the market post-Covid. What are your thoughts on the recovery process?
In a post-lockdown working world, we have an opportunity to evolve and do things better. Not least because if organisations don't adapt, they risk talent leaving their businesses and a loss of productivity. Our O2 Business research shows that 48 per cent of employees would be more productive if their employer enabled them to work in their preferred way after lockdown.
All our insights point to three critical considerations for businesses: offering the tech to boost productivity amongst their employees, putting people first, and redefining their long-term strategies.
Whether that's planning for a location-agnostic workforce or addressing changing tech needs, the question for businesses of all types is now: how do we provide the most effective hybrid world of work for our people, and improve the service to our customers? Connectivity is at the heart of this – with HR, IT and Ops coming together to create a cohesive action plan that enables individuals and teams to work their best.
Finally, diversity and equality, including implementing ESG standards in investment strategies, is increasingly 'a thing' in the City. Is this a serious issue (yet) for 02 and the wider sector?
At O2, matters of Diversity & Inclusion are very much a priority – we have outlined our bold commitments to tackle climate change, support a thriving society and operate fairly and ethically in our responsible business plan, called our Blueprint. Currently, insight on specific investment strategies would be something handled by our parent company, Telefónica Group, based in Madrid.
Anything else you would like to share with our readers?
A major focus for us at O2 in the coming months and years will be the power of tech to help UK businesses reduce their environmental impact. We put our own stake in the ground last year when we became the only mobile network operator to commit to net zero by 2025 – and we see it as a business-critical issue. Not only because businesses need to play their part to help the UK reach its own emissions reducing targets, but because decarbonising UK plc makes business sense.
A decarbonised world is a connected world.
For example, we're working on projects to take trucks off the road by using connected drones to deliver medical supplies. In homes, we're connecting smart meters that can encourage people to change their behaviour and save energy. Connectivity is a great enabler for a lower-carbon economy. And globally, mobile tech can save ten times more emissions than it produces – so it's up to the industry to help enable businesses to cut carbon without cutting productivity.