England footballers have been hailed as heroes who should be "so proud" of themselves for their efforts in a historic Euros campaign which ended in defeat after a nail-biting penalty shootout.
Fans were left devastated when the nation's dreams of being crowned champions of Europe in front of a home crowd at Wembley Stadium were crushed in the final seconds on Sunday night.
Italy ended the Three Lions' bid for glory with a 3-2 victory on penalties in London, in a game which had earlier seen ticketless fans breach security to get into the stadium.
The squad carried the hopes of the entire country as the England team reached their first major final in more than half a century.
The players should be "so proud" of themselves for their efforts, the Duke of Cambridge said, while Prime Minister Boris Johnson said they "deserve great credit".
William, who was at the match with the Duchess of Cambridge and their son Prince George, urged the players to "hold your heads high".
In a tweet from the KensingtonRoyal account, signed W, William congratulated the Italian football team on their win.
He wrote: "Heartbreaking. Congratulations @Azzurri on a great victory. @England, you've all come so far, but sadly this time it wasn't our day. You can all hold your heads high, and be so proud of yourselves — I know there's more to come."
Mr Johnson, who was also at the match with his wife Carrie, tweeted: "That was a heartbreaking result to end #Euro2020 but Gareth Southgate and his @England squad played like heroes.
"They have done the nation proud and deserve great credit."
England's early lead, putting them 1-0 up just two minutes into the first half and prompting ecstasy from the crowd including a beaming Prince George, was not enough to clinch victory as Italy equalised in the second half.
Among the 60,000 people in attendance were former England player David Beckham, model Kate Moss and actor Tom Cruise.
After the match, riot police could be seen breaking through crowds outside Wembley Stadium as fans departed.
Beer bottles were thrown amid chants against Italy and the Metropolitan Police said there had been 45 arrests by officers policing the final.
The force said: "A number of officers remain on duty, helping fans leaving Wembley or central London. We are there to look out for your safety."
Police also confirmed they are investigating after footage was posted online appearing to show people being punched and kicked inside the stadium.
A security breach ahead of the match saw a "small group" of people get into the stadium without tickets, prompting officials and police to work together in efforts to identify and remove them.
The Football Association denounced those who forced their way in as "an embarrassment" and vowed to work with authorities to "take action" against them.
In a statement posted on Twitter, a spokesperson said: "We strongly condemn the behaviour of a group of people that forced their way into Wembley Stadium before the EURO 2020 Final. This is entirely unacceptable.
"These people are an embarrassment to the England team and to all of the true fans who wanted to enjoy one of the most important matches in our history."
Elsewhere "gutted" fans said they remained proud of the team after the penalty defeat.
At the PaddyPark fans zone in Newcastle, Jake Shepherd, a 19-year-old project coordinator, said he was "gutted" but the tournament run "sets us for the World Cup – who says we cannot win it?".
Student Jack Brown, 18, said: "I'm sad we lost but they have done so well.
"I'm proud of this team."
---
EARLIER TODAY
THIS IS IT! Both teams are at Wembley and more than 60,000 fans attend the match this evening.
The England team have pledged to do "everything we can" to make history with a Euro 2020 Final win over Italy tonight, as
Three Lions manager Gareth Southgate thanked fans for their "incredible support" throughout the tournament, which has seen the England team reach their first major final in more than half a century.
Good luck messages have been sent by the Queen, the Duke of Cambridge, the Prime Minister and even Hollywood star Tom Cruise, as the players prepare for an epic showdown at Wembley Stadium.
In a video message on the official England football Twitter account, Southgate – who has been praised for his leadership of the team – said the fans' support has given them a "huge lift".
Jamie Redknapp, part of England's Euro 96 squad, advised Southgate's players, who he said are "already heroes", to try to enjoy the moment.
Asked if it was coming home, Redknapp said: "Yeah, I genuinely think it is, I've got a real feeling for it. I think the crowd are going to play a massive part for us, but it's going to be edgy."
England Rugby wished their football counterparts well in a video which showed Ellis Genge demonstrating a kicking technique that might not necessarily work too well for Kane if he wants to hit the target against Italy.
The accompanying tweet read: "'AVE IT! From @EllisGenge and all of us at England Rugby, good luck tonight @England".
---
Meanwhile, former England boss Sven-Goran Eriksson thinks England will win this evening.
"I think they will win – have done a great, great tournament. They have played very good football in most of the games, very solid and defending very well, and they have a lot of young players for the future."
Young Manchester City star Phil Foden is an injury doubt for tonight after missing training on Saturday but Eriksson feels England have an abundance of suitable alternatives, highlighting Jack Grealish as a "great player".
---
Crystal Palace paid a touching tribute to Southgate, their former defender and club captain.
A tweet from the London club pointed out the England manager went "from the Palace academy to the Euro 2020 final."
Former England defender Jamie Carragher believes Southgate should stick with the team who saw off Denmark in the semi-finals.
"I think it is (time to stick)," he said. "I'd have actually stuck with the team that played against Ukraine."
"I was surprised when Saka came in. Even though he did really well when he came in, I thought Sancho did really well against Ukraine. There was a lot of interchanging between the front three and I was actually surprised Gareth changed again."
Emile Heskey, who played up front for the Three Lions at Euro 2004 and at two World Cups, insists "the pressure's off" for England.
"Some will be nervous, some will have their own rituals, and they'll just be preparing and focusing on the task they've got ahead and trying to visualise what they want to do," Heskey said today.
Manchester United winger Jesse Lingard, who missed the cut for Southgate's squad, told Lions' Den: "All the boys who were left out are still fans and we want England to win.
"I'd have loved to be at the Euros but I have been resting, which is important, and training and I'm ready to get back," he said.
"I'll stay at home tonight and soak it up, maybe get a few people round. It is coming home 100 per cent. I can feel it. Bring it home. Come on boys, bring it home!"
'Southgate is one of the calmest people in the country'
Meanwhile, Football Association chief executive Mark Bullingham insists England's "band of brothers" remain calm ahead of the final.
"The mood in the camp is very calm. They are aware of what a fantastic opportunity this is, they are aware of the excitement throughout the country, but the mood in the camp is calm and they are looking forward to it," Bullingham told The Andrew Marr Show on BBC One this morning.
"I think one of the things that Gareth (Southgate) has managed to do, along with the support team, is build a really strong environment, there's a fantastic 'band of brothers' feeling and togetherness, but there is also a really strong resilience there and they are really supportive of each other.
"He (Southgate) is genuinely calm, he's one of the calmest people in the country. He is so well prepared and he has a good support team around him. He is in a good place."
'Double chicken Nandos'
Government minister Nadhim Zahawi would not be drawn on whether the Government would create a one-off bank holiday if England won Euro 2020 on Sunday.
Asked about the prospect on Trevor Phillips On Sunday he said he was "not going to jinx that".
He said: "There is no way I'm going to be presumptuous on your programme and say that we're going to have a bank holiday.".
After Zahawi also refused to predict the score of the match against Italy at Wembley tonight, presenter Mr Phillips called him "double chicken Nandos".
---
Italy, you won Eurovision. You can't have the Euros too. Don't be greedy now.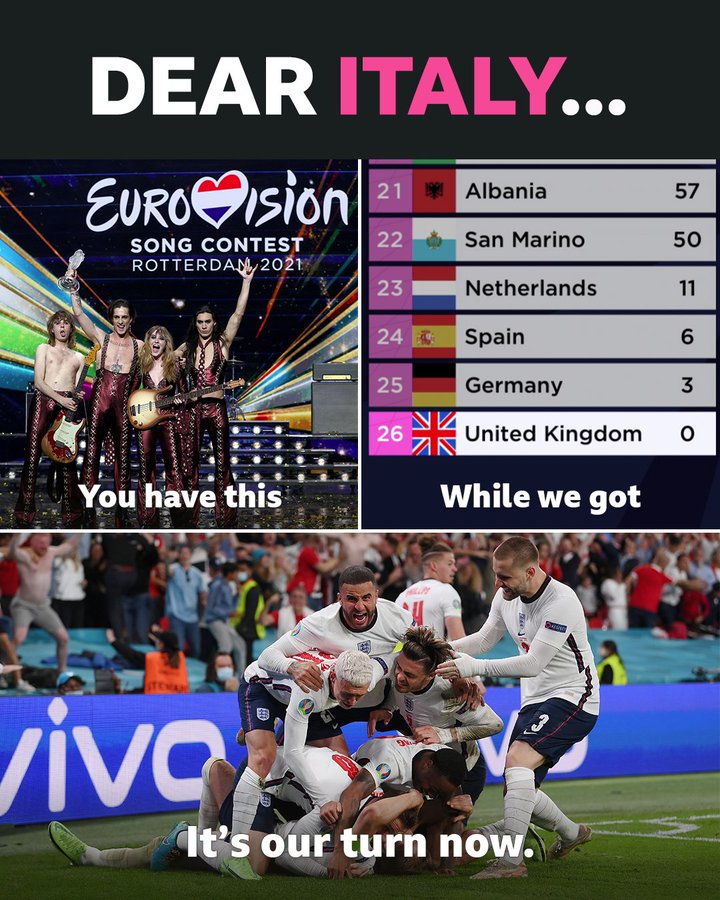 ---
Leeds has published a compilation of playing highlights and tributes from family and team-mates for their midfielder Kalvin Phillips, who has formed a successful partnership with Declan Rice across England's run to the final.
---
Coming home or going Rome?
Italy will win the Euro 2020 final 2-1 and football has developed better in the country, Rome's ambassador to the UK has said.
Such a result would mean football "coming home" to Italy, Raffaele Trombetta predicted, citing the country's superior tournament record.
The ambassador, who will be at Wembley, told Times Radio that while football was invented by the English, "it's coming home also if we win, because after all, you know, we have in our palmaris, as we say, four World Cups, already another European cup. So from this point of view, even if you started in England, maybe it has developed better in other countries, including mine".
Sterling 'the best in the squad'
In an interview with Tom Newton Dunn and Isabel Hardman of Times Radio, Trombetta admitted the England team had some "very fast players" and praised Raheem Sterling as being "the best" in the squad.
He added: "He has been quite impressive I'd say all along the championship, all the different games that he has been playing."
The ambassador also criticised British people for putting pineapple on pizza, joking it "is definitely not a Neapolitan, not even Italian way of making and eating the pizza".
---
'Complete euphoria' 55 years ago
Chris Farlowe, the singer who was at number one when England won the World Cup in 1966, has recalled the "complete euphoria" that swept the country 55 years ago, and said he hopes the Three Lions can secure another football victory again on Sunday.
The musician, now 80, topped the charts with Out Of Time on the same day England secured its win over West Germany at Wembley.
"And they said, 'we won the World Cup!' So I said 'Bloody hell, on the same day?' so that was my claim to fame."
Farlowe, who was 26 at the time, said he remembers celebrating the dual triumphs with his family, adding: "My father was over the moon because he was a football fanatic. And I said to him, 'I'm number one today Dad, same as the World Cup.'
---
Still not sure where to watch the game tonight? Below some excellent suggestions
Meanwhile, up north overnight…
The Angel of the North was briefly seen wearing an England badge ahead of the Euro 2020 final – before police intervened.
Ben Fada, a rope access specialist who was part of the team that put the badge up, said it was intended to make people smile ahead of tonight's final against Italy – although he said they did not get permission in advance.
"It was just about bringing a bit of happiness and putting a smile on people's faces," he said.
---
Large crowds set to amass in London today
Police have urged England fans not to gather in large numbers for the Euro 2020 final, warning London remains in the grip of a public health crisis.
Large crowds of supporters are set to amass in the capital today as the Three Lions aim to win their first European championships against Italy at Wembley.
The Metropolitan Police have prepared for the match by visiting venues to ensure social distancing is maintained, and the force said a "great" number of officers will be in place in different locations.
---
---
The Met also warned those without tickets not to visit London as they may end up missing the match.
Deputy Assistant Commissioner Laurence Taylor said: "The Met has a significantly enhanced policing operation in place and will adapt as necessary to increased numbers of fans enjoying the matches.
"We will continue to deploy a great many officers and specialist units to prevent crime and disorder and respond to any incidents right across London.
---
"Gone a bit mad"
An England fan has covered his house in St George's flags and Three Lions memorabilia ahead of the Euro 2020 final on Sunday.
Benny Elcock, 59, from York, said he has "gone a bit mad" with the decorations, but he has done the same for every major football tournament for decades.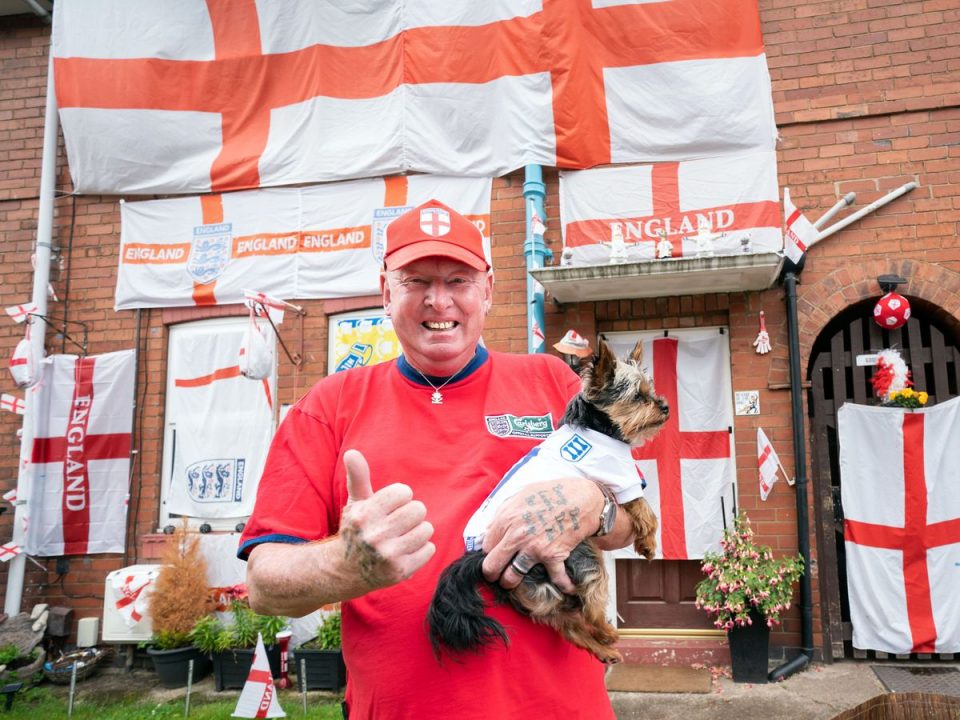 ---
"It took me a couple of days to get it all up but it's kind of my tradition – I've done it for every Euros and World Cup. It's just a bit of fun to show my support.
The Everton fan, who plans to watch Sunday's final against Italy at home with his son and partner, said goalkeeper Jordan Pickford has had a "brilliant" tournament.
He added: "I can't wait for the game, I absolutely think we can do it, they're a good team and they have got so far.
"I was only four or five when we won the World Cup in 1966, so I can't remember it. This time it's coming home after 55 years," he added.