Energy markets safe from Ukraine crisis says Goldman Sachs
Despite the ongoing tensions between Russia and Ukraine the impact on energy markets is likely to minimal, according to a research note from Goldman Sachs.
A view that may carry considerable weight given yesterday's sharp rally in natural gas prices.
Goldman believe there is no real reason to be concerned about the safety of natural gas flows as the majority of Russian natural gas bound for northwest Europe bypasses Ukraine.
The bank observes that crude oil flows through the Ukraine are relatively small compared to the global market and are unlikely to have a major impact on the world oil balance.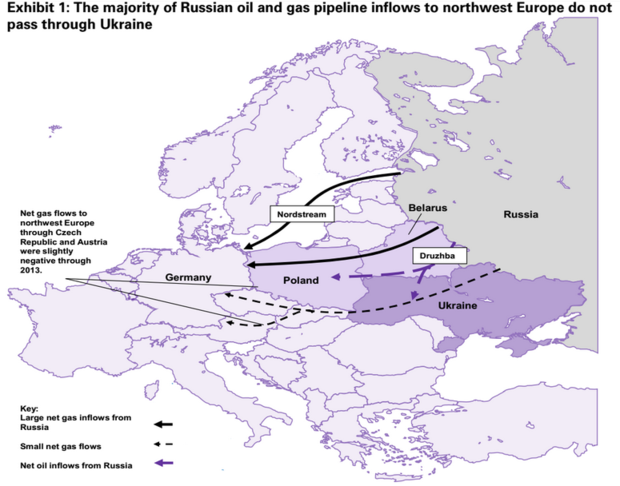 However, should western nations impose sanctions on Russia there may be a larger impact on prices due to the country's large exports and production.
Goldman put the probability of EU economic sanctions against Russia as very low due to north west Europe's need for Russian gas volumes to refill inventories during the summer. The scenario of Russia unilaterally deciding to stop selling gas to Europe is also placed as very unlikely because such actions would deprive Russia of much needed revenue.
Buyers in eastern Europe, who receive most of their gas through Ukraine, could be more directly impacted by the crisis if Ukraine decides to prevent Russian gas leaving its borders.
North west Europe on the other hand would be almost totally unaffected as it receives close to all of its gas through Belarus, Poland or the Nordstream pipeline.
Even if flows are disrupted, a mild winter has left north west Europe with gas inventories well above average.