Customers stay sweet on Cadbury's despite low-tax owner
Last week, several news outlets carried the news that Mondelez International – owners of chocolatier Cadbury – paid no corporation tax in 2017, though the company made profits of £185m.
Mondelez's subsidiaries were reported to have paid a combined total of £5.9m to HMRC. The news drew opprobrium from figures such as shadow chancellor, John McDonnell.
For its part, Mondelez asserted that "In common with all global businesses, we pay corporation tax based on the laws of the countries in which we operate".
Read more: Cadbury owner stockpiles chocolates for hard Brexit
YouGov's brand tracking data paints an intriguing picture on this particular story. That is, though the public has noticed negative headlines surrounding the brand, it hasn't necessarily shifted the underlying impression of the company.
Looking first to Cadbury's buzz score (whether someone has heard something about a brand, and if it was positive or negative), we see this has dropped by five points, from nine to four since the end of last week, indicating that people are aware of the negative press.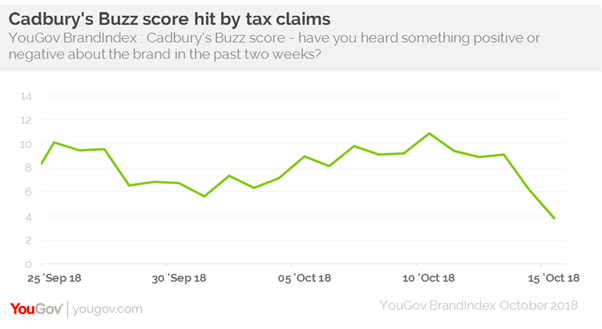 The positive news for Cadbury's is that its impression score (whether someone has a positive or negative impression of a brand), has remained fairly resolute despite the reports. On this rating Cadbury's score has dropped only two points, from 42 to 40.
This leaves it with a very healthy score as compared to its industry rivals. Similarly, the brand's purchase consideration score (whether someone would consider purchasing a brand's products) has remained at a high level, at around the +54 mark, the same as it was pre-headlines.
The situation bares a certain resemblance to when tech giant Apple was criticised for its own tax arrangements in 2016.
Read more: EU pushes for new technology tax on global internet giants
On that occasion, YouGov data showed that while the public as a whole noticed the news, and viewed the arrangement in unfavourable terms, actual Apple customers were less moved by the stories, and continued to view the brand in a positive way.
While customers may well have less of a connection to Cadbury's products than Apple's, the company is generally well-liked and respected, thanks to its long history and brand positioning, helping it to emerge from periods of criticism such as this.