Crypto and blockchain: Who among our politicians is really on board with crypto?
by Sean Kiernan, CEO of Greengage
UK Prime Minister Rishi Sunak has been vocal about his desire to establish Britain as the world's hub for crypto and digital assets technology and investment.
"It's my ambition to make the UK a global hub for crypto asset technology, and the measures we've outlined today will help to ensure firms can invest, innovate and scale up in this country", he said in a recent statement.
In support of this plan, the government has affirmed its recognition of stablecoins as a valid form of payment, saying that it "will explore ways of enhancing the competitiveness of the UK system to encourage further development of the cryptoasset market".
But who in Parliament is talking the talk and walking the walk?
In January this year, crypto tax firm Recap released research naming London as the "most crypto-ready city" based on a number of criteria, including the number of cryptocurrency businesses and research and development spending, noting that it is already home to over 800 crypto-based companies.
More recently, we saw the official opening ceremony for the newly-established Centre for Finance, Innovation, and Technology (CFIT) – a private sector initiative funded by HM Treasury and the City of London Corporation and headed up by Ezechi Britton MBE.
So far, it all sounds enormously promising. However, there is often a gap between ambition and achievement; between what politicians say and what they do.
This sentiment was the driving force for a piece of research commissioned by Greengage.
Our researchers looked at how many times parliamentarians in both houses have referenced 'crypto', 'digital' 'blockchain' and other associated keywords, and at whether or not those references were supportive.
Perhaps it is not surprising that the absolute number of mentions has increased over the period reviewed. Just a few years ago this topic was not being discussed at all outside of a limited group of technology pioneers.
Cryptocurrency only really landed in the collective consciousness in 2018, not long after which parliamentary focus became stifled by the global pandemic, followed by the ongoing war in Ukraine and its wider impact.
Headlines matter – thus, the failure of FTX at the end of last year saw an upward spike in parliamentary mentions of crypto and associated terms. No doubt if the data were updated today, they would show another spike around the recent collapse of SVB (Silicon Valley Bank) and its impact on crypto players.
Nevertheless, going back to the 'digital Parliamentarians' research as it stands, in 2022 there were more mentions of crypto and related words than in the previous four years combined and more mentions by a greater number of parliamentarians.
This group includes some stand-out exponents and advocates including MPs Andrew Griffith, John Glen, Eddie Hughes, and Adam Afriyie, as well as the Lords Holmes, Agnew and Wei. But it is not only the Tories that are keen (numbers may be skewed in their favour simply because there are more of them in government, equalling more 'floor time').
Other notable and vocal proponents – defined purely by the number of times they made positive or neutral comments in the Houses of Parliament – include MPs Jim Shannon (DUP), Dr Lisa Cameron (SNP) and Martin Docherty-Hughes (SNP).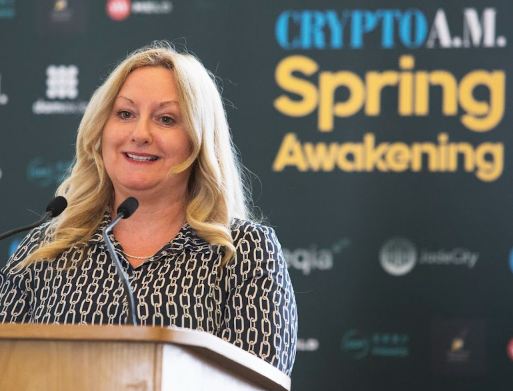 Drilling down on the data, there is certainly a positive shift in the dialogue from looking purely at speculative cryptocurrency investment to a broader acknowledgement of the potential benefits of technologies to support individual businesses and industry.
This is not scientific research and analysis, simply a snapshot of sentiment based on recorded parliamentary mentions. It provides, nonetheless, a useful anecdotal barometer of prevailing sentiments, and may even give some insight into the gap between government ambition and parliamentary action with respect to the industry as a whole.
Sean Kiernan is CEO of Greengage, a digital merchant banking pioneer.