The clever science behind consumer promotions at retailers and supermarkets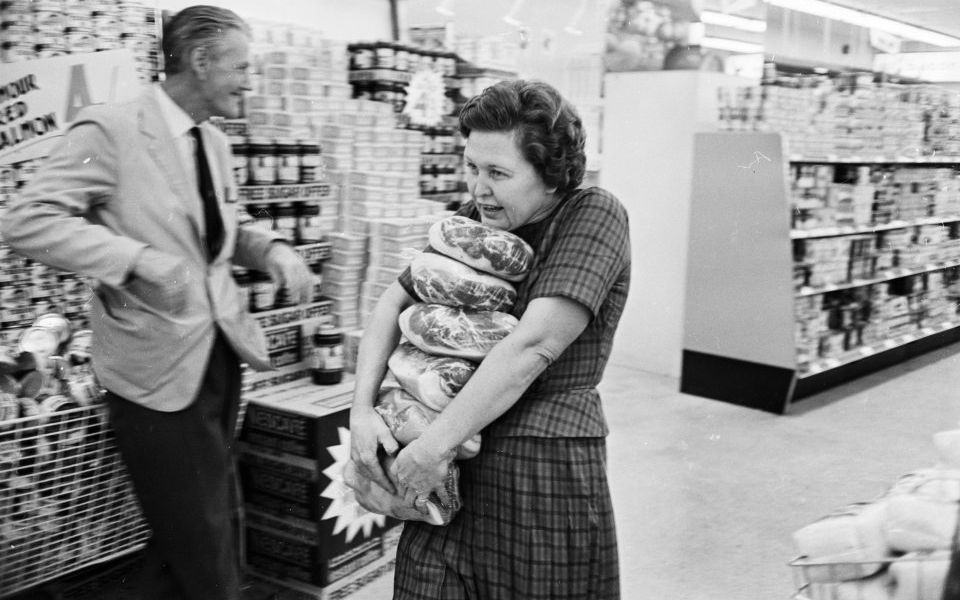 You've probably never thought twice about consumer promotions – things like Buy One Get One Free (BOGOF), discount coupons, competitions, and prize draws. They're just another marketing trick to push more products, right?
But when you think about it, promotions are kind of odd. Selling two for the price of one means that a company is cutting its profit margin in half, and running a prize giveaway can be very expensive. So what's the benefit?
To find out, I sit down with the expert, Chris Baldwin, director of consumer promotions and loyalty at Sodexo Engage, which specialists in employee and consumer engagement.
Read more: Retail sales growth slumps after bumper summer
Baldwin has years of experience working with brands and advertising agencies to help plan and execute consumer promotions.
He ticks off some of the reasons for the promotions that we see on the shelves everyday. First, a brand might run a promotion simply to drive an uplift in sales, but it may instead be to create awareness for a completely new product, or to remind customers about a familiar item that is facing competition from challenger brands.
"It might also be to change a consumer's purchasing patterns so they buy it in larger quantities, or buy it more often. Sometimes brands are using it to collect information about their consumers – there may be a large data capture requirement within the promotion."
Brands may sometimes run promotions simply to keep their wares on the shelves – supermarkets won't keep stocking a product if it isn't selling. That's why some coupons might only be valid for a certain supermarket chain, in order to drive footfall to that location.
"If you've got a product and the brand is churning it out, but not supporting it, the supermarket may delist it in favour of a competitor. Sometimes the promotion is there simply to support sales within a particular channel," adds Baldwin.
Most often, it's brands in the fast-moving consumer goods sector – think supermarket products – that make use of consumer promotions, but not exclusively. Baldwin also works with electronics brands, whose customers usually make large one-off purchases on things like televisions or cookers.
"These brands use promotions to help consumers to decide – if they're staring at an array of seven different washing machines – which one is right for them. And it may be that the one with the £100 cashback offer is the right one."
I think of whether a £100 cashback would sway me on a big purchase. It probably would.
Promotions can also help boost consumer loyalty. The best mechanism to achieve this is collection schemes, according to Baldwin.
This is where customers collect tokens from multiple packages which they can exchange for something, like a mug or cake tin, often limited edition and emblazoned with the product's logo.
"We've done promotions before with Horlicks, where they've produced special edition mugs, which remind people to buy Horlicks each time they reach for a mug," he says.
"It's quite clever – you get consumers to enter the promotion and do the advertising for themselves. If people are loyal to a brand like Horlicks, they're quite happy to have that branded content in their home. It works really well."
But this leads to the biggest risk of running a promotion: the financial cost. Say if Coca-Cola were to run a collection scheme where people could exchange four bottle caps for a football. If they placed this promotion on four million products, they've added a liability onto their books to produce and distribute a million footballs for free.
However, there are ways to mitigate this potentially massive cost.
"In reality, a million footballs aren't going to be claimed," Baldwin says.
"That's not going to happen because not everybody is interested in football and won't keep the caps. Coca-Cola would come to us, we'd look at our database, and say we think just two per cent of people are going to enter that promotion. We'd calculate the cost associated with that, and that's basically all the client would pay us.
"On the face of it, coupons for a free bag of crisps seem like an expensive promotional technique, but that's if everyone redeemed them. They obviously don't."
I ask Baldwin to dish the dirt on any consumer promotions that proved to be failures. He can't name names, but does describe how one soup company ran a competition giving away a farm. The prize was never won, leading to a social media backlash from annoyed customers.
"On the face of it, winning a farm was an unachievable prize. We advised them 'don't offer a farm, offer hundreds of weekend breaks on a farm, that's what people want'. Most people don't want to win a farm. What a responsibility that is," Baldwin despairs.
Stories like this show that consumer promotions can be more complex than they first appear.
They're tricky to design, and come with potential financial risk. But done well, they can provide all sorts of advantages for the right brand. Now that's food for thought.
Read more: Online-only retailers surge ahead of bricks and mortar rivals