City Pages: The five new books on our radar this month
From hacking bears to scandal in Westminster, here's what we've been reading at City A.M. this month.
We Need to Talk About Inflation by Stephen D. King
A rich biography of inflation has never been more important at a time when the Bank of England is grappling with the toughest price surge since it was made independent in 1997.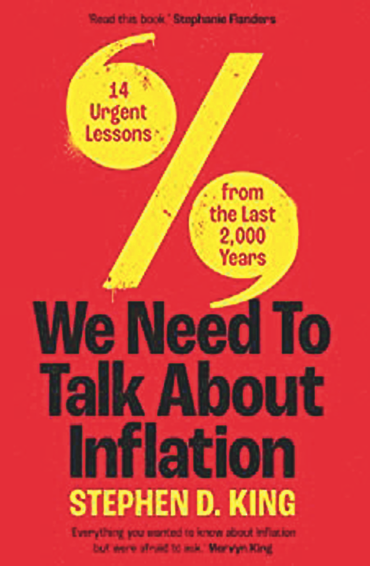 HSBC senior economic adviser Stephen King's recently published fourth book, We Need To Talk About Inflation, is an informative account of where policymakers have failed (and succeeded) in taming inflation over the past two millenniums.
He draws on some of history's most notorious bouts of inflation to yield 14 lessons for money managers and politicians to bear in mind when making interest rate, tax and spending decisions, creating a sort of playbook on how to keep prices stable.
Recommended reading for anyone working in the City or with a passing interest in economics (and members of the monetary policy committee).
Reviewed by Jack Barnett
We Need to Talk About Inflation: 14 Urgent Lessons from the Last 2,000 Years by Stephen D. King, published by Yale Books 25 April 2023.
Our Lives in their Portfolios by Brett Christophers
Asset managers own the world, just look around you.
In the post-financial crisis world of low interest rates and stricter bank regulation, asset managers have increasingly come to own the physical infrastructure that we all rely on whether it be roads, houses or water.
Brett Christophers' new book incisively dissects – and criticises – the landscape of this novel stage of capitalism. As he writes, "whether by long-term contract or outright ownership…asset managers increasingly control the basic physical building blocks of global society and economy." The archetypal example is the Australian bank Macquarie, and more specifically its infrastructure fund. Macquarie boast that more than 100m people use their infrastructure every day.
Why does this matter? After all, asset managers argue they provide investment the public sector is either unwilling or unable to make. But Christophers shows how asset managers are institutionally set up to seek short term gains, much to short term to prioritise long term investment. With the threat of climate change and its implications for core infrastructure looming over the horizon, more attention must be paid to our new financial overlords.
Reviewed by Chris Dorrell
Our Lives in their Portfolios: Why Asset Managers Own the World by Brett Christophers, published by Verso 25 April 2023.
The Everything Blueprint by James Ashton
Hailed as the new oil, microchips have quickly earned their buzz.
Located in almost every piece of tech you use, and nuclear weapons to boot, it may be time to swot up on the companies responsible for them.
James Ashton's The Everything Blueprint is here to help, giving a detailed guide on the rise of one of the biggest players on the field: Arm. At the centre of a tug of war between London and New York for much of the last year, Ashton helps explain why everyone wanted a piece of this semiconductor powerhouse.
The size of around 14 billionths of a meter (i.e. pretty small), semiconductors now dominate the global stage and provide a fable-like message of how thinking small can win big. "We have a first-world problem in that we can almost play in any market," said Arm CEO Rene Haas.
With Arm recently confirming its decision to list in New York, Ashton's book is a timely release showing how Arm got from a former-turkey plucking barn in Cambridgeshire (its first office) to the Big Apple.
Reviewed by Anna Moloney
The Everything Blueprint: The Microchip Design that Changed the World by James Ashton, published by Hodder & Stroughton 11 May.
Fancy Bear Goes Phishing by Scott Shapiro
Told in five hacks, which range from Russian interference in the 2016 US election to the teenage boy who hacked Paris Hilton's phone, Scott Shapiro's Fancy Bear Goes Phishing is a tour de force of the information age.
Often, Shapiro shows, powerful cyber attacks assumed to be the work of malicious nationstates turn out to be little more than the activities of teenage boys, looking for fame, friends, or just a way to pass the time. Whether or not this represents a comfort is open to debate, but what Shapiro makes clear is that sensationalism will not get us any closer to tackling the problem.
A professor of law and philosophy at Yale Law School, Shapiro also leads Yale's Cybersecurity Lab, where he teaches students how to hack. An impressive range in expertise, and one that leaves Shapiro in
a unique position to skillfully guide us through the history of hacking, with all the tech nitty gritty included.
Shapiro gives an insightful discussion into the psychology of hacking, but also dips into the semantics, arguing that the language of 'viruses', 'worms' and 'infection' has perpetuated our fear rather than improved our understanding of computers. Shapiro by no means underplays the legitimate dangers and threats that cyberattacks and hackers present, but he also shows how in the majority of cases hacking is not a branch of the dark arts and we sensationalise it at our peril.
An insightful read for tech nerds and noobs alike.
Reviewed by Anna Moloney. Read the full review here.
Fancy Bear Goes Phishing: The Dark History of the Information Age, in Five Extraordinary Hacks by Scott Shapiro, published by Allen Lane 23 May 2023.
Book Club
Every month City A.M. Book Club chooses a new book – and bar – to review.
Whips by Cleo Watson
Pitched as House of Cards meets 50 Shades of Grey, Cleo Watson's debut novel Whips was a promising choice for City A.M. Book Club's first literary foray.
And it did not disappoint. Written by Boris Johnson's former aide, Whips is a tale of the sex and scandals that run rife through Westminster's halls, showing how transport select committees may be more exciting than you once imagined. Shenanigans pressed up against Notting Hill Smeg fridges and romps through Chequers, this is smut in flesh-coloured M&S tights.
Whips is undoubtedly a page turner, but at the heart of it is also a genuinely heartwarming story of female friendship and the power of politics to do good, believe it or not. Whips revels in its own ridiculousness and is a riot because of it.
…and the pub
The City A.M. Book Club this month took to The Banker for its important literary discussions. Located riverside just by Cannon Street Station, this fine establishment provided a perfect backdrop to our discussion on feminism, politics and salacious literature. Doggy friendly too.
Whips by Cleo Watson, published by Corsair 25 May.